Naan from liquid levain!!!
Well I had a craving for some curry and what better to go with it than some fresh naan bread. Boy did this ever turn out well! I used honey instead of sugar and the flavour comes through well in the finished product. This did my confidence a nice boost as two of the last three bakes didn't go so well. Ever have one of those bakes where everything that could go wrong does go wrong?
40 g liquid levain, newly refreshed
141 g milk, scalded
1/3 cup + 1 Tbs high fat Greek yogurt
25 g beaten egg
330 g bread flour
1 tsp palm sugar
1/4 tsp salt
1/2 tsp baking powder
1 Tbs canola oil
I mixed the levain and wet ingredients, added the mixed dry ingredients and after combining rested for 10 minutes. I then kneaded on the counter for 8 minutes and let the dough bulk rise for 1:30 or so. I cut off 120 grams and form a ball and let this rest 8 minutes while my cast iron pan heats up to medium. The rest of the dough goes into the fridge. At the 8 minute beeper, I roll out the dough and place it in the hot dry pan and cook 3 minutes per side, then brush with butter. Very happy with the results!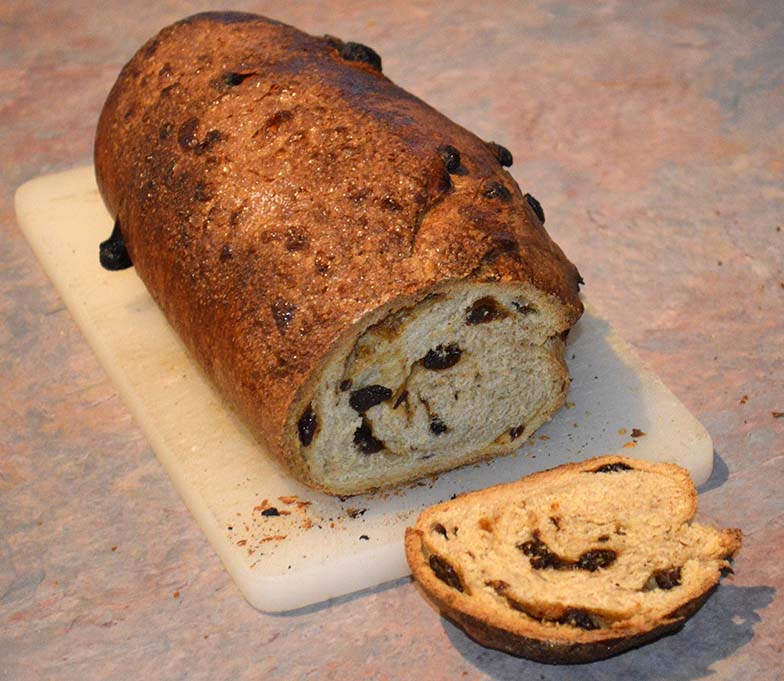 I have now taken three tries at coming up with a raisin bread I like and I am reasonably happy with this one, but it still needs some work. I will call it a work in progress . . .
Happy baking,! Ski