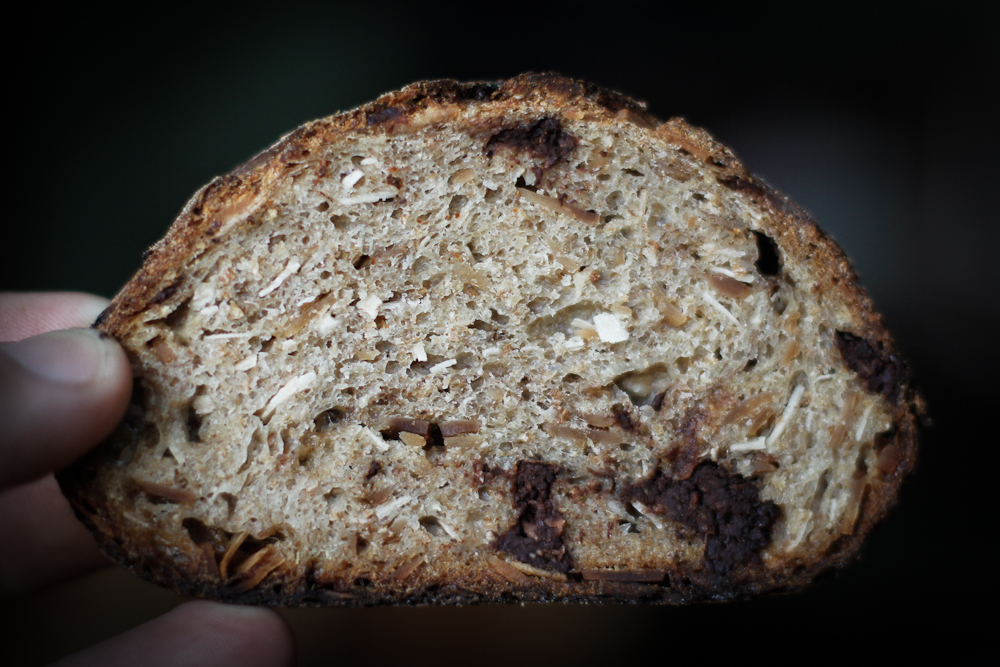 I have been making a ton of whole grain breads lately, breads were the flavor comes entirely from fermentation and the actual flavor of the grain, and while I think that is essentially the only way that great bread should be flavored every once in a while I feel like messing around and experimenting with flavors that would be otherwise impossible to coax out of grain alone.
Hence, the Almond Joy Levain was born, with a crunchy crust and heavy additions of toasted coconut, toasted almond, toasted wheat bran and coconut chocolate this loaf is great with peanut butter and/or salty butter. In hindsight I would of upped the hydration by 7-10% but the autolyse was so darn wet I was scared to add more, and by the time I was folding in all the additions it was to late to add the liquid that it was suddenly painfully apparent I needed.
Heres how I made it
206g sifted white wheat (sift it yourself and save the bran)
34g unsifted red fife
80g T85
40g Ap
40g Bf
80g Youngs chocolate stout (20%)
268g Coconut water with pulp (67%)
80g Levain (20%)
10g Salt (2.5%)
47g Toasted coconut flakes (12%)
72g Toasted sliced almonds (18%)
92g Chopped coconut chocolate (23%)
23g Toasted previously sifted white wheat bran (6%)
autolyse @ 0 min
mix in salt and levain @ 40
stretch and fold @ 50
fold in almonds, coconut and bran @ 80
fold in chocolate @ 120
stretch and fold @ 180
preshape @ 220
shape @ 255
retard @ 360
The next morning, bake at 550 for 10 min with steam, then turn the oven down to 480 and continue baking for 15 minutes, then down to 465 for 10 or so minutes, then down to 450 until the loaf is done.