February 26, 2016 - 11:02am
Sprouted 6 Grain 6 Starter Sprouted Half Whole Grain Bread
Here we ae in the primary season in AZ and they have mailed out the early ballots to those who have signed up.  I was shocked to find that every candidate who was ever in the race on the Democrat and Republican side is still on the ballot ……even though many have dropped put.  But, there was one addition that no one knew was even running – the CEO of Apple Inc. – Tim Cook.  Who knew!  I'm guessing in he gets elected, Apple won't be cracking open their phones any time soon.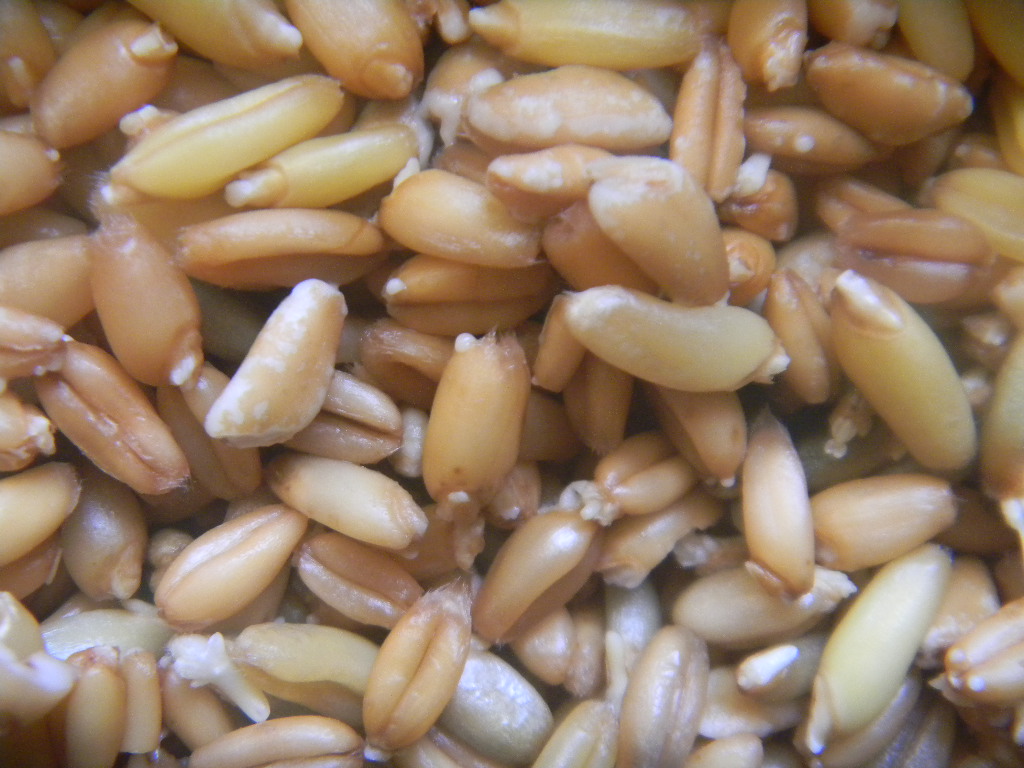 We have been making a lot of multiple starter breads lately by using multiple whole and sprouted grains with plenty of seeds and nuts.  Usually we use LaFama AP flour for the white portion of these breads, if there is any in the mix, finding it to be perfectly fine for making bread with its 11.2% protein.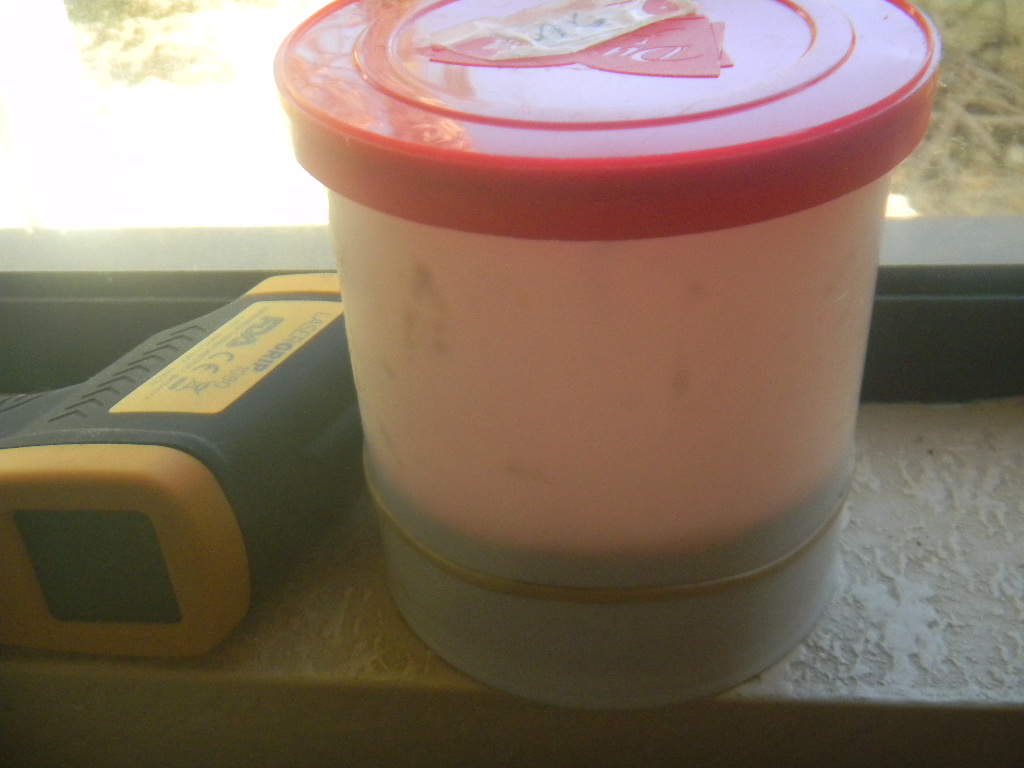 High gluten and bread flour generally have the same protein levels of 12-14% but the flour is milled from different types of flour.  While not higher in protein, high gluten flour has more of the proteins; glutenin and gliadin, that bind into gluten strands with water.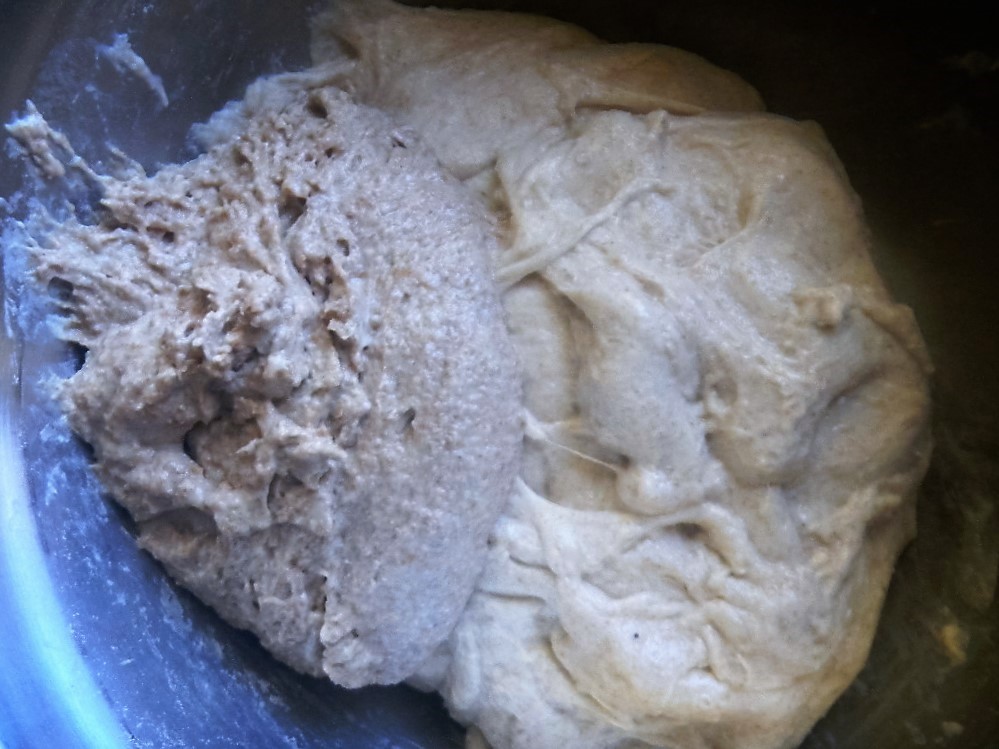 The wheat that has the most of these two proteins is Dark (Red) Spring Hard Wheat grown in the Northern climes, with White Spring Hard Wheat coming in a close 2nd, are used to make high gluten flour - mainly for bagels and pizzas.  Bread flour is usually a combination of these 2 Spring Hard Wheats and Red or White Hard Winter Wheat.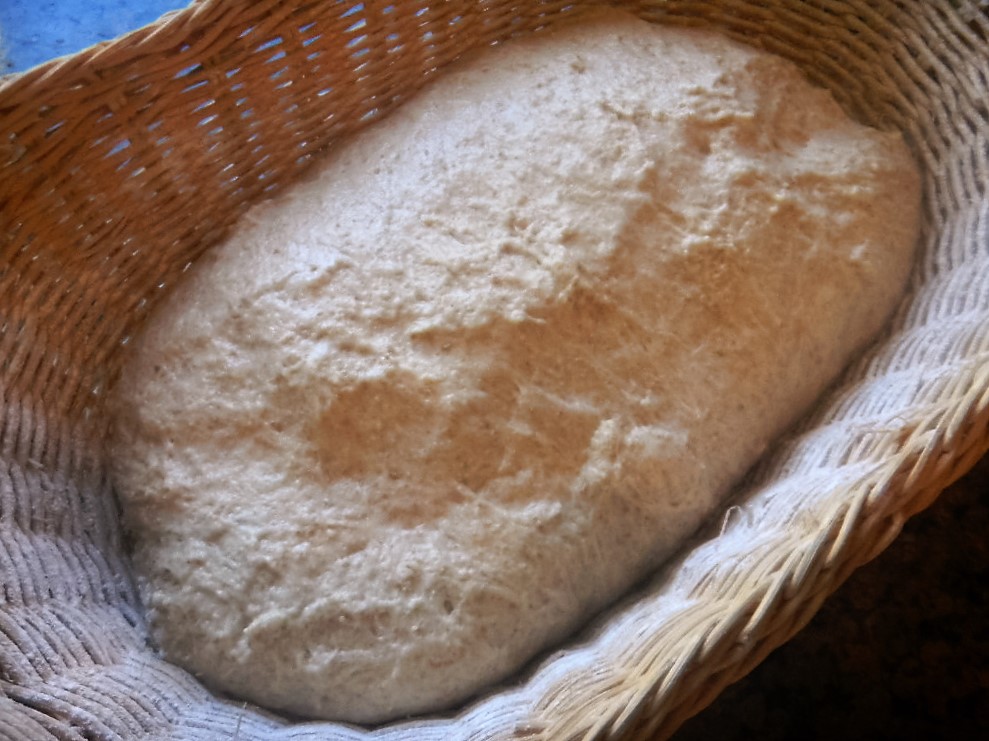 Both Bread and High Gluten flours cost 2-3 times more than the 30 cents a pound I pay for LaFama AP.  Many folks, including myself have used VWG as a cheap way to up the protein of AP flour into Bread and High Gluten range for a few pennies a pound.  This way is tough to beat economically.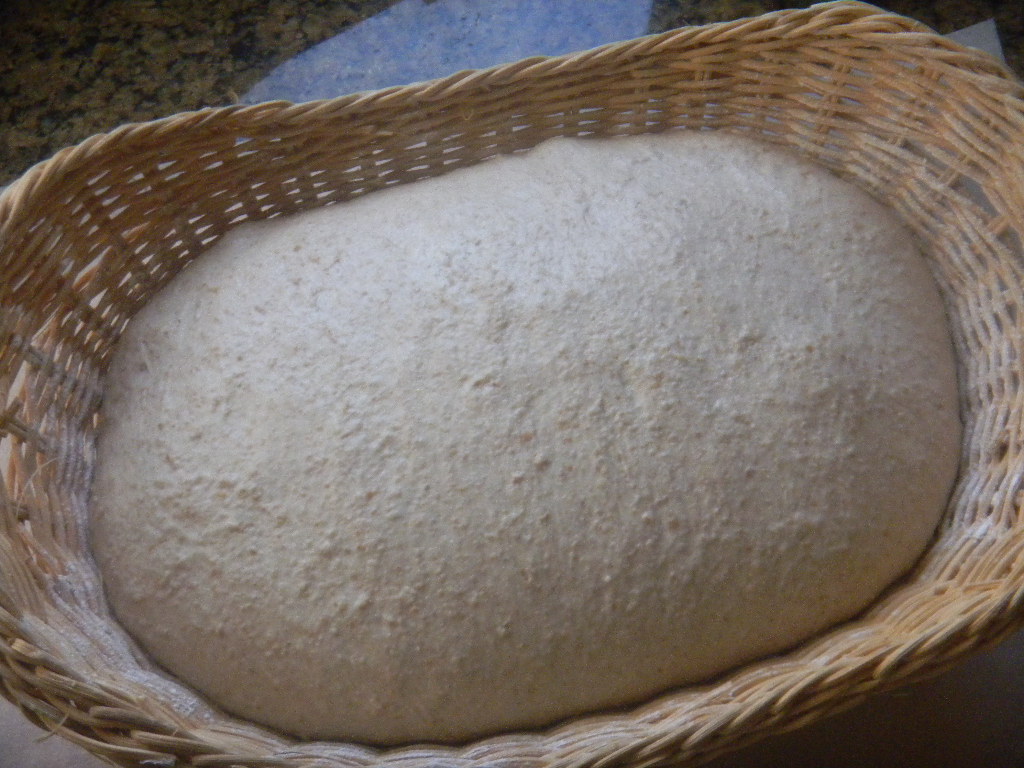 The question is, do you get the same results using AP and VWG as using the much more expensive Bread or High Gluten flour for the white portion of bread mixes.  Since my bread usually contain 50% whole multi-grains with half of them being sprouted, this is the mix that I am going to use to see if it makes sense to spend more to get more and if that more is worth the extra expense.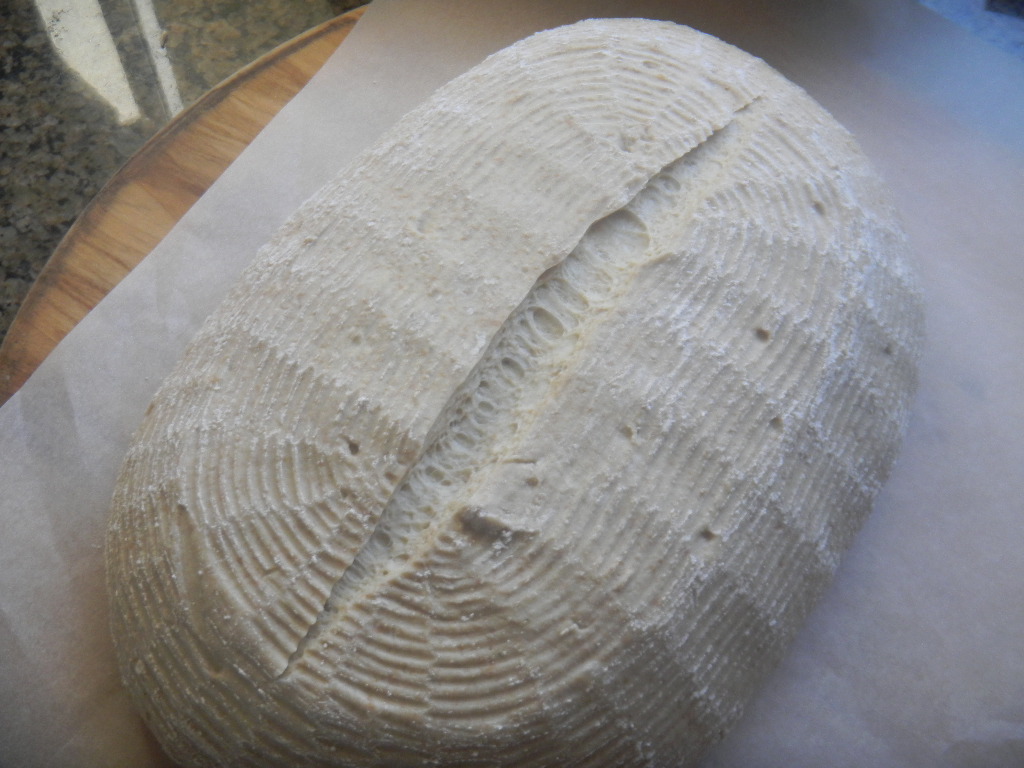 We are also using Lucy's SOP for making bread of late.  Multiple starters with half being SD.  Using the bran form the sprouted and whole grain flour to feed the levain first followed by the high extraction of whole grain  Using a 3 stage build over 12 hours with a 36 hour retard if the built levain.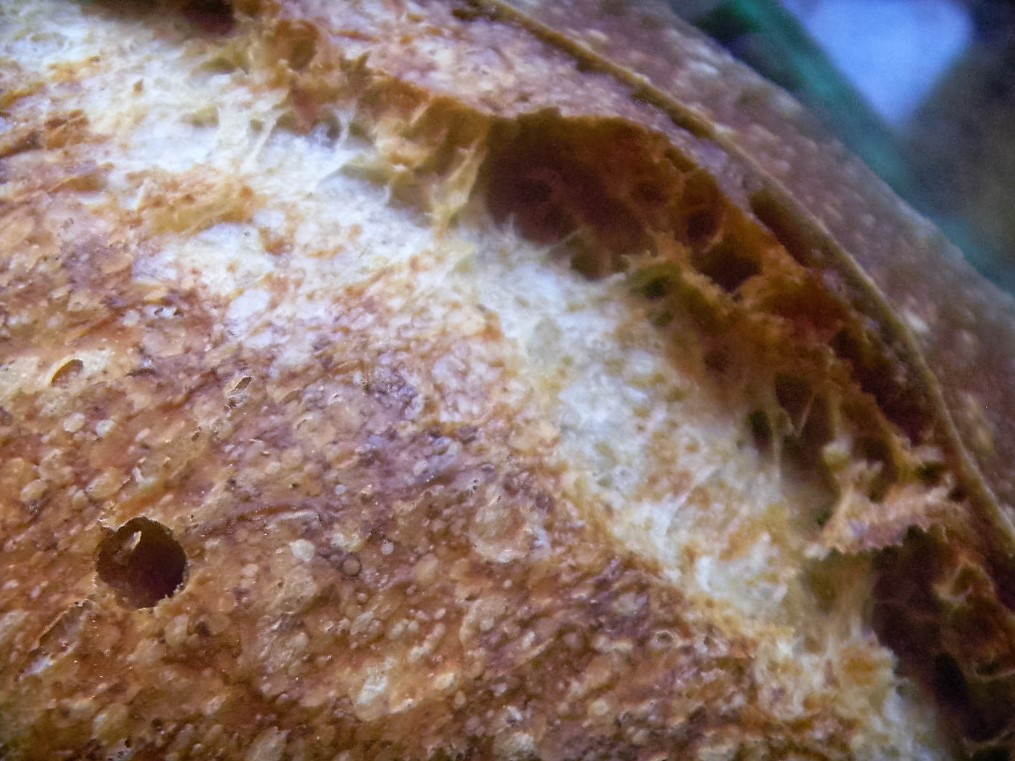 Warming up the levain by stirring it down and then letting it rise 25 % before incorporating it into the autolyse of dough flour and water with the salt sprinkled on top.  Once the levain hits the autolyze we do 3 sets of 30 slap and folds and 3 sets of compass point stretch and folds all on 30 minute intervals.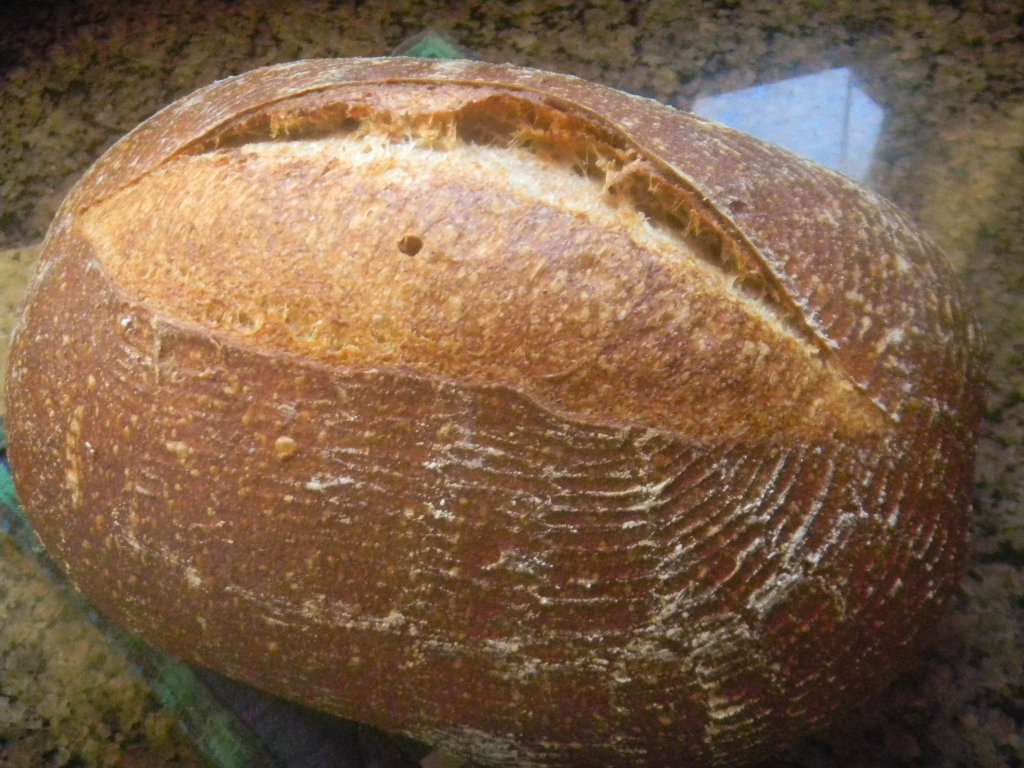 Once the gluten development was finished, we let the dough rest for 30 minutes before pre-shaping and final shaping into a squat oval to fit the basket shape.  Since it is not a boule or a batard, Lucy calls this a batoule.  The dough was placed in to the rive floured basket, bagged and tossed into the cold fridge for 18 hours of shaped retard.
We love Panang Seafood Curry and Smoked  Dark Meat Chicken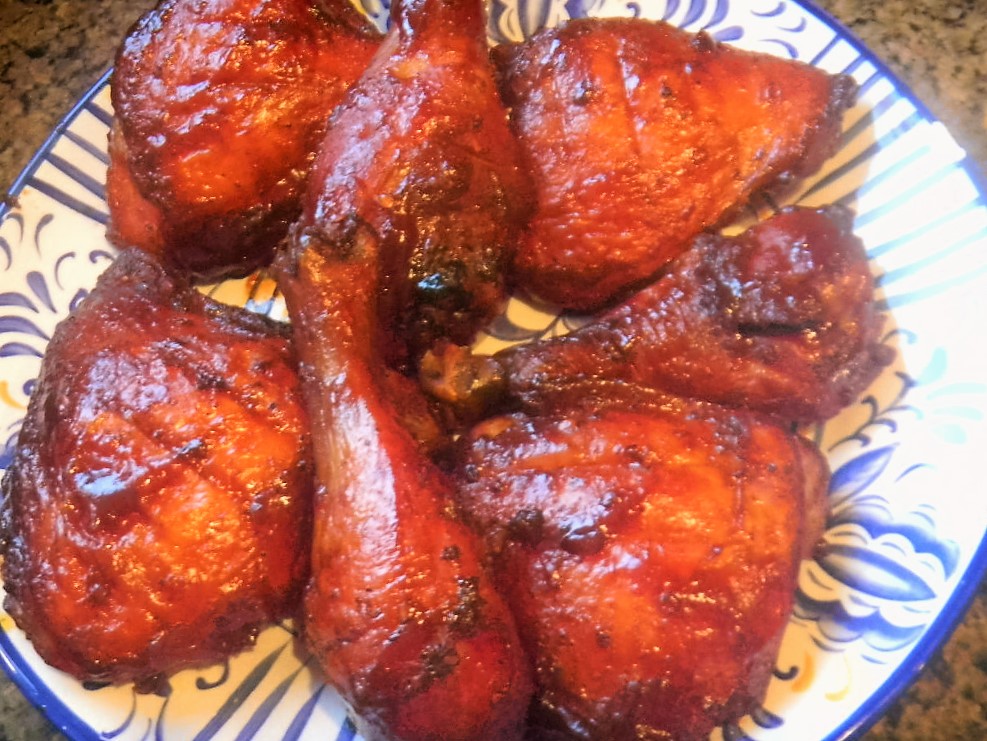 The rested batoole came out of the fridge looking about 80% proofed.  I thought about starting up Big Old Betsy for the preheat to 500 F immediately but decided to wait 45 minutes before doing so.  The dough was ve y cold not much of anything g was happening on the proof side at this point.
Can't go wrong with a huge tray of Lemon Curd Bars
Once Betsy beeped saying she was at the set temperature. We loaded in the Mega Steam and set the timer for 15 minutes to let the stones catch up and get the steam really billowing before un-molding the batoule to parchment on a peel, slashing it quickly down the middle and sliding it into the oven for 18 minutes of steam bath at 450 F.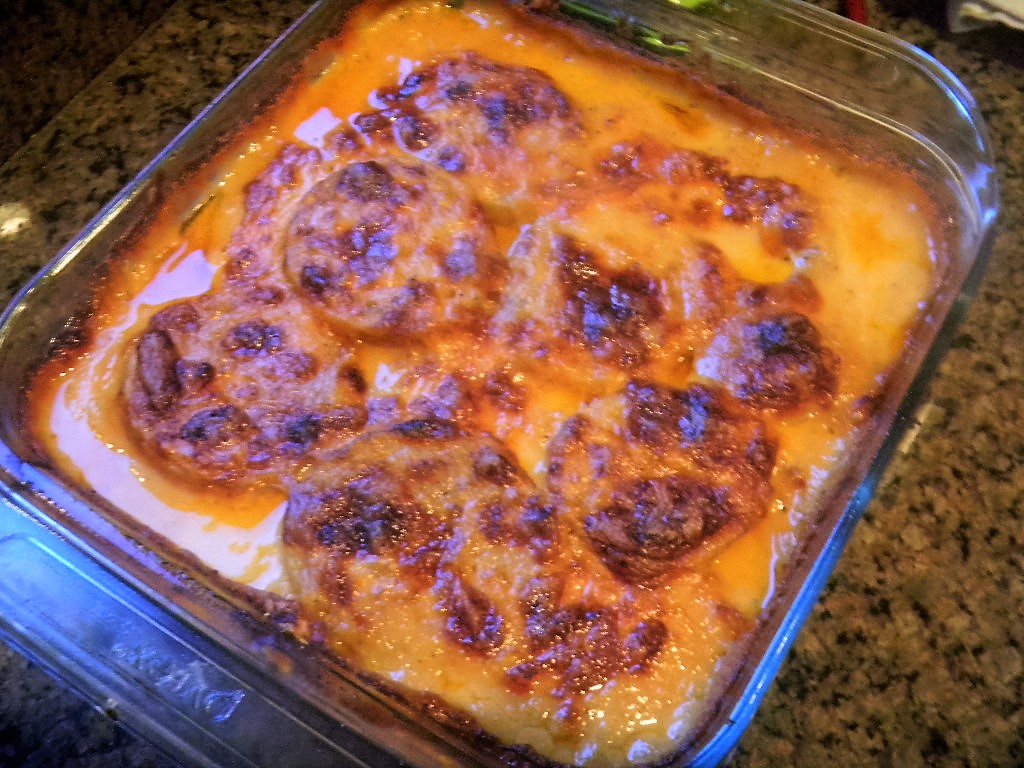 It has been at least 20 years since i last had my Mom;s Scalloped Potatoes that Granny used to make too.
Once the Mega Steam came out of the oven we turned the oven down to 425 F convection for 22 minutes of dry heat with the desert wind blowing. It really sprang and bloomed well under steam and browned up nicely without it.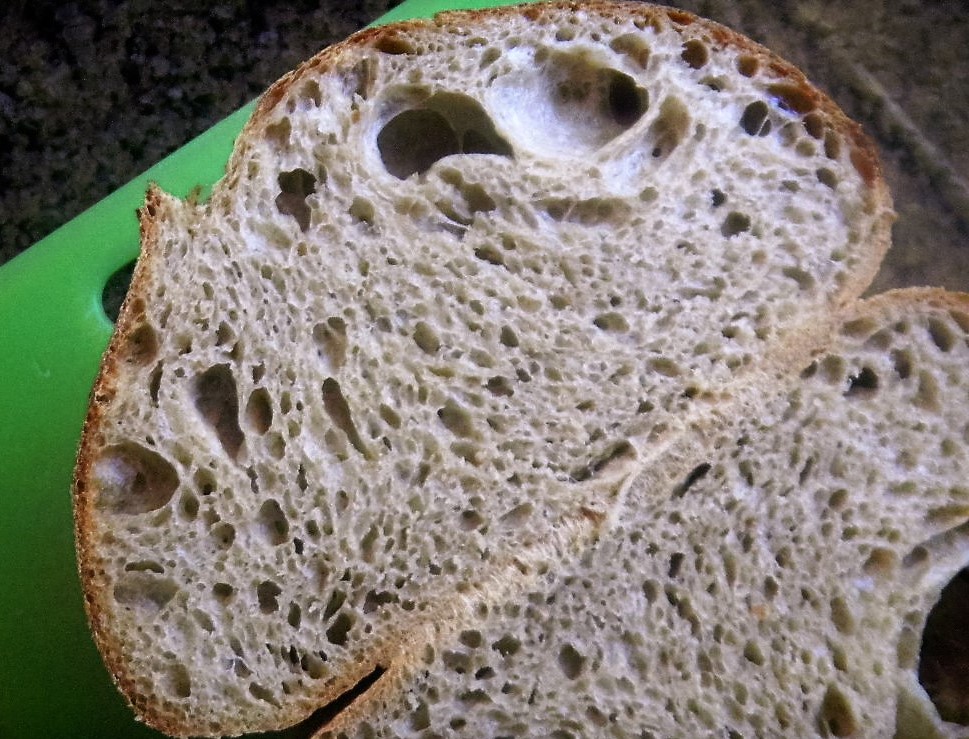 We will have to see how the crumb came out but it looks promising using the Hi Gluten and Bread flour mix the 50% white flour.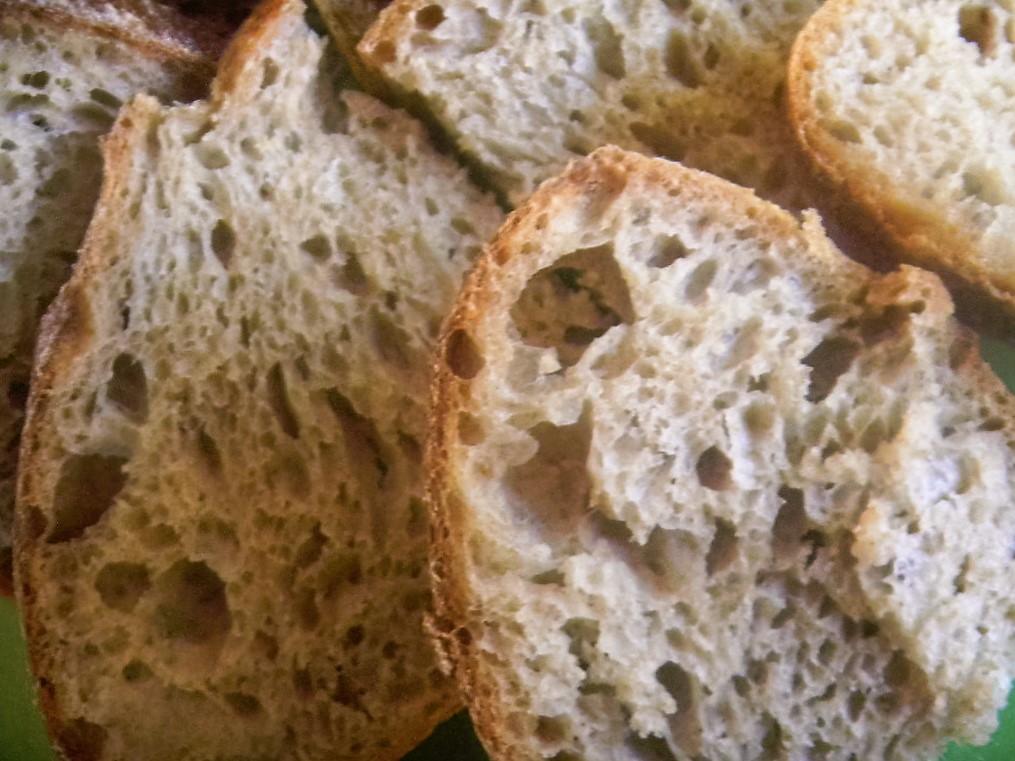 The fix is in.  This bread is everything I want in a half whole multi- grain bread where half the whole grains are sprouted.  The flavor is complex, earthy and delicious.  The crust came out crispy but went soft as it cooled.  The crust was thin and became chewy chewy.  I think using 425 F, instead of 450 F when the steam came out to finish baking, was the difference.  The crumb was very open soft and moist for a bread with 50% whole grains.  We really love this bread.  We have made a few of these breads that were similar but none ever came out this good in every category.   This is the bread we want to take on a deserted Island if we could only choose one.  Can't wait to see what the VWG version does.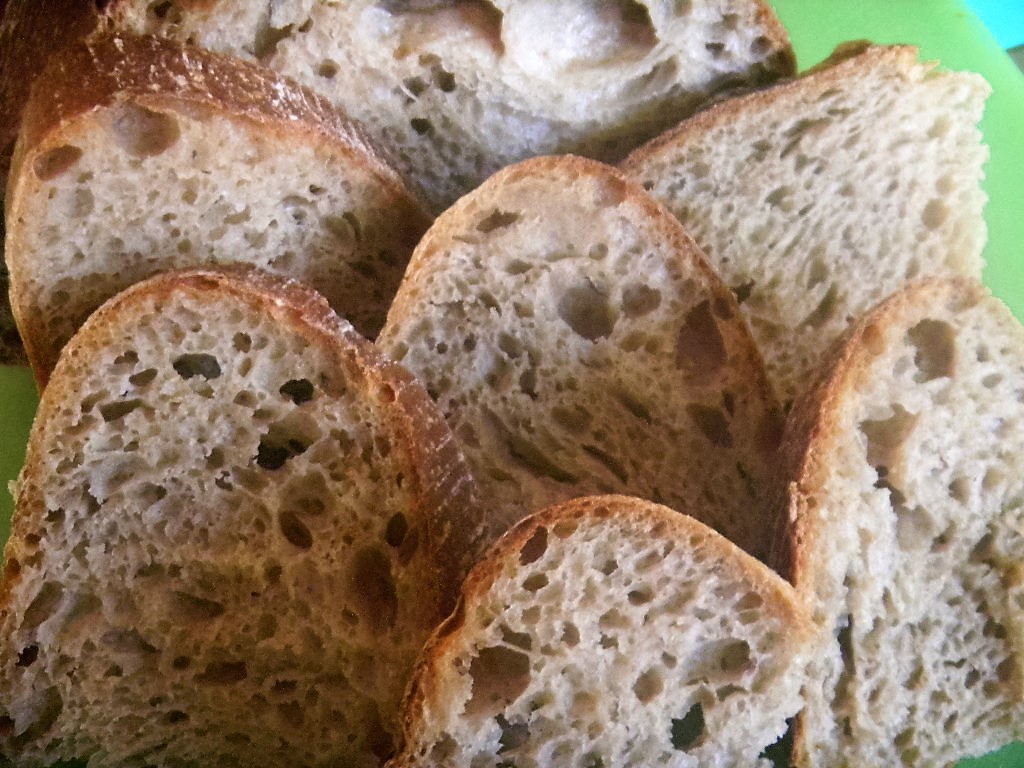 Levain Build

Build 1

Build 2

 Build 3

Total

%

3 Rye Sour

9

0

0

9

1.61%

Witch Yeast

3

0

0

3

0.54%

Cooked Potato Starter

3

0

0

3

0.54%

Raw Potato Starter

3

0

0

3

0.54%

88% Extraction 6 Grain

0

0

26

26

4.64%

12% Extraction 6 Grain

15

0

0

15

2.68%

17% Extraction Sprouted  6 Grain

0

26

0

26

4.64%

Water

15

26

26

67

11.96%

Total

48

52

52

152

27.14%

 
 
 
 
 
 

Levain Totals

 

%

 
 
 

 Sprouted & Whole 6 Grain

76

13.57%

 
 
 

Water

76

13.57%

 
 
 

Levain Hydration

100.00%

 
 
 
 
 
 
 
 
 
 

Dough Flour

 

%

 
 
 

KA Bread Fl. /High Gluten 50/50

280

50.00%

 
 
 

83 % Extraction Sprouted 6 Grain

121

21.61%

 
 
 

88% Extraction 6 Grain

83

14.82%

 
 
 

 

 

 

 
 
 

Salt

11

1.96%

 
 
 

Water

368

65.71%

 
 
 

 

 

 
 
 
 

Dough Hydration

76.03%

 
 
 
 

Total Flour w/ Starters

560

 
 
 
 

Total Water

444

 
 
 
 
 
 
 
 
 
 

Hydration with Starter

79.29%

 
 
 
 

Total Weight

1,065

 
 
 
 

% Sprouted 6  Grain

25.00%

 
 
 
 

% Whole 6 Grain

50.00%

 
 
 
 
 
 
 
 
 
 

6 Whole and Sprouted Grain flour is equal amounts

 
 
 

of Wheat, Kamut, Spelt, Rye, Emmer & Barley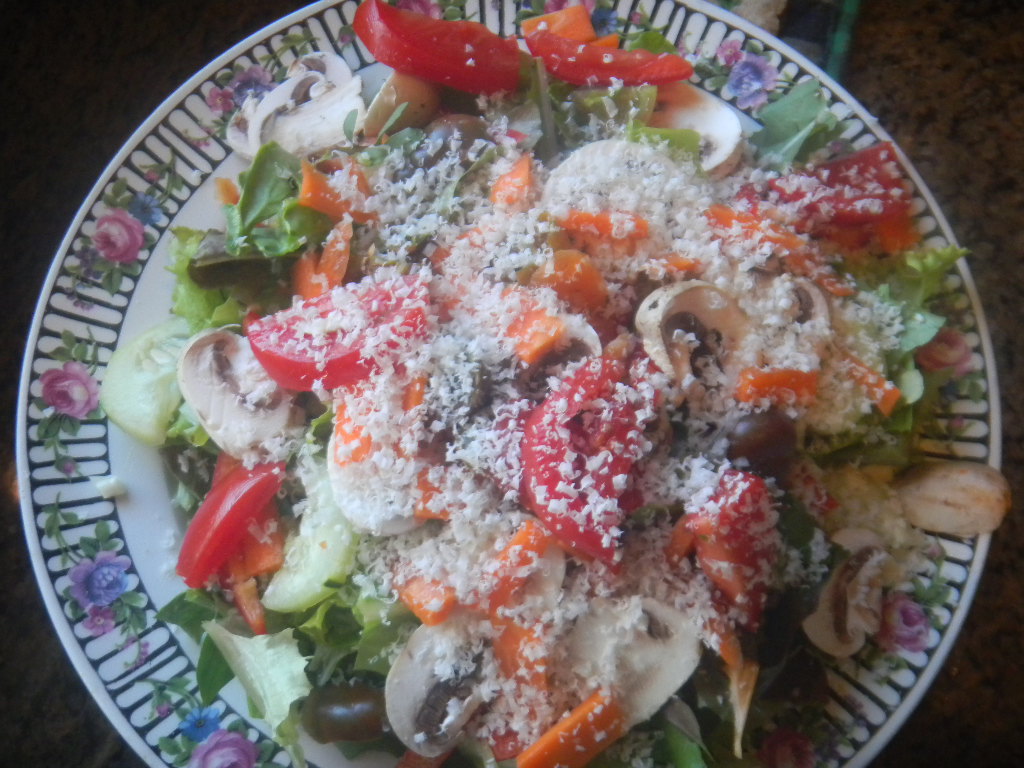 Lucy reminds us to always have a salad or two with all that other, less healthy, stuff we eat!