February 7, 2016 - 3:41pm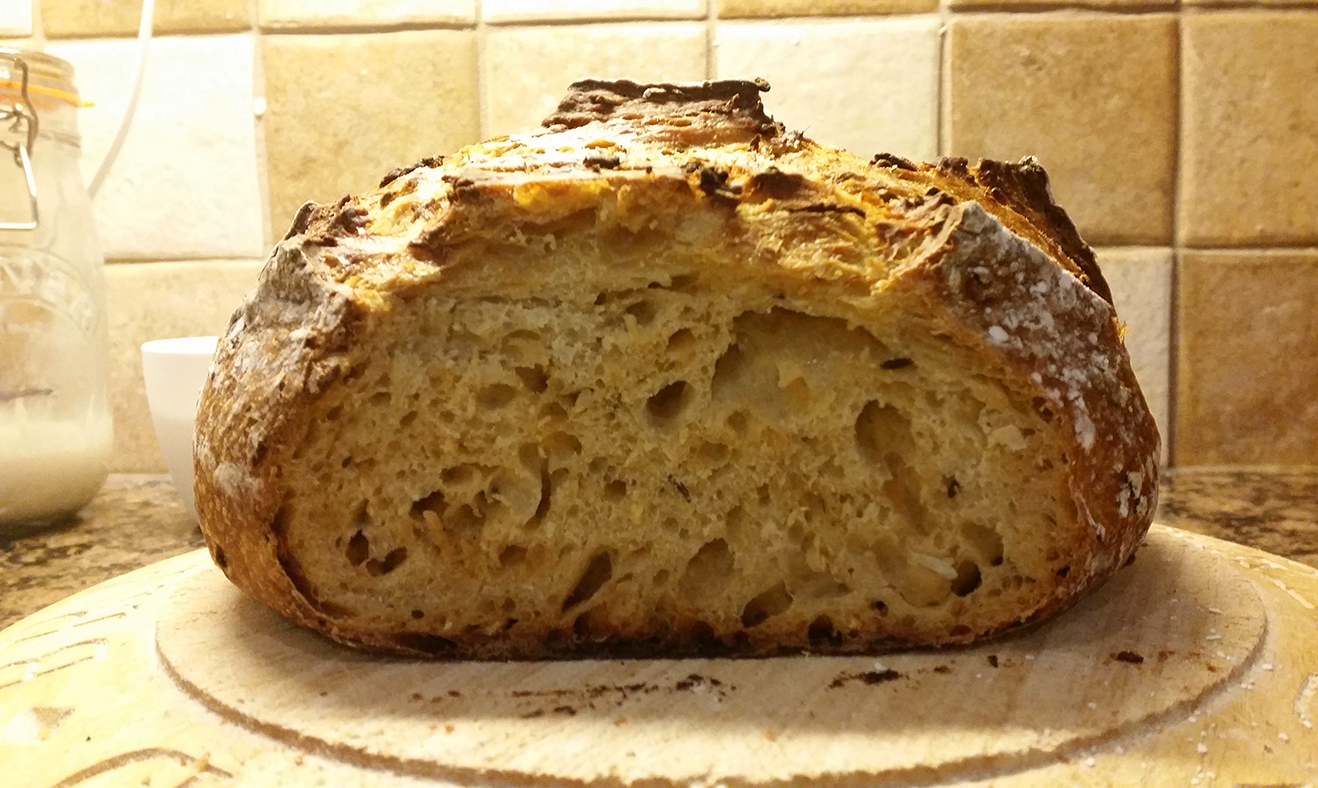 This one was made with a flour I got at the Farmers Market last week and used it yesterday to get that bread started.
The Flour is from Wessex Mill and called Onion Bread Flour.
The recipe is as simple as can be.
200g  80% hydration starter
700g onion bread flour
400g water
  15g salt
1tbsp caraway seeds
2tbsp olive oil.
Mix your starter with your water, olive oil, caraway seeds.
Autolyse for 30 minutes and add the salt
Knead for 15 minutes by hand or until the dough is soft, smooth and elastic.
I always knead for 2 minutes, rest the dough for 2 minutes, knead for 2 minutes, rest the dough for 2 minutes... until you get this supple soft and elastic dough.
Form your dough in to a ball and put in a slightly oiled bowl, cover with clingfilm.
Let the dough rise overnight.
Gently get the dough out of the bowl, degas it , form it in to a tight ball and put it in a well floured banneton and either put your banneton in a large plastic bag , cover with some oiled clingfilm...
* I put one of those one use plastic shower caps on mine *
Proof your dough for 1.5 - 2 hours * depending on the warmth of your kitchen.
* I let mine proof for 2 hours *
After 1.5 hours proofing preheat your Oven, with the dutch oven in it, as hight as you can * mine is about 240C * fan.
After 2 hours proofing time tip your dough on a big enough piece of baking paper and slash it. 
Put your bread WITH the baking paper in the dutch oven, put the lid on and bake on highest setting for 30 minutes.
After 30 minutes take the lid off, turn the heat down to 180C and bake for a further 20 minutes.
Let the bread rest and cool for at least 2 hours before cutting it.
Have fun baking.
Sorry about the quality of the crumb shot.