October 11, 2007 - 9:11am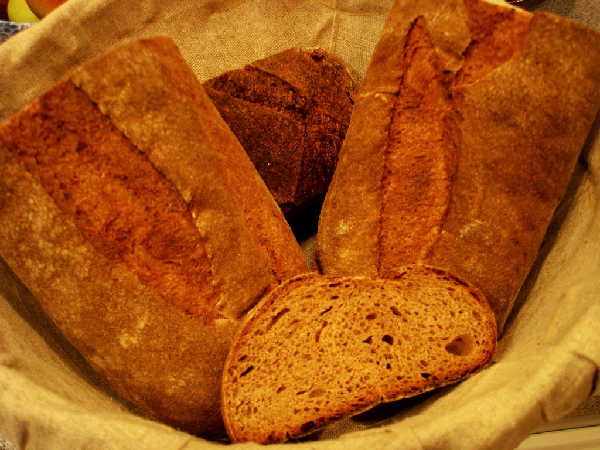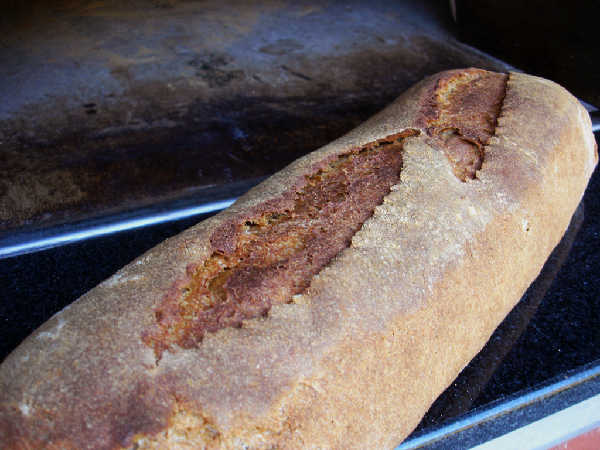 The Whole Wheat Mash Bread, as described in Peter Reinhart's Whole Grain Breads, had a wonderful aroma as it baked. Based on the photos in the book, it came out about as it was intended. The bread was dense and slightly sweet, just as described, and the crumb texture was creamier with the mash.
I included some photos of the bread and a spreadsheet in html and xls formats that breaks out some of the details.
A preferment and a mash are mixed with some additional flour and other ingredients to form the final dough. Instant yeast is used in the final dough to speed up the rise. The idea is that the flavor is already in the preferment and the mash, so the final dough just needs to be raised, which can be done effectively and expediently with instant yeast.
I used a 50/50 mix of Wheat Montana Bronze Chief and Wheat Montana Prairie Gold. The Bronze Chief is a high protein hard red spring wheat. The prairie gold is a high protein hard white spring wheat. I may have needed more water, given my flour choice. Maybe the crumb would have been a little less dense and more tender if hydrated more, which might have suited my bread tastes a little better. However, the results look much like in the photo in Whole Grain Breads and dense was a word used in the description of the crumb in the book.
Mash
60 grams (2 oz) Wheat Montana Bronze Chief (use any whole wheat bread flour)
60 grams (2 oz) Wheat Montana Prairie Gold (use any whole wheat bread flour)
1/2 tsp diastatic malt powder
300 grams water
The idea is to raise the temperature to something slightly below 170F for 3 hours. I heated the water in a metal sauce pan and preheated my oven to 165F, which meant putting it at the lowest setting. The water in the sauce pan got to about 180F fairly quickly. It was taken off the burner and allowed to cool down to 165F, which only took about a minute with a bit of stirring. I then dropped in the flour and stirred it, using a wet spatula to clean the sides of the pan. The lid was placed on the pan (be careful the pan and lid is OK to put in oven, although the temperatures are fairly low) and the pan placed in the oven for 3 hours, then removed and allowed to cool for the rest of the evening. The change in flavor of the mash from when it was first mixed until put in the refrigerator was dramatic. It was much sweeter and also quite a bit darker in color. It seemed much like gravy, and I was lucky it wasn't thrown out, as my wife thought it was just some gravy that had been left out sitting in a pan. Fortunately, she decided there was enough gravy there to warrant placing it in a plastic container and putting it in the refrigerator.
Levain
30g (1oz) 90% hydration white flour starter (use any starter, white, whole wheat, rye, etc.)
110g (4 oz) Wheat MT Bronze Chief (use any whole wheat bread flour)
110g (4 oz) Wheat MT Prairie Gold (use any whole wheat bread flour)
150g (5 oz) water
Mix all ingredients and knead into a dough for a few minutes. Place in container large enough for at least a triple in volume. Allow to rise by double or a little more, which should take about 5-8 hours at 76F or maybe 7-10 hours at 70F. You can let it ripen more if you want stronger flavors, but the inoculation is high in this case, about 40% fermented flour in the final dough, so you may find that letting it ripen too much affects the texture adversely or makes it more sour than you'd like. I found the bread to be mild flavored, and my levain was allowed to rise to about 2.5x the original volume over about 6 hours.
Final Dough
122g (4oz) Wheat MT Bronze Chief (use any whole wheat bread flour)
122g (4oz) Wheat MT Prairie Gold (use any whole wheat bread flour)
15g (0.5 oz, 1 tbsp) malt syrup (or honey, agave nectar, sugar, brown sugar, molasses, or don't use any sweeteners)
15g (0.5 oz, 1tbsp) olive oil (or use another fat such as butter, or don't use any fat at all)
9g salt (I thought this could have used a touch more salt than was specified)
7g (.25 oz, 2.5 tsp) instant yeast
all of the levain
all of the mash
I have a new DLX mixer, which was used for the first time to mix the dough. It took a while to get all the ingredients to fully homogenize but was only using the roller attachment. I wonder if it would have worked better to use the dough hook. The dough seemed very stiff, and I ended up adding some water. The Wheat Montana flours are high in protein and so may need more water than the typical flour assumed in this recipe. Only about 1 ounce of water was added, as I didn't want to get too far from the recipe on the first try. However, in the future, I'll try adding more water to this recipe. It would be more difficult to work with, but I've generally preferred whole grain breads when the dough was at the higher end of the hydration spectrum.
Fermentation
The ingredients were mixed directly out of the refrigerator. After mixing, the dough was at about 70F. I let it rise for about 1 hour and 15 minutes to a little more than double, then shaped the loaf into a batard and placed on couche fabric dusted with a mix of rice flour and whole wheat flour. The shaped loaf rose another hour, was placed on a peel and slashed, and finally baked.
Bake
The loaf was baked for 20 minutes in a steamed brick oven preheated to about 450F, then turned off and sealed with towel covered wooden door. The oven door was opened after 20 minutes and the loaf baked in the open cooling oven, dropping from 425F to about 350F (air temperature) for another 30 minutes. The aroma as this bread baked was about as good as I've experienced. I don't know what accounts for the especially good aroma, but the one big difference is the mash.
Results
The bread is a little dense and would be great with any sort of spread. I had put some honey and tahini on it this morning, which was delicious. The flavor is mild, but the sourdough and the mash give it a slightly sweet, slightly sour flavor that is different from other whole grain breads I've made so far. The crumb is creamy and dense at the same time. I would like to try this recipe again but with a little more water, maybe in a pan, and see what happens.