Day trip to Keith Giusto Bakery Supply (Central Milling)
Happened to be in the Bay Area after Christmas this year for a vacation, and was passing through Petaluma on a weekday, so decided to swing by Keith Giusto Bakery Supply, which is tucked into a corner of an industrial park in Petaluma.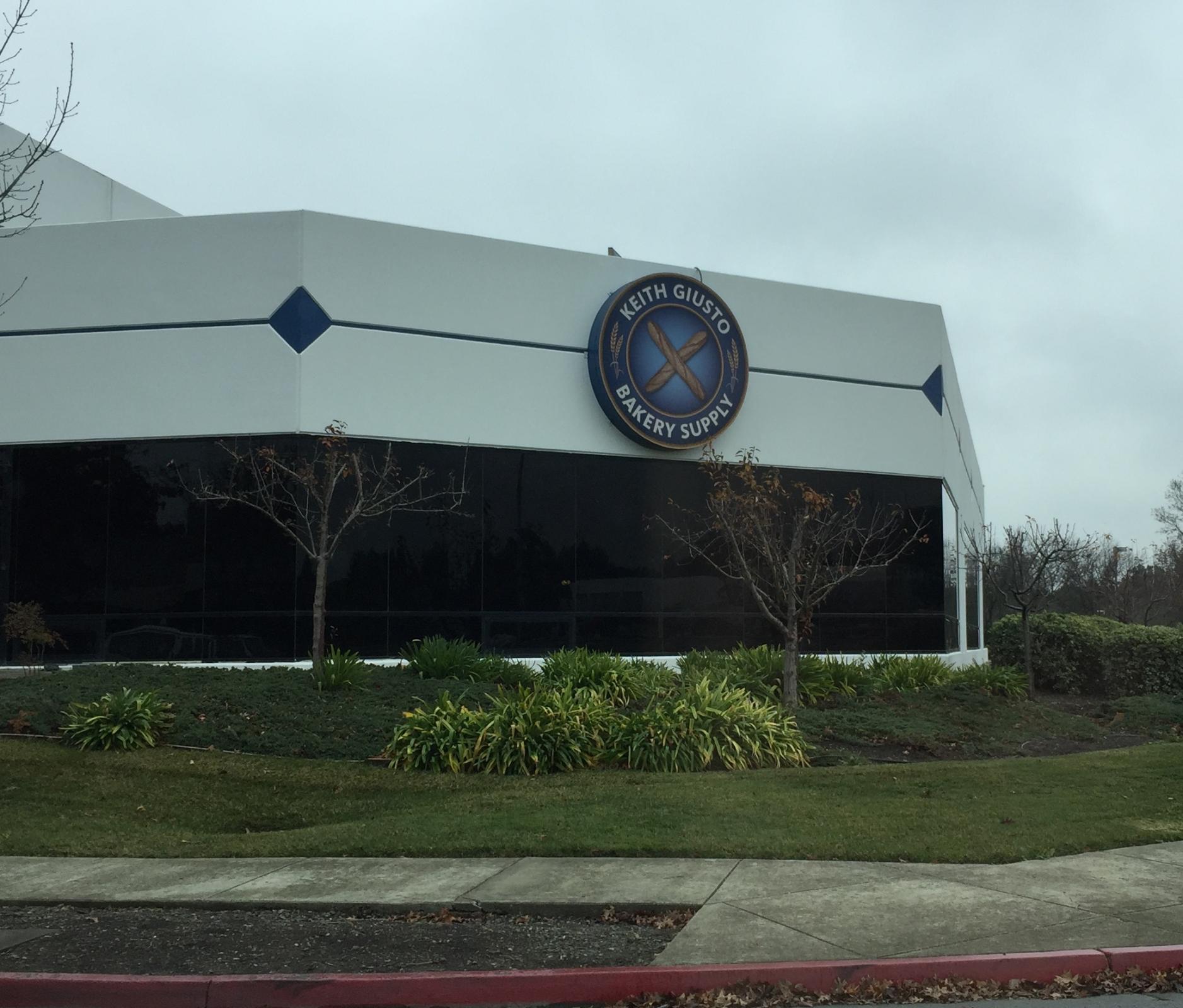 They have a neat, warm little consumer sales and reception area where they have 5lb individually bagged organic and non-organic Central Milling flours, and other home-baking supplies like bannetons, scrapers, buckets, bowls, baking books, and even a line of gluten-free baking mixes. So fun to explore the options, I felt like a kid in a candy store!
I was busy picking some stuff out when a nice young curly-haired gentleman with a friendly grin and enthusiastic personality struck up a conversation about where we were travelling from, how I found out about the place, etc. Lon (Gallardo) introduced himself as the main sales rep for the company; IIRC he's been working there for 8 months and knows Nicky (Giusto) from college. We talked a bit about the Giusto family and how Keith and Nicky Guisto are associated only with Central Milling and separate from the part of the family that produces Giusto's Vita Grain, and how getting Central Milling flour in LA is easier using the LA Bread Bakers meetup for group buys (flat rate shipping of a pallet i.e., fifty 50lb bags to Los Angeles area is only about $110).
Lon then asked us whether we would want to take a tour of the warehouse.
Oh heck yes we would!  
The warehouse is big, tons of flour sacks in pallets stacked neatly with several rows of different kinds of flours and other baking ingredients (they sell whole grain berries, sugar, baking powder, and now even chocolate!) Was cold in the warehouse (high's in the mid 50's in the bay area this week), and found out that it's not air conditioned, and apparently even during the summer it never gets very warm. 
Here is all my "loot": I'm excited to try their spelt, type 70 and 85 flours, california stone-ground wheat, and 9 grain cereal (which will soon be discontinued in lieu of the 6-grain cereal blend they already sell).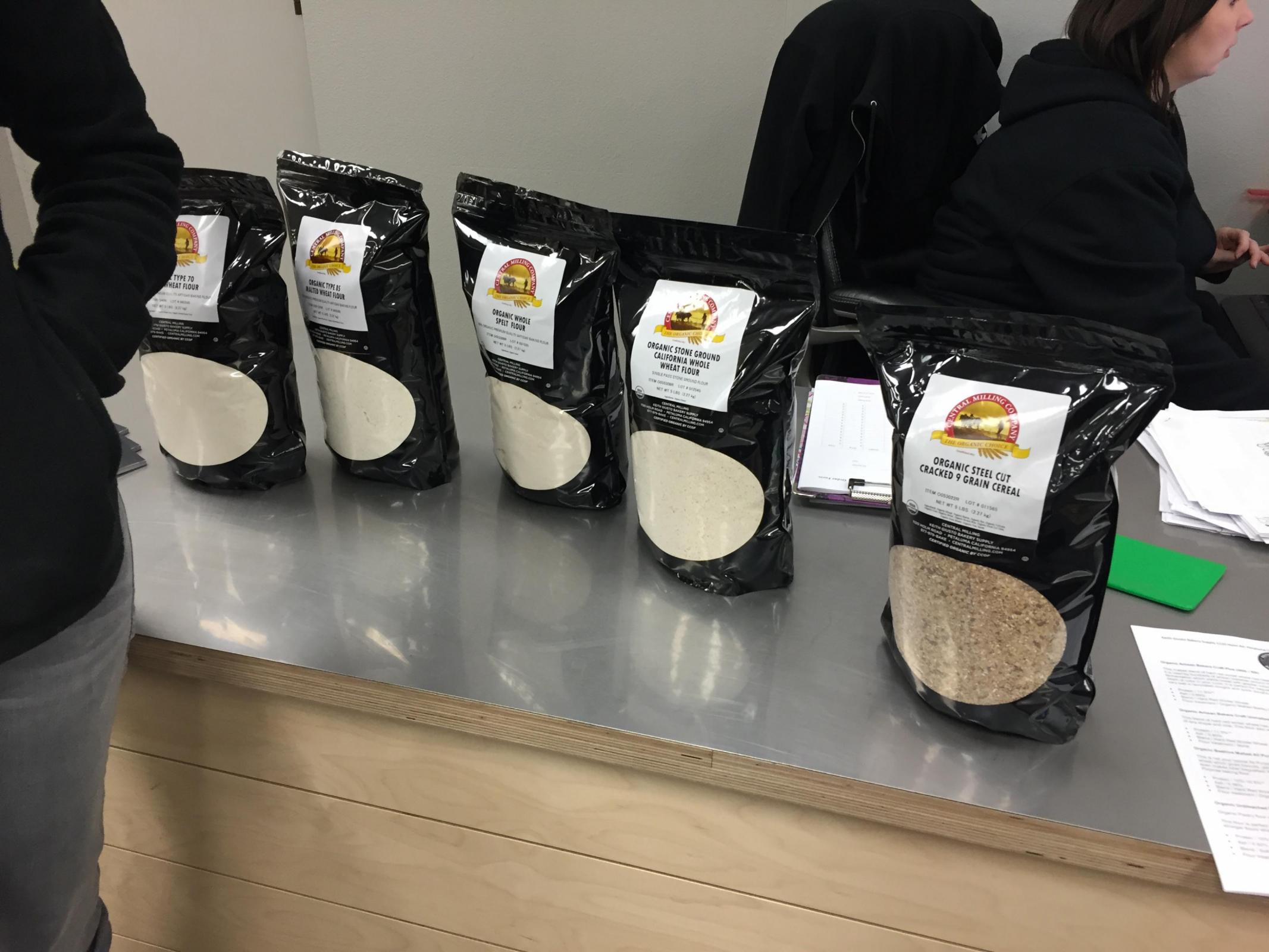 Some things I learned:
They are the primary distribution point of Central Milling flour. Their primary mill is in Utah, but they have several mills. They have other distribution points thru other bakery supply providers throughout the US, but most do not carry the full Central Milling product line. They even distribute from their Petaluma location to as far as Texas.
Their flours and grains come from all over the country, wherever is necessary to get the right specifications of product.
They have a spooky guard for their warehouse: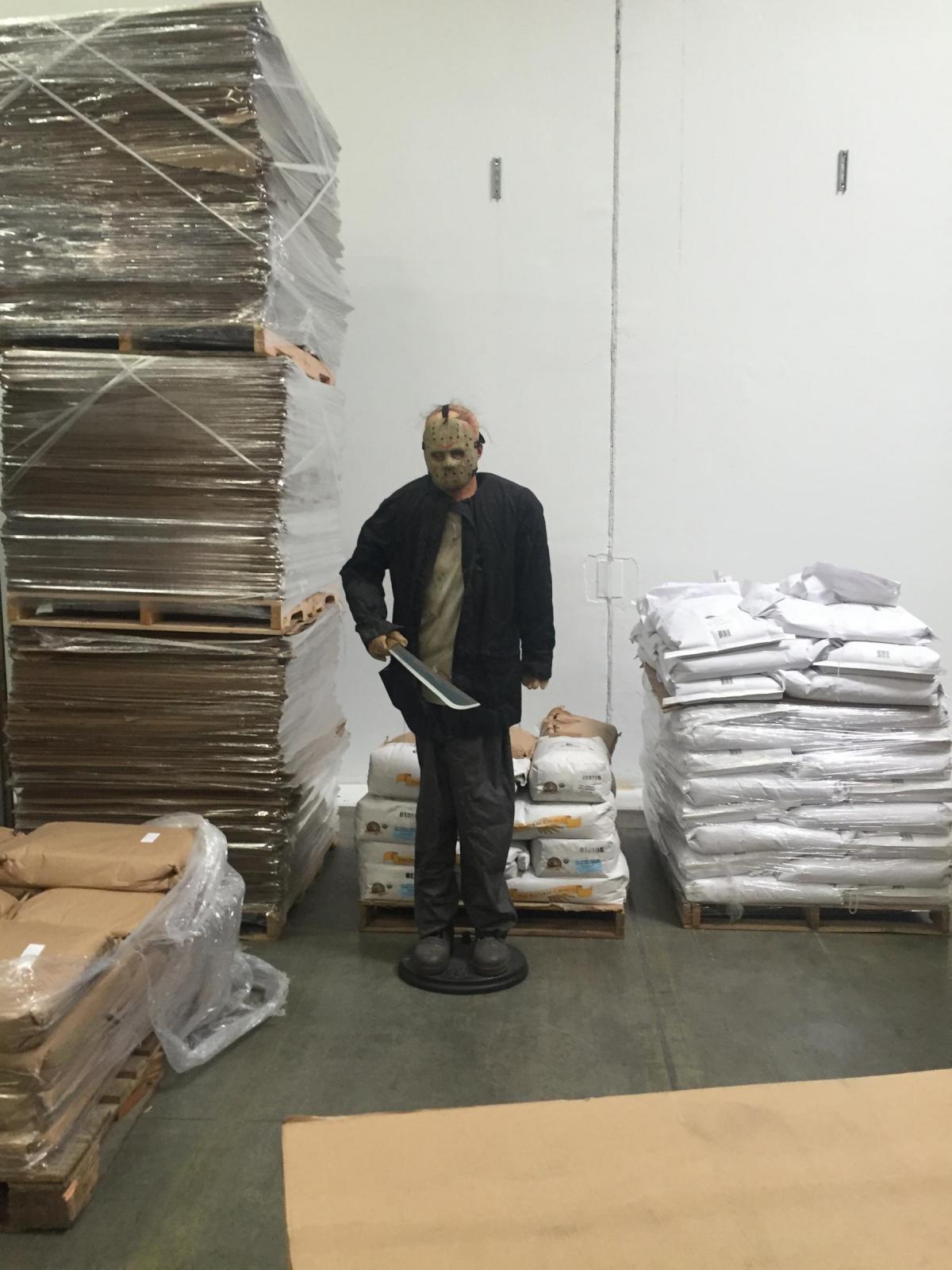 They also have other non-organic commercial products (Red Rose brand) which are used by many commercial customers; it's not a brand that's commonly available for retail, but it's a really old brand (I believe Lon said it dates back to the 19th century). This brand is not organic (like Central Milling) and is significantly less expensive (maybe 1/2 the price of the Central Milling version), but are milled to very similar specifications (they have a type 70, type 85, and others in this brand). It's a reminder of the extra cost involved in organic certification, procuring and maintaining organic product.
They have special equipment to re-package the bulk product into 5lb bags to maintain the organic requirements, which is great for a home baker/hobbyist like me. Easy to spend $6-8 for a bag and try something new before committing to 50lbs. Ended up buying a 50lb bag of the Bakers Craft Plus (which is a malted flour). They sell malted & unmalted versions of a number of their most popular flours. 
Maintaining an organically certified warehouse requires special procedures including off-loading the many pallets of flour, checking for pests/rodents, and vacuuming/cleaning the entire shelving area regularly (once a month I think?) That seemed like an incredible amount of work! 
Confirmed that both Acme, Tartine and Josey Baker use Central Milling flours (Tartine supposedly uses 50/50 of organic and non-organic flour in their breads). 
They are building a new test kitchen, to ensure that the can continue to test products. Half will be set up for hobbyist baking classes, and the other half will be set up for commercial production testing. I was drooling over the steam injection deck ovens and the mixing gear. This is the current test kitchen: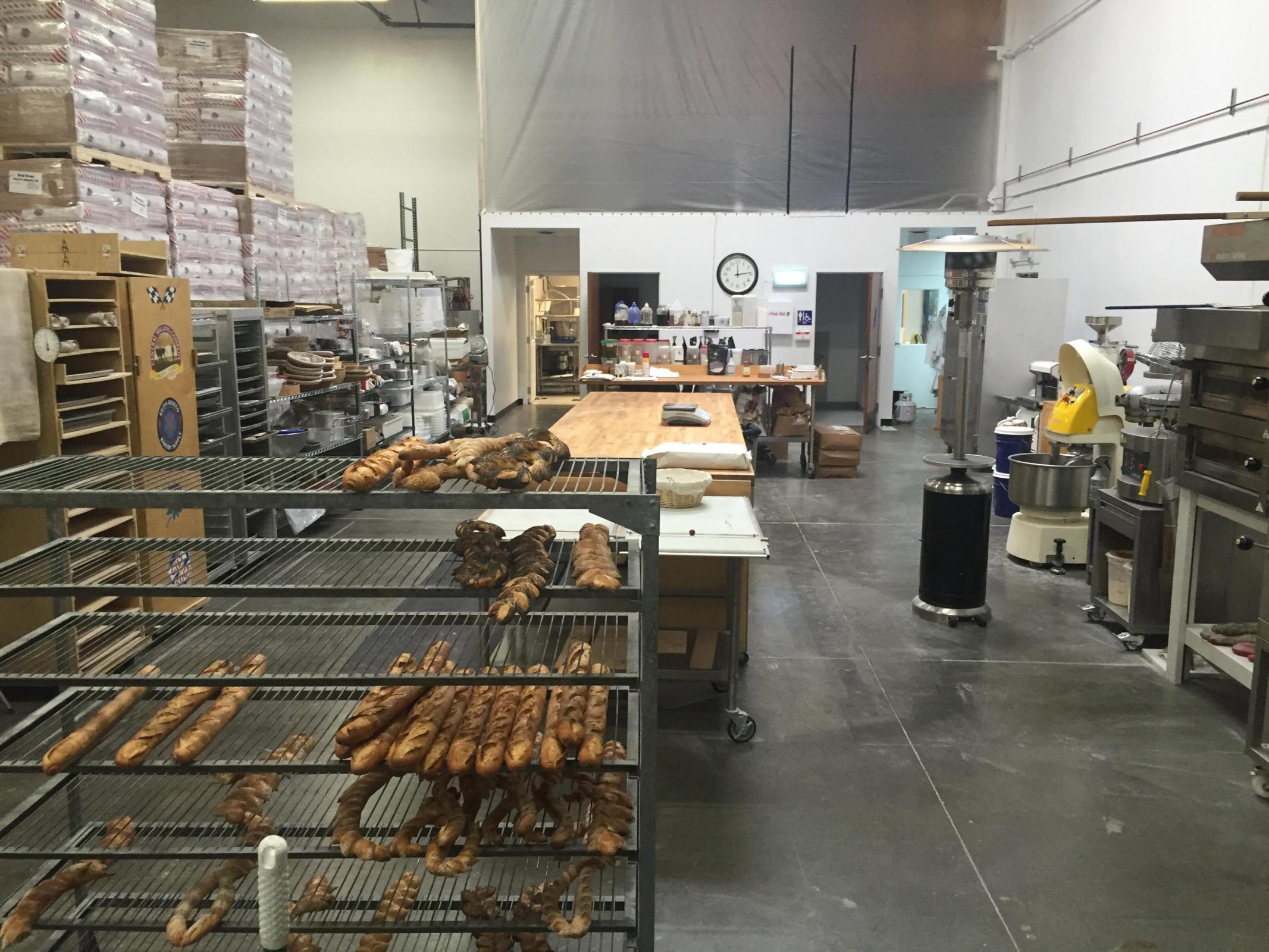 As part of their service to commercial customers, they offer formula troubleshooting to ensure that customers are getting the right product, and that it's working as expected.
Nicky Giusto is a competitive baker who is getting ready to compete for Team USA in the Coupe de Monde Boulangerie competition. Nicky wasn't there (he is in training with Team USA, they meet all over the country to train) but he had done a test bake the day before with lots of baguettes, epis, and other pretty decorative loaves. The breads were day-old and Lon offered for us to take what we wanted. The two baguettes we grabbed were phenomenal. I have never had baguettes that had such a creamy, translucent, custardy and open crumb. Even the two day-old baguettes sitting in my warm truck were like a sweet, wheaty, toasty perfume that filled the air after only a couple of minutes. I wish I took a photo of the crumb.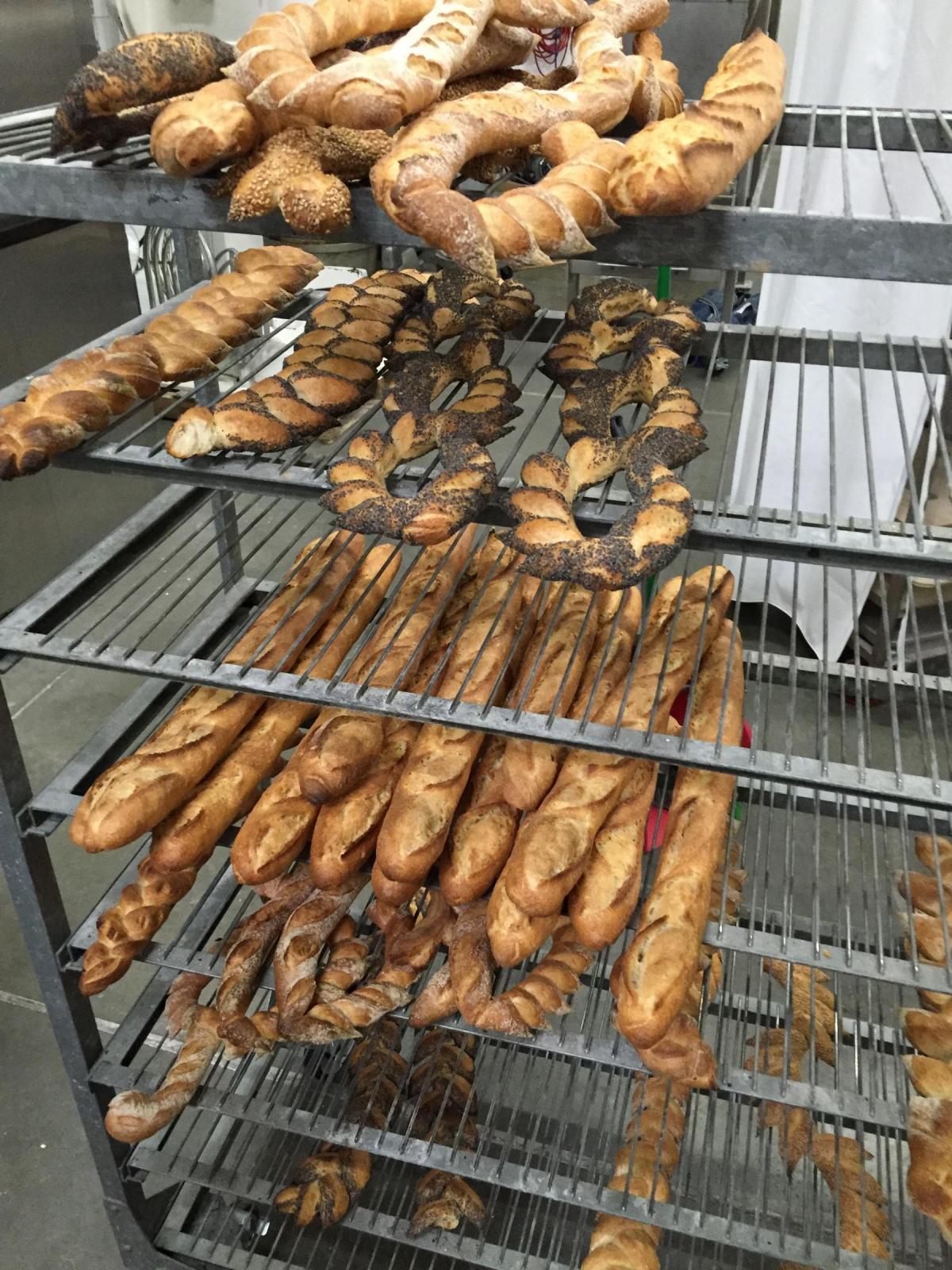 Lon and everybody at Keith Giusto's Bakery Supply made it a really fun and informative visit, got to leave with some great breads and fun memories. Can't wait to start baking!