Vertical barrel rocket oven.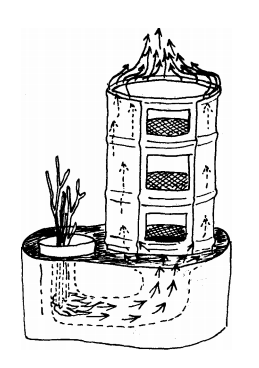 I was doing a search for something else entirely when I came across this (warning PDF bomb):
http://www.ewb-usa.org/files/2015/05/capturing-heat-one.pdf
On page 31 to 34 there is a vertical rocket powered low mass bread oven that passes hot gasses directly over loaves of bread.
On one hand it seems incredibly simple and effective, but on the other hand would there be problems with smoke in direct contact with bread?
I'm tearing apart the last failed WFO experiment and pretty much have everything I'd need to build one, but I'd like to think it through before just jumping into another failed project.