Sourdough Batards with Rosemary and Cream Cheese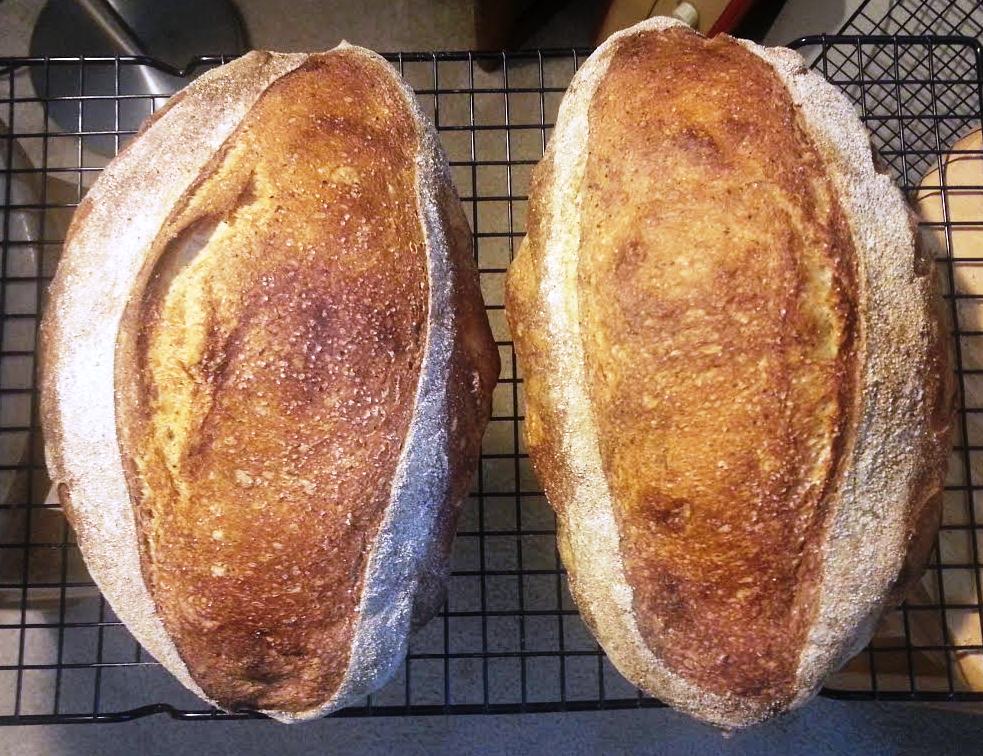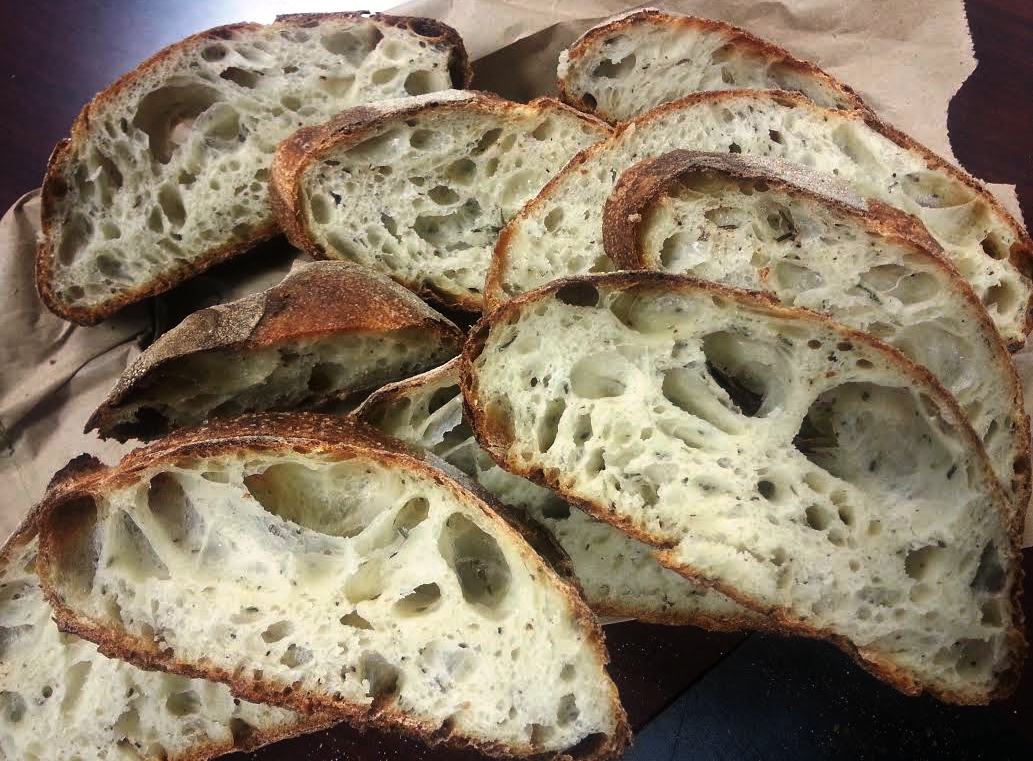 Hello, Fresh Loafers! I haven't posted a formula in awhile, and I think that this one for 76% hydration batards with rosemary and cream cheese is nice and reliable. 
Ingredients:
550 g all-purpose or bread flour (substitute in 70 g whole wheat if you're going for country-style)
410 g cool water
100 g 100% hydration active white starter
12 g salt
6 g non-diastatic malt powder (sub brown sugar or honey if necessary)
1/4 tsp black pepper
1-2 tablespoons of fresh, very finely chopped rosemary (I used 1.5)
40 g cream cheese
40 g pate fermentee (optional)
Method:
1) Feed your starter/mix your levain such that you have 100 g of active starter by the time you want to mix your final dough.
2) Mix flour and water in a food safe container with a lid, and autolyse for 1-10 hours (I like a very long autolyse when I'm able to plan for it; it often works out that I allow my starter to ferment while autolysis is happening!)
3) Add starter, rosemary, cream cheese, pepper, salt, malt, and pate fermentee to the flour + water mixture. Pinch and squeeze until combined, and then stretch or slap-and-fold for 3-4 minutes.
4) Stretch-and-fold every 30 minutes for 2 hours.
5) Allow the dough to rest at room temperature until increased about 20% in size, between 30 minutes and 2 hours, then transfer the container to the refrigerator.
6) Retard in a refrigerator no warmer than 45 degrees F for 8-24 hours (the longer you retard, the more open your crumb will ultimately be, and the tangier the loaf; I was only able to retard for 8 for the batards below).
7) Remove the container from the refrigerator. Sprinkle flour over the top of the dough and spread over the top, then gently loosen the dough from the sides of the container, allowing flour to fall around the dough. Flip it onto a work surface so that the floured side forms the bottom of the loaves.
8) Carefully cut into two equal pieces. Gently pull each piece into a long oval.
9) Allow to rest for 5-10 minutes. (I am not big on pre-shaping, so these ovals are quite loosely formed.)
10) Shape into batards using whatever method you are most comfortable with. One day soon, I will share pictures of my method of batard shaping -- it's the one I'm most consistently successful with as a novice home baker!
11) Allow the loaves to proof in a couche seam-side up for 45 minutes to 1 hour, or until increased roughly 40-50% in size. Watch carefully at this stage!
12) Optional: Transfer the couche to the freezer for 10 minutes. This step is not absolutely necessary, but I find that the "freezer trick" helps with both oven-spring and ease of scoring.
13) Score and bake the loaves at 475 degrees F for 15 minutes with steam, then 20-25 minutes without steam. For small batards such as these, I love to bake on the stone, with a turkey roaster lid creating the steam. For some reason, the crust I achieve this way is thinner and crispier than the crust I achieve using a dutch oven.
Rosemary is a slightly divisive herb, but I find that those who like it really, really like it. This bread is great as a side for a hearty meal, eaten straight with olive oil, or, my personal favorite: A smear of apricot jam.
Enjoy!
And some bonus photos of loaves created since the last time I posted: