Baker/author Ken Forkish, in Flour Water Salt Yeast: The Fundamentals of Artisan Bread and Pizza, makes an impassioned and compelling argument for home- baking in Dutch ovens.
He writes of his struggle to achieve the same "texture, crust, color and oven spring…" in his home oven compared to: "[what]… we get in the bakery using the 15,000-pound Italian deck oven, with steam at the push of a button." Shortly following he expresses his gratitude to authors Jim Lahey (My Bread) and Chad Robertson (Tartine Bread) for introducing him to using Dutch ovens for home bread-baking, their books recognizing "…previous techniques for home baked hearth bread, most often baked on a pizza stone with myriad methods for producing steam, were insufficient for recreating the oven steam we enjoy as professionals bakers"
I don't bake bread at home in Dutch ovens. I made this choice five years ago. I'm and old man. I suffer from arthritic degradation in my spine. If I overdo it I hurt. I'm also a klutz. Throughout my lifetime I've frequently tripped over matchsticks. My choice was made for personal safety. I don't feel comfortable wrestling a pre-heated Dutch oven bent over an open, heated home oven. There are also secondary reasons. One looms large in my reasoning: my favorite loaf shape is the batard. It appears Dutch ovens, with few exceptions, dictate "Only Boules".
I own six Dutch ovens: three of them are made from raw cast iron (two of them have three short legs for campfire cooking/baking), three of them are enameled cast iron. The oldest two were purchased, by me, in the 1950's; the youngest three years ago: an enameled Lodge—made in China. It's my least favorite (its interior stains). Two (Le Creueset)  have some-kind-of-plastic handles that would be harmed at bread-baking temperatures. I could remove them, but that would make wrestling covers more difficult. I'd probably drop one on my toes. The two with legs don't sit well in ovens. Also, only my oval Le Creuset would allow baking my favorite bread shape. Forget baguettes.
I love Dutch ovens.
But I won't bake in them for the reasons stated above.
When I read author Forkish's declaration my first thought was, "What am I missing out on?" I scanned through the rest of his book, and my copy of Tartine Bread, but found nothing quantifying the shortages in texture,  crust, color and oven spring my naked-in-the-oven-with-insufficient-steam breads achieve.
I didn't doubt there are differences. I simply wanted to know, "What are the differences? How "big'" are they?"
I decided I'd do an experiment. I would simulate a Dutch oven by placing a six-inch deep, fourteen-inch diameter stainless-steel bowl over a 500 gram boule-shaped loaf resting on my preheated baking stone. I would insure the bowl was placed such that its entire rim rested on the seventeen inch wide inch baking stone: an easy challenge.
I would then compare it to an "identical" boule baked in my usual manner.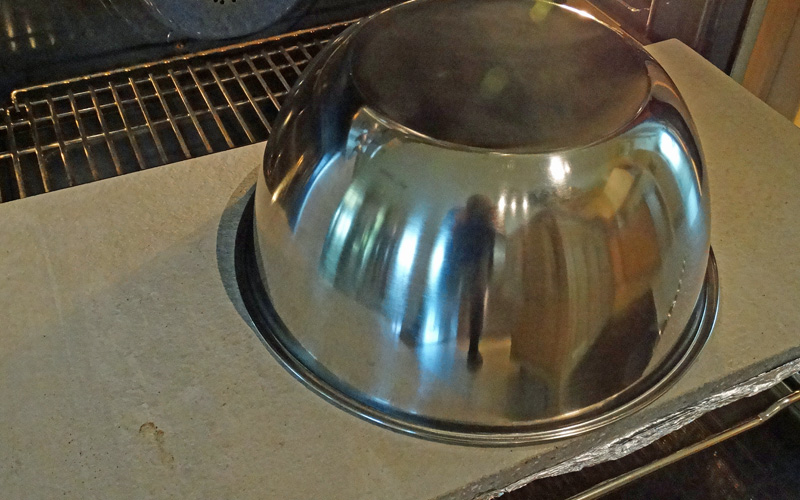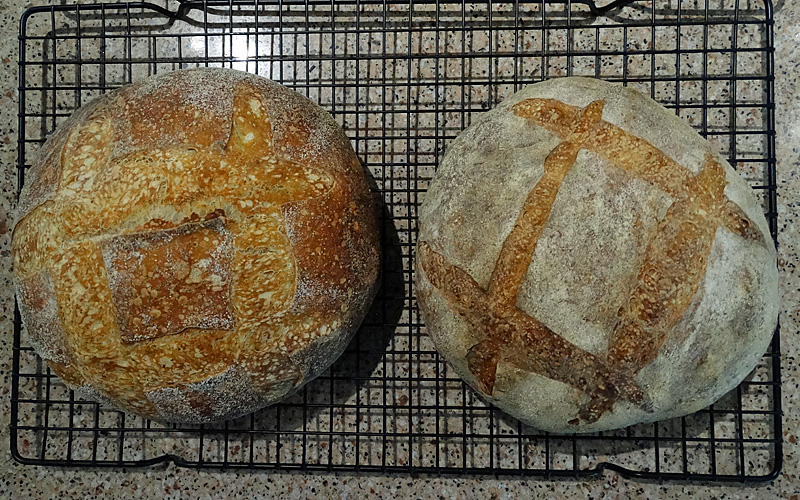 In this picture and the two following the bowl-covered loaf is on the left.
These loaves, each 500g, were from the same dough (70% hydration, natural levain only) but proofed seperately and baked serially. I was concerned that if the differences were slight how the exterior "wet" oven air might muddy the outcome. I need not have worried.

My visual assessment was the covered loaf had expanded more then the conventionally baked loaf, but after seeing the difference in shape, and loft I wasn't entirely convinced.
I placed each loaf in a thin plastic bag and extracted the trapped air from each bag. the plastic became a thin skin clinging to the loaves crust. I carefully immersed each loaf in a bowl filled to its rim with water. I collected and measured the overflow in milliliters. The cover-baked loaf displaced 10% more water than the conventional loaf, indicating its volume was the greater. Additionally, I weighed the two baked loaves. The differed in weight by only 2 grams (less than 0.4%)--the cover-baked loaf was the heavier..

The crust on the cover-baked loaf is noticeably thinner than the conventional loaf, but I made no effort to measure the difference. Interestingly, I perceive, in this picture the crumb of the conventional loaf exhibits less random bubble size, but overall appears to be slightly more open than the cover-baked loaf. However, the variance seems small, and slices elsewhere in the loaves compared randomly.
The volume difference vs. weight difference would suggest the cover-baked loaf's crumb is slightly more open.
Both my wife and I ate multiple samples of both loaves. Neither of us perceived any difference in flavor or chewiness of the crumb. The cover-baked loaf's crust is, not surprisingly, less chewy. My wife prefers it. I couldn't perceive any difference in crust flavor; my wife didn't have an opinion.
The 10% volume difference in oven spring caught my attention.
I've not been disappointed with the oven spring I've been routinely achieving. (I think the photographs justify my satisfaction.) But, if I can get more, without having to wrestle with eight pounds of piping-hot DO, I'll take it. But first, I wanted to be certain my one trial was typical.
I did it again: with a couple refinements, a week later.
1. I baked  the loaves simultaneously: one covered, one conventionally
2. I increased the dough weight per loaf by 100g. I reasoned this should make any volume difference more observable.
3. I shaped the loaves into batards.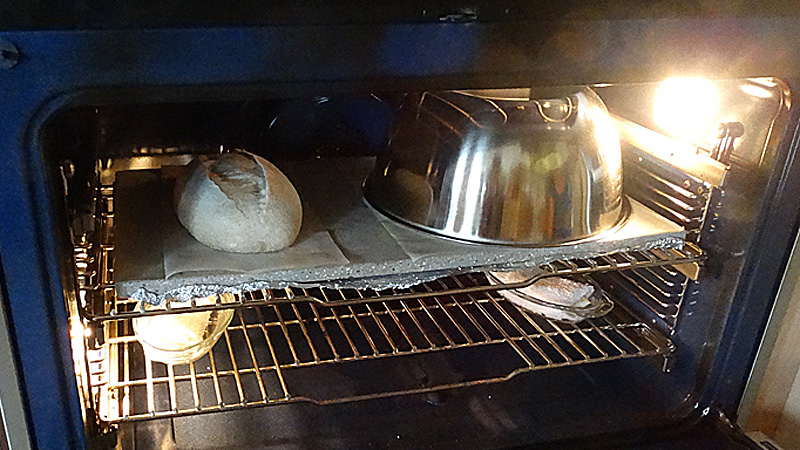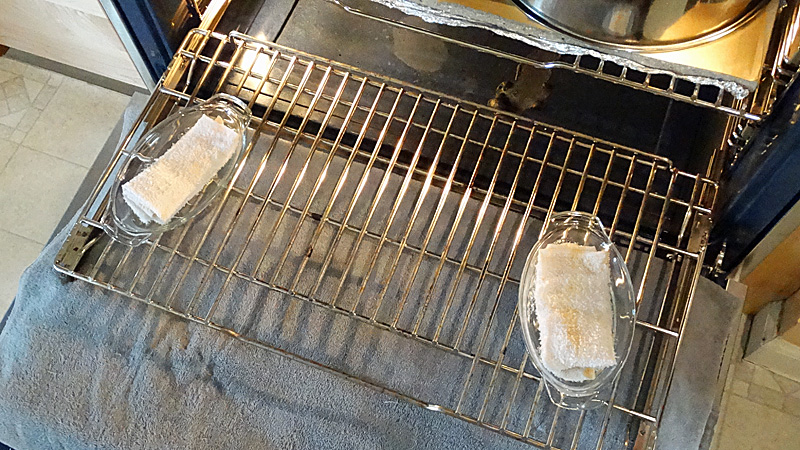 My usual steam source is two small vessels containing a rolled up towel fragment, and filled with boiling water. I don't load loaves until I can see boiling restored.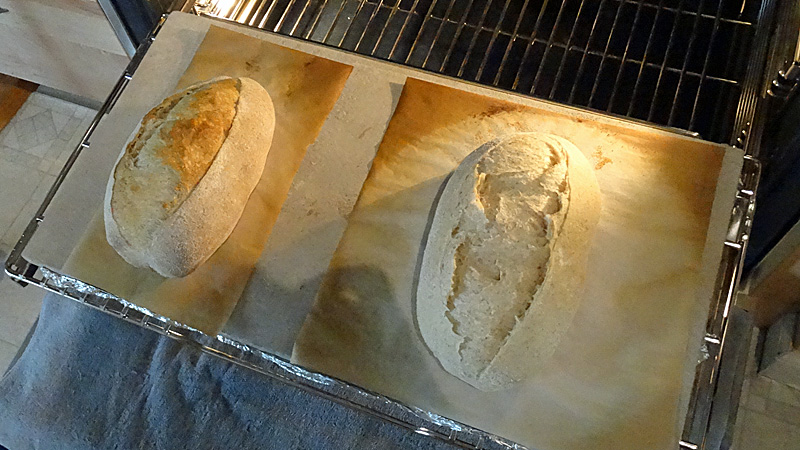 The volume difference was immediately noticeable.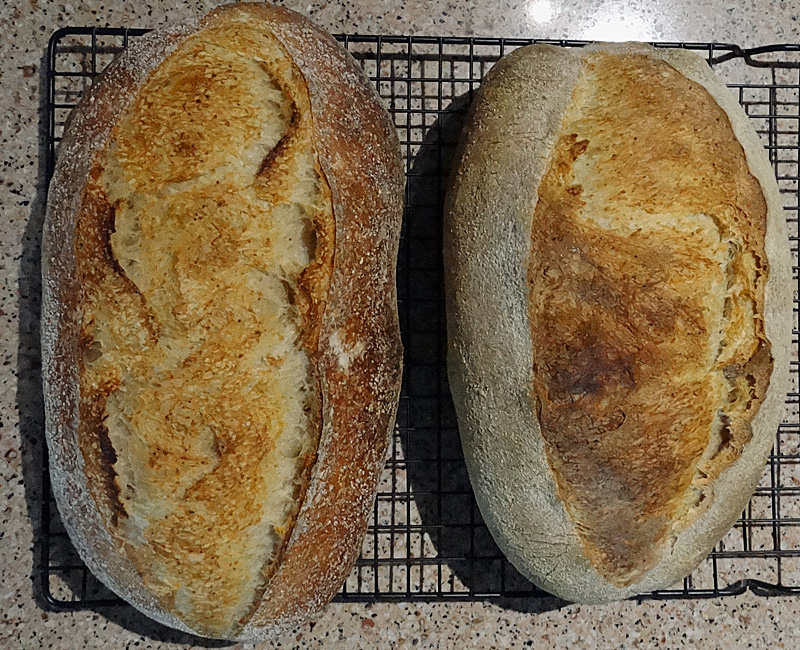 I didn't repeat my immersion measurement. These loaves' volumes clearly differ by at least 10%.

However, the conventional loaf agian exhibited greater loft.

The other observables: dissimilar crust color and surface texture, thinner crust are essentially the same. The crumbs' structure remains, to me, inconclusive as well as flavors.
Let me hasten to add these results may not be representative of results in true Dutch ovens.
I'm going to buy a second stainless steel bowl.
Happy baking,
David G