A Trip to Altamura Revisited
About a month ago I wrote about my attempts to reproduce a Pane di Altamura that I tasted on a visit to Italy.  For the past few weeks I have been working on the formula and on my technique, and I'm happy to post my most recent results, which are much closer to the original look I was after.  I researched the techniques a bit more and found some information I had missed the first time around.  The key one was that I had not achieved sufficient gluten development.  A post on TFL (with much thanks to nicodvb) described a 30+ minute knead to fully develop the dough, which was contrary to much of what I had read about gentle kneading requirements of durum.  I had been doing S&Fs every 30 minutes previously and although the strength felt right, it was apparently insufficient.  A couple of other important changes came from the D.O.P. document which said that the preferment should be 20% PFF (I was using 17.5% based on other recipes), and mixing the dough with cold (~55-60˚F) water.  (While I perform these experiments I am keeping a 100% durum starter as well as my normal wheat starter.)

My two last bakes shown in the photos below differed primarily in the overall hydration.  Most of the formulas available indicate hydration around 65% for Pane di Altamura, which I stuck with at first.  The dough was easy to work with, but it was quite stiff, and the resulting crumb was very closed and tight.  The aroma was lovely and taste was mild and somewhat sweet.  The sourdough flavors were mostly undetectable.  My shaping technique is still not perfect, although it is improving. The finished loaf is pictured at the top of the post and the crumb is shown here.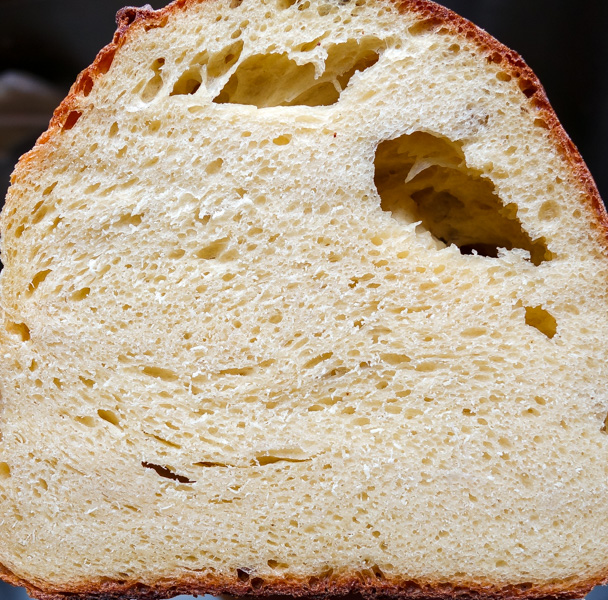 On the most recent bake I increased the hydration to 72%, more like the minimum I would use for a wheat-based sourdough.  Keeping with 20% preferment, I split the batch into 2 loaves and shaped them into boules.  One loaf was proofed for 2½ hours and baked as a boule.  The second was retarded overnight, then shaped in the traditional folded loaf and baked the next morning.  No steam was used during the bake and the oven was propped slightly open during the first 15 minutes of bake.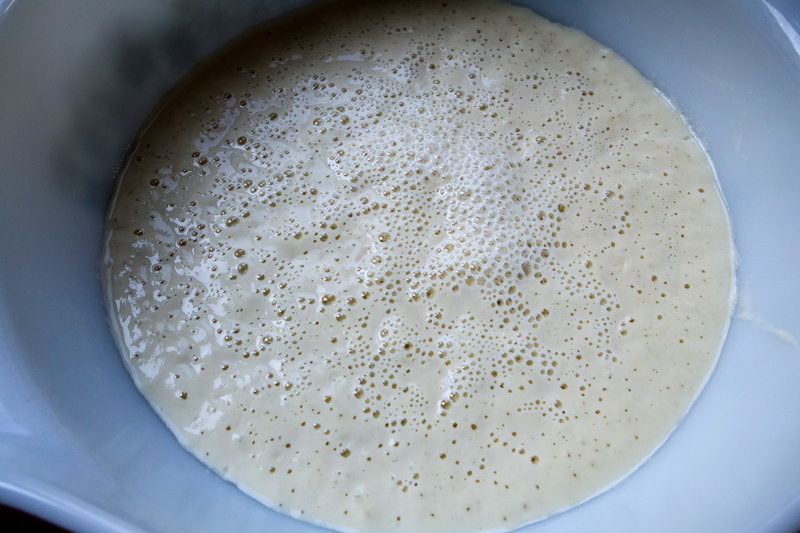 Active starter after 12 hour fermentation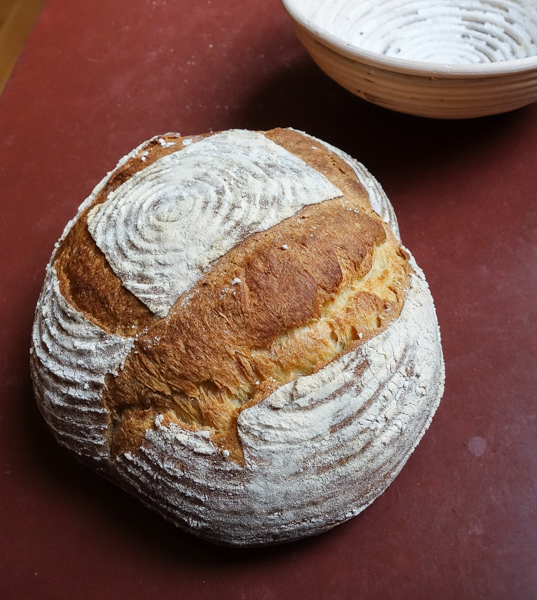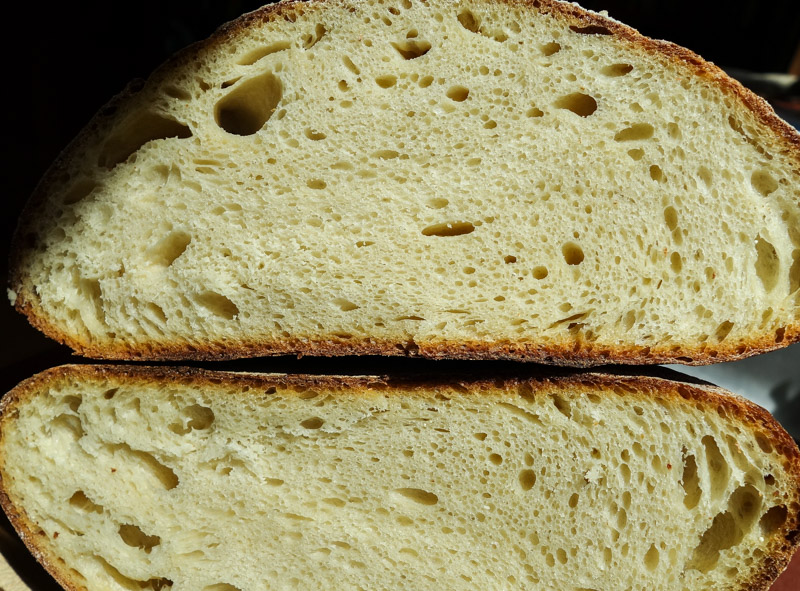 Boule and crumb with 72% hydration dough.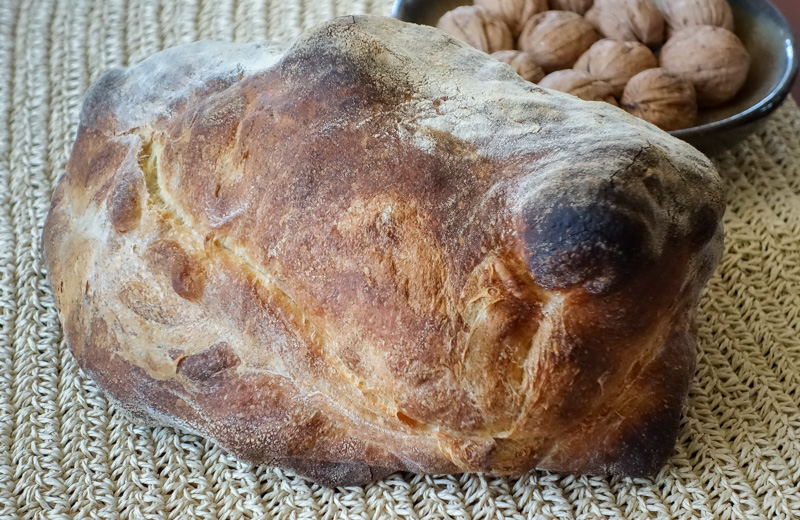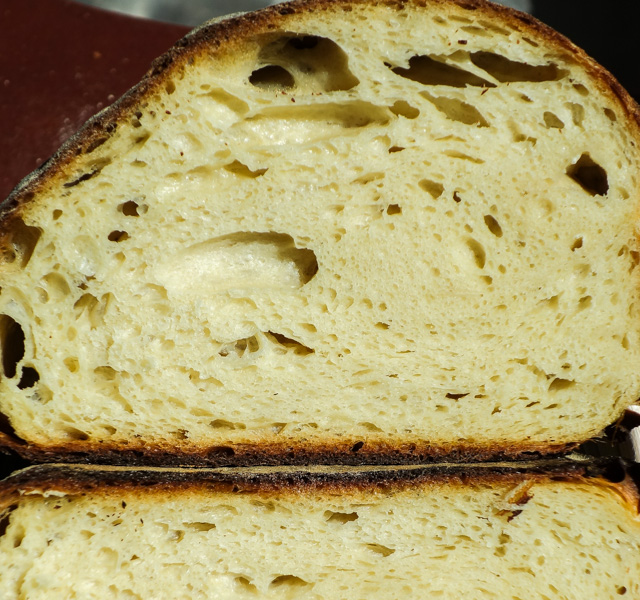 Folded loaf and crumb
I plan to work with this general formula a bit more, making adjustments as the mood strikes:

17% prefermented flour using 110% hydration durum levain. This was based on a misreading of the regulations that the levain is 20% of the overall dough; it should actually be 20% prefermented flour. The levain was fermented for 12 hours at 75˚F with the ratio of seed:water:flour of 1:3.5:3
72% overall hydration (the calculation includes the levain)
100% patent durum extra fancy flour (fine grind, or Italian rimacinata)
1.9% salt
Final dough weight ~1300 grams (this large because it makes it easier for me to accomplish all the folding needed to shape the loaves) kneaded for at least 20 minutes, plus 4x S&F for the first 2 hours.
Bulk ferment 3 hrs @ RT, final proof 2½ hrs or retarded overnight.
Baked in a falling oven for 1 hour, starting at 460˚F and finishing at 400˚F, dropping the temperature in 2 steps, without steam.

They both had chewy crusts and the crumb less so, but had a bit of resistance.  The folded loaf had noticeably more flavor and a more pronounced but not overpowering sour tang and came out really tasty. Another major difference was that the crumb of the boule that was scored was drier than the boule shaped in the folded loaf form, which was quite moist.  They were baked with roughly the same temperatures and times but clearly the scores allowed more water to evaporate.  They both had thick crusts reminiscent of the authentic loaf.  I plan to extend the baking time and lower the temperature more quickly for the next folded loaf to dry it out a bit more.

-Brad