New pics: Got an offer to bake for two local cafes . . .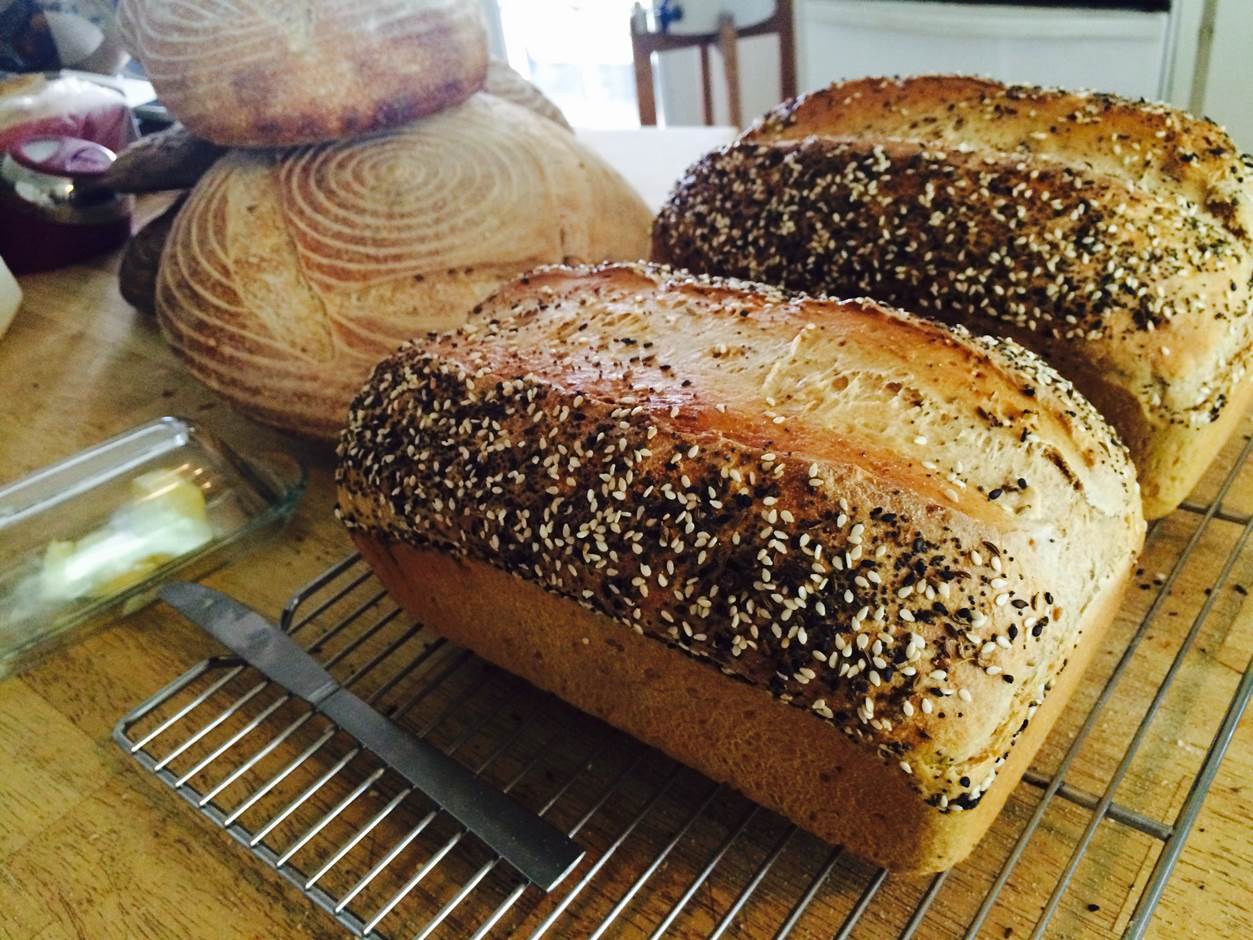 Greetings everyone!
I'm a home baker who has been doing naturally leavened breads for a few years. (see pic)
I recently shared some of my loaves with a local bakery/cafe owner who I have admired for awhile and who specializes in pastries and desserts. They do a brisk lunch business as well, and they make their own sandwich bread but they don't yet do anything like the artisan(y) breads that I do.
The owner was very impressed, and offered thoughtful compliments about the three loaves:, a large sourdough loaf, a toasted walnut and scallion baguette, and a fig anise boule. I was flabbergasted to have my efforts so validated by a successful baker and businesswoman whose products and standard of excellence I have long admired.
 My goal was just to get feedback on my work but the conversation turned into a discussion of how I might begin to translate my home baking process into small scale commercial production under the umbrella of her company.
She kindly offered to make her new facility available to me (in about six months when they expand again, no room for me yet). She suggested I come in and bake a few loaves, get my feet wet with the larger scale baking, and she would provide all the organic ingredients, and we could do some kind of split on the end results.  
I know she will be helpful in this learning process, but she is very busy, so I want to find resources to begin educating myself in this endeavor.
Meanwhile, she mentioned my loaves to a friend who also has a very successful local cafe and coffee roasting company, and who has just expanded their operations to a seperate baking and roasting facility. Now they want to talk to me about baking for them, and there, I could start very soon. 
Which brings me to the "UH OH " in this thread title. I don't have a clue how to make more than a couple of loaves at a time. I do bake using grams, a scale, my own starter, a baking stone, etc.
Here is my present process as concisely as possible:
I start with a stiff levain (starter and flour) that sits about 16 hours. I make the dough the following day. After a 30 minute autolyse, I incorporate the levain, salt, any other ingredients and proof it for three hours with a couple of stretch and folds. I then form the loaves put them in cane baskets and proof another 1.5 hours wrapped up in plastic, then cold retard them for about 15 hours. 
When they come out of the fridge, I proof 2-3 hours at 85F before baking. I currently final proof my loaves (still in the plastic wrapped baskets) in a small bedroom with a space heater.
Before I score and bake the loaves (on a stone at about 465F), I steam a 500F oven pouring 3 cups of water into a hot broiler pan on the bottom of the oven. After 30 minutes I turn the oven off and let the loaves sit in the oven, on the stone with the oven door open for another fifteen minutes. 
I have never used a commercial oven, proofing equipment, a commercial mixer, or even imagined handling 20 or 50 lbs of dough.
I am envisioning a complex schedule of tasks where everyday I am feeding starter, making a levain, making dough, proofing, stretching, folding, forming, proofing again, cold retarding, proofing again (again), scoring baking,  . . . lathering, rinsing and repeating, LOL!
Where to even start?
Thanks in advance.