January 7, 2015 - 12:29pm
I have had a lot of fun making a five grain levain recipe over time, and I wanted to add more grains and play around with hydration and fermentation on this bake.  The recipe below is an adaptation of Hamelman's five grain levain.  This time around I added pumpkin seeds, sesame seeds and poppy seeds to the other grains: bulgur, sunflower seeds, oats, flax seeds and cous cous. Maybe it's really eight grain; not sure if all the seeds count as grain!
Khalid inspired me to make my first five grain, and Zita got me thinking about adding more grains when he worked for months to perfect his seven grain, which was fabulous. And dabrownman is always baking with many wonderful grains, and his bakes are always inspiring to me!
I really love making the soaker.  It absorbs all the water very well and quicker than you think.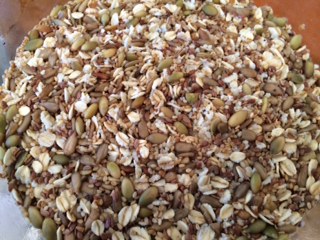 I used a bit more water this time, so the dough had higher hydration.  The crumb turned out OK as a result. My husband enjoys a very crusty crust, and he gave this loaf good reviews.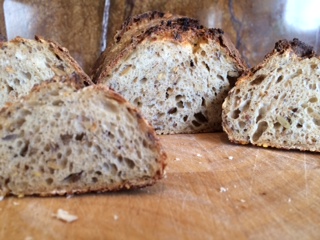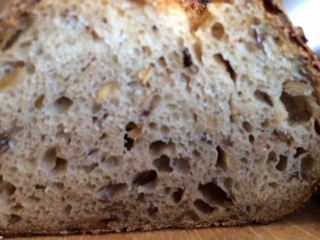 I used my covered baker, which is different from the recipe below. I baked the loaf with the lid on for 30 minutes at 500 degrees and then 10-12 with the lid off on convection at 435 degrees. I also was a little loose on the gram weights for the seeds.  I bet the final total was a bit higher than the recipe below.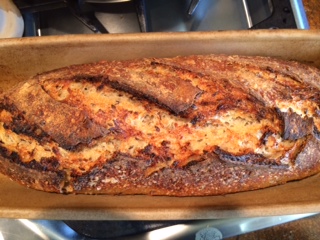 The only other change I made to the recipe below was doing a longer bulk ferment at room temperature and did a bit of a room temperature proof after shaping just before I put the shaped loaf in the refrigerator for the night. I am continuing to bulk ferment the rest of the dough as I only made one loaf today.  I plan to bake the rest tomorrow, so I hope they turn out OK.
Five-Grain Levain Bread (with added grains)
Adapted from Jeffrey Hamelman's Bread: A Baker's Book of Techniques and Recipes 
Makes 3 medium loaves
Overall formula
Bread flour 680 g
Whole wheat flour 226 g
Cous cous 70 g
Flaxseeds 27 g
Sunflower seeds 56 g
Oats 71 g
Poppy Seeds  15g
Pumpkin Seeds 40g
Sesame Seeds 12g
Water 890 g
Salt 22 g
Total 2.13 kg

Liquid Levain build
Bread flour 226.8 g
Water 283.5 g
Mature culture (liquid)  45 g
 
Soaker
Cous cous 70 g
Flaxseeds 27 g
Sunflower seeds 56 g
Oats 71 g
Poppy Seeds  15g
Pumpkin Seeds 40g
Sesame Seeds 12g
Water, boiling 400 g 
Salt 5 g (1 teaspoon)
Final Dough
Bread flour 453 g
Whole-wheat flour  226 g
Water 250 g
Salt 17 g (1 tablespoon)
Soaker all of the above
Levain all less 3 tablespoons
Baker Percentage
Bread flour 75%
Whole wheat flour 25%
Cous cous  9.2%
Flaxseeds 9.2%
Sunflower seeds 7.7%
Oats 7.7%
Water 98%
Salt 2.5%
Total 235.1%
 METHOD
1. Liquid-levain build: Make the final build 12 - 16 hours before the final mix.  I ran out of time, so I accelerated this to seven hours, placing the hot soaker on top of the levain build bowl.
2.   Soaker: Make the soaker at the same time when making levain build. Pour the boiling water over the grain blend and salt, mix thoroughly. Put it in a tightly covered container and sit at room temperature.
3.  Mixing: Add all the ingredients to the mixing bowl except the salt. Mix or stir the ingredients together until it becomes a shaggy mass. Cover the bowl with cling wrap or plastic bag and let it stand for an autolyse phase for 20 -60 minutes. At the end of the autolyse, sprinkle the salt over the surface of the dough and mix on a medium speed of your stand mixer for 3 -5 minutes until the medium gluten development is achieved. (I have also made this by hand without a mixer).
4.  Bulk fermentation: 1 to 1 ½ hours or 2 hours if the dough is retarded overnight. 
5.  Folding: If the fermentation is 1 ½ hours, fold once after 45 minutes.
6.  Dividing and shaping: Divide the dough into three equal pieces, pre-shape the dough into round. Cover the dough with tea towel and let it rest for 15 minutes. Final-shape the dough into either oblong  or round.
7.  Final fermentation (proofing): Retard the loaves in the refrigerator over night.
8.  Baking: with normal steam, 235C for 40-45 mins, turn the loaves half way through the bake. (I retarded the dough and took it out in the morning. I then let it rest at room temperature for about an hour. In the meantime, I preheated the oven for about an hour to heat up the baking stone.)