January 4, 2015 - 11:12am
Lots of Baking Over the Holidays
I did a lot of baking recently, but wasn't able to post very much as we had family visiting.  They left today to return to the snowy midwest, so I will get back to a normal baking schedule.  We did have a wonderful time over the holidays, and I will miss them.
My niece loves sourdough, so I made quite a bit of bread during their visit.
For Christmas, I made a classic sourdough and cornbread sage stuffing.  You can see the sourdough bread and homemade corn bread I made in the photo above. My niece and I cut up the cornbread for the stuffing and added fresh sage from the garden  (Recipe at bottom).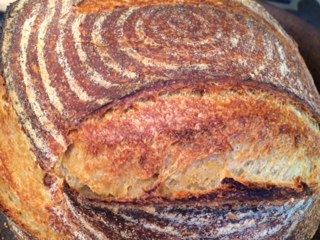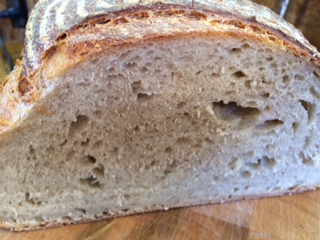 I have been making lots of the Classic Sourdough lately, so I need to try some different breads for my January bakes.
My niece loves banana bread, so I made some with chocolate and walnuts...gluten free. She loves pizza, too, so I made her a sourdough cheese pizza and one with pepperoni, onion, olives and mushrooms for the rest of us.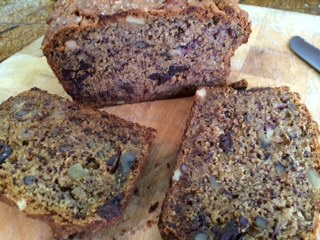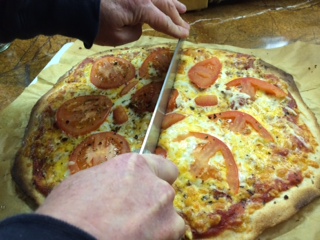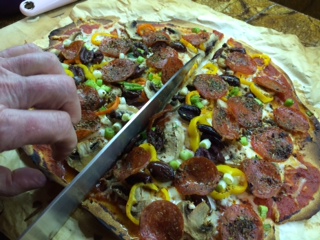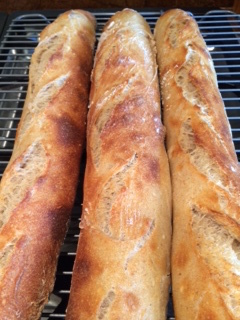 My niece also loves baguettes, so I made David's San Joaquin baguettes.  I made progress, but they weren't as good as David's.  I still have a long way to go!  Still learning the best way to work with the high hydration dough, the shaping and scoring.  It was better than my last attempt, so I will keep trying. My niece really liked them, and I made baguette sandwiches for my sister and niece for the plane ride today back to the Midwest. I also gave them a few slices of the banana bread, so they will have a nice meal on the plane.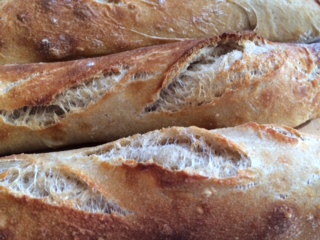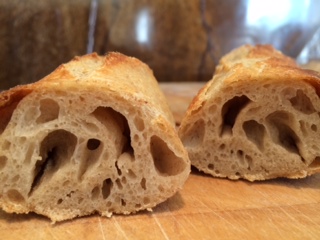 The crust and crumb were better than my last attempt, and the gang seemed to enjoy them.  My husband sure liked his sandwich! He is always so neat with the cheese placement.  I tend to put the sandwich together in a more random fashion.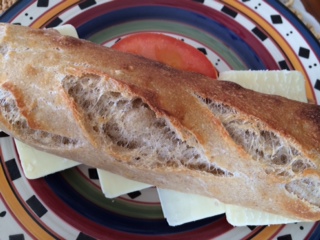 We have had some of the coldest weather in several years here in California (not complaining as so much of the rest of the country has snow and real cold, and our family in the UK had a nasty storm recently).  The colder weather brings beautiful scenes looking out the back of our house.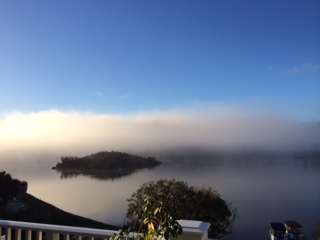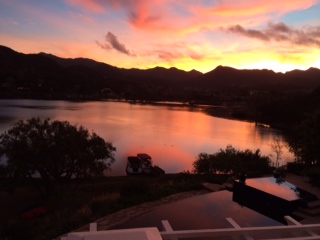 It is interesting that we had a 4.5 earthquake last night when we were at the movies, but totally missed it.  Did not feel a thing. Glad it did not cause any real damage. I guess that's the price we pay for these beautiful scenes.
I am excited to try a new recipe tonight for Coq au Vin.  Will let you know how it goes.  I am planning to pair it with heirloom carrots from the farmer's market and a really nice Pinot Noir!  Downton Abbey starts its new season tonight, but we got a head start when we saw a number of episodes of this season when it debuted in the UK this fall.  It's been a while, so we may watch it again.  
Looking forward to seeing everyone's January posts.  Best,  Phyllis
Here's the recipe for the sage stuffing (from the New York Times):
Cornbread and Sage Stuffing
Cornbread
1 cup yellow cornmeal, preferably organic stone ground
1/2 cup all purpose flour or whole wheat flour
3/4 teaspoon salt
1 tablespoon baking powder
1/2 teaspoon baking soda
2 eggs
1 cup plain low-fat yogurt or buttermilk
1/2 cup milk
1 tablespoon mild honey
2 to 3 tablespoons unsalted butter (to taste)
1. Preheat the oven to 400 degrees. Place a 9-inch cast iron skillet, a heavy 2-quart baking dish or a heavy 9-inch square baking pan in the oven while you prepare the batter.
2. Place the cornmeal in a bowl, and sift in the flour, salt, baking powder and baking soda. Stir the mixture with a spoon or whisk to amalgamate. In a separate bowl, beat together the eggs, yogurt (or buttermilk), milk and honey. Whisk the cornmeal mixture into the liquid mixture. Do not overwork the batter.
3. Remove the pan from the oven, and add the butter to the pan. Swirl the pan so that the butter melts quickly before it gets too brown, then quickly whisk the butter into the batter. Brush the sides of the pan with any butter remaining in the pan.
4. Quickly scrape all of the batter into the hot pan, and place in the oven. Bake 35 to 40 minutes, until golden brown and a toothpick inserted in the center comes out clean. It will be quite brown on the edges. Allow the bread to cool in the pan, or serve warm.
Yield: Makes 8 to 10 servings. This is easily doubled for a larger quantity of stuffing. Bake it in a 3-quart baking dish (it will take about 45 to 50 minutes) or in two 9-inch pans.
Variation: Sage Cornbread
Stir 1 tablespoon finely chopped fresh sage or 1 teaspoon rubbed dried sage into the batter before turning into the pan.
Cornbread and Sage Stuffing
2 tablespoons extra virgin olive oil, or 1 tablespoon each olive oil and unsalted butter
1 large onion, finely chopped
Salt to taste
4 stalks celery, cut in small dice
4 garlic cloves, minced
2 teaspoons rubbed sage, or 2 tablespoons chopped fresh sage
1 tablespoon fresh thyme leaves or 1 1/2 teaspoons dried thyme
1/2 cup finely chopped flat-leaf parsley
Freshly ground pepper
A double batch of cornbread (see above), crumbled (you can do this in a food processor fitted with the steel blade)
1/2 cup milk, or as necessary, for moistening
4 tablespoons unsalted butter if baking separately
1. Heat the olive oil (or oil and butter) over medium heat in a large, heavy, nonstick skillet, and add the onion. Cook, stirring often, until it begins to soften, about three minutes, and add 1/2 teaspoon salt and the celery. Cook together for another few minutes, until the onion is tender. Add the garlic, and stir together for 30 seconds to a minute, until fragrant. Transfer to a large bowl, and add the remaining ingredients. Combine well. Taste and adjust salt. Moisten as desired with milk.
2. Stuff the cavity of the turkey, or transfer to a buttered or oiled 2-quart baking dish. Dot with butter. Cover with aluminum foil, and heat through in a 325-degree oven for 30 minutes.
Yield: Makes enough stuffing to fill an 18-pound turkey.
Advance preparation: You can make the cornbread several days ahead and the stuffing a day ahead.