October 22, 2014 - 1:40pm
Semolina&Kamut&PoppySeed Levain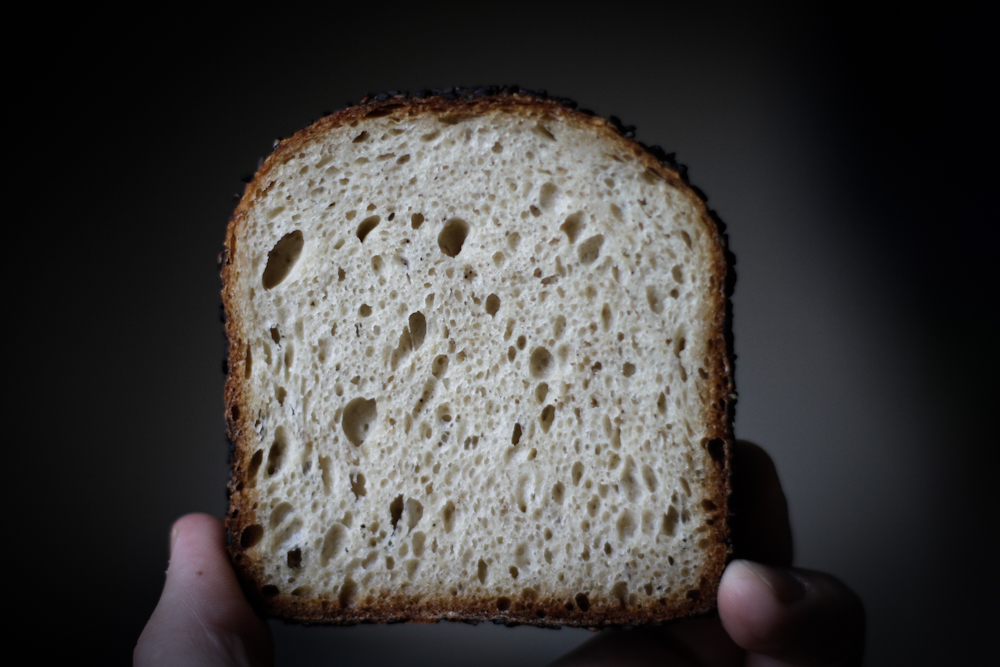 269g BF (52%)
103g Kamut (20%)
78g Semolina (15%)
140g Levain (13% bf 13%water)
26g Toasted SesameSeeds (5%)
346g Water (67%)
10g Salt (2%)
The evening before baking I mixed up my levain using 7g active chef and 200 or so grams of both water and flour and let it ferment at an albeit cool room temp overnight plus some of the following morning.  I made extra for a different project and the additional flour and water with out a significant increase in chef caused for a slower fermentation for the levain, which was fine. When I was ready to start mixing I added everything but the salt and sesame seeds and let it sit for an hour, during this time I toasted the seeds in a dry cast iron and made sure they were cool. 
After the hour had passed I mixed in the seeds and salt and gave the already pretty developed dough a minute or so of slap and folds followed by a rest and a few more folds. Then I let it ferment for an additional four hours at room temp with a few stretch and folds at the 1, 2 and 2 and a half hour marks. 
Five hours later I shaped the loaf and rolled it on a wet towel then rolled it on a plate full of black sesame seeds and popped it in my pullman pan for 4 hours.
Four hours later I baked it at 450 for an hour then took it out of the pan and baked it for another 10 minutes.
mmmmm mm this is some tasty bread, its both buttery and earthy and the sesame seeds both on the inside and out contribute a great nuttyness that I am a big fan of. I was also very pleased and a bit surprised at how well the dough came together with two flours that didn't contribute much gluten to the mix. I expect this one will go fast and I will make it again for sure.