October 22, 2014 - 8:59am
Figured it was time I tried a bake in a dutch oven.  We have a Le Crueset pot but it is wide and shallow and thus not suitable.  After hunting around I figured I could use this steamer pot which was sitting in a cupboard.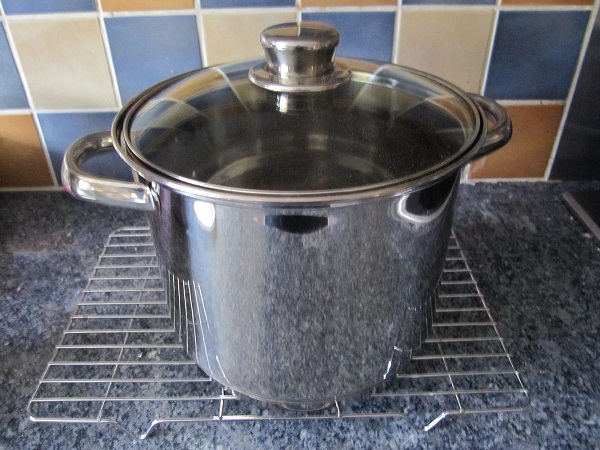 Seemed ideal, plenty deep enough, round and with a lid.   Turned out to be really good.   The proofed loaf dropped in smoothly with parchment paper and the loaf rose very well.  I think I'll be using this pot quite a lot from now on !
The loaf I made was loosely based on Chad's Tartine Country Bread, however I wanted more wholewheat than his 10%.   I used a wholewheat starter and I also had a bag of Malthouse flour to hand (a blend of wheat, rye and flaked malted grains) so I threw some of that in as well.  So plenty of wheat in this loaf.  Hydration was about 70% and the crumb came out pretty well.
White Bread Flour - 350g
Wholewheat Flour - 100g
Malthouse Flour - 50g
Water - 330g
WW Starter (@100%) - 100g
Salt - 8g
Method
Autolyse (F+W+Y) - 30min
Added salt then rested - 30min
Stretch+fold every 30min for 2hrs
Shape and banneton
Retard in fridge overnight - 12 hrs
Rest 45min at room temp then baked 15 mins lid on, 25-30 mins lid off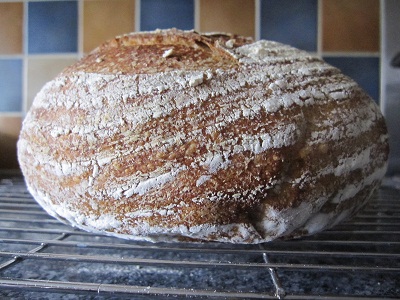 I made a similar loaf to this last week and baked on a stone and it came out much flatter as the dough spread after being turned out.  The Dutch oven approach clearly offers side support and produces a nicer looking loaf imo.