September 25, 2014 - 10:10am
Rustic Chanterelle Levain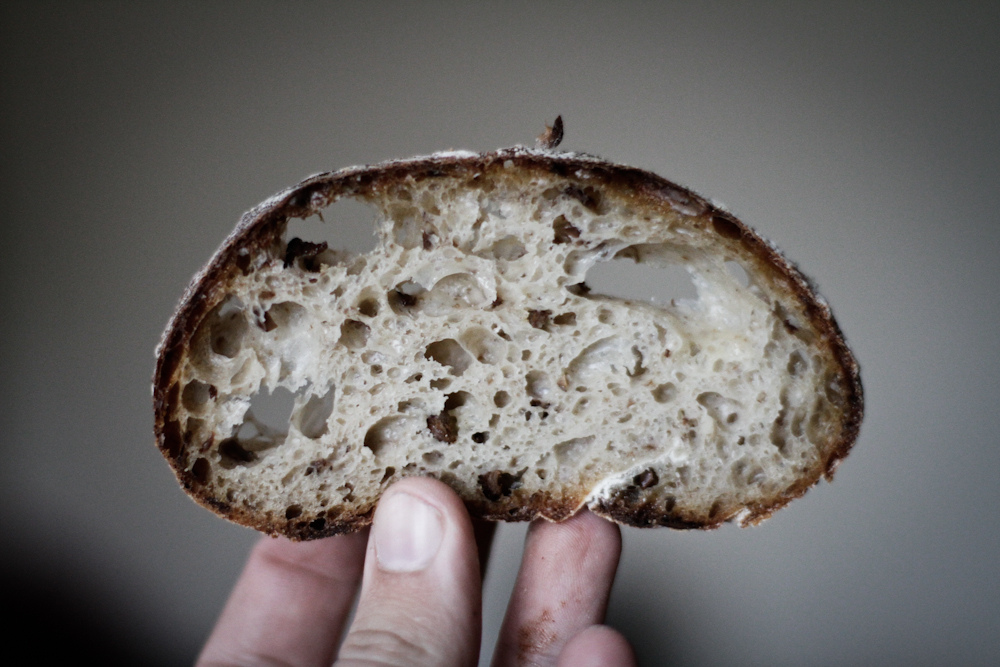 325g bf (78%)
25g rye (7%)
122g levain (15% flour, 15%water)
83g fresh chanterelles (20%)
316g warm water (77%)
8g salt (2%)
I have been baking quite a bit in my pullman pan lately and I figured I should change it up, also the pan was otherwise occupied so a rustic loaf was in the cards. Chanterelles are my favorite mushrooms and pretty much made to go in bread, all buttery and fragrant and whatnot and though I had never baked with them I figured it could only be a good thing. This loaf went fast so I only had it alone but I think it would of really been the best eaten with other food, or at least some good cheese. Also at around 92% total hydration this is probably the wettest non high whole grain bread I have made to date. 
First I lightly sauté's the chanterelles with a little olive oil then roughly patted them dry with a paper towel, both to absorb the excess oil and to break them up into smaller pieces, then I combined all the ingredients but the salt and let it sit for an hour.
After the hour I gave it a brisk two minutes of slap and folds followed by a two minute rest and two more minutes of slapping and folding, 45 minutes later I gave it another two minutes of slapping and folding and forty minutes later I gave it a minute of slap and fold and then another forty minutes later I gave it a stretch and fold in the bowl, let it rest for 45 minutes then scraped it out and proofed it on a very heavily floured couche for thee and a hagfish hours.
once it was done proofing I rolled it over, using the roll to build some tension on the otherwise very very slack loaf. Then i peeled it onto my preheated stone, poured water on my lava rocks and baked it at 500 for five minutes and continued baking at 450 for another 55 minutes rotating periodically .