September 22, 2014 - 6:44am
If he shows talent as an artist, give him pencils or modeling wax in his playroom, but do not let him bite his slice of bread into the silhouette of an animal, or model figures in soft bread at the table. And do not allow him to construct a tent out of two forks, or an automobile chassis out of tumblers and knives. Food and table implements are not playthings, nor is the dining-room a playground.
Table tricks that must be corrected from Etiquette (1922) by Emily Post.
And so it came to pass that for one reason and another, and then some more on top, one was deprived of the joys of baking for two whole weeks.  A grueling trial that was, but survived it we did and rebounded by pouncing on two clear days of baking to the exclusion of all else. 
We had spent a weekend in Copenhagen for The Husband's crazy race and I had nourished high hopes of a free moment to explore Meyer's Bageri.  This is Claus Meyer of Noma fame and of Grupe & Meyer flour fame, worth watching the Chad Robertson masterclass with Meyer video: http://www.youtube.com/watch?v=cIIjV6s-0cA&list=UUYvL5XgSdwGuKlxaQty0OOQ ). 
Any hopes of a bakery visit were thunderously dashed by the decision to check out the race swim, bike and run courses.  This, of course, took all day as each course was deconstructed by the triathletes, and I tried to survive the experience by encouraging everyone to stop for a glass of wine here and there.  That didn't go down well, but The Husband had a hugely successful race and so a return trip to Copenhagen has been promised for the sole purposes of a bakery and flour pilgrimage.  We shall see.
On our return, The Husband duly noted the obvious calamity ... that there was no fresh bread in the house.  A hushed silence inhabited the room as neither of us dared utter the forbidden question - "should we buy some bread?"  It was rapidly agreed that dinner would be a breadless affair and the starter was promptly fetched and inspected.   It had been nestling happily in the fridge and - oh joy - got cracking on its first feed, so we pressed on. 
Einkorn & Macadamia Bread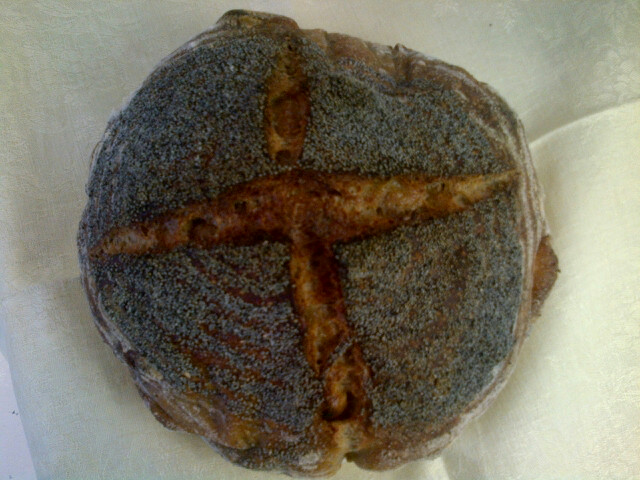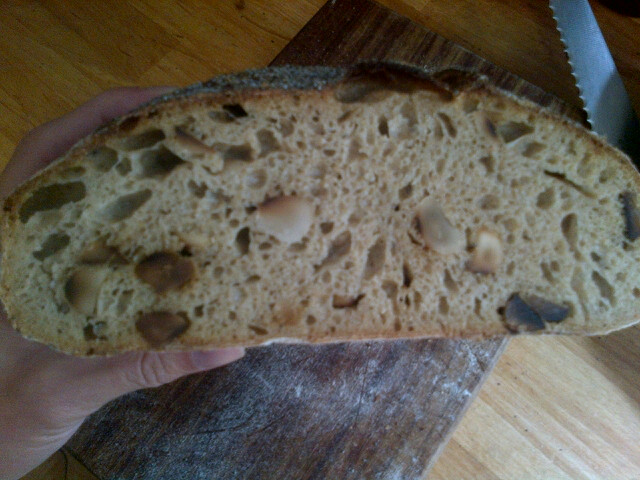 Thanks to Karin (Hanseata) for the inspired recipe for einkorn and hazelnut bread (link below).  I followed this formula pretty much to the letter, making adjustments to bulk ferment and proof times as my kitchen is quite chilly.  I had run out of hazelnuts and so took a punt with macadamia nuts - cracked in half and very well toasted.  The photos show that I managed to squash the bread slightly when loading it in, but I think I got a good oven spring and the crumb was acceptable for a first go at this.
Verdict: stick with the hazelnuts.  The macadamia just doesn't have enough pazazz of its own to hold against the delicious einkorn bread.  The Husband, at this stage parading around the kitchen in his training kit trying to impress me with detailed post-mortem analysis about time splits and average speeds from his race, quickly realised that this was not the path to true love.  He put down his race statistics and tasted the bread - "Delicious!" he declared…"Shame about the macadamia nuts…..", which did not further assist his quest for the path to true love. 
But he had a fair point.  So I made this bread again, without any nuts or additions and it is absolutely delicious on its own.  Karin has created a delicious blend which allows the delicate einkorn flavour to shine through.  No photos of the non-nutted bread, it was promptly wolfed down.  Everything is good with this bread (I do mean everything - smeared about or not) …. so I'd suggest making it plain or adding the hazelnuts, just don't add macadamia.  I'll be making this one again with hazelnuts and certainly again just plain.  Here's the link and a thousand "Danke" to Karin.
http://www.thefreshloaf.com/node/36792/einkorn-hazelnut-levain-pinched-not-kneaded
Tartine 3 inspired 60% Kamut
Kamut                                      60%
Bread Flour                              20%
High Extr. Whole Wheat           20%
Water                                       85%
Salt                                           2.4%
Levain                                      16%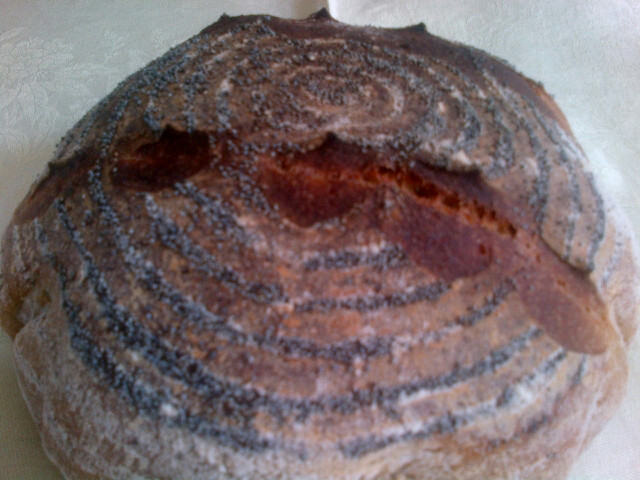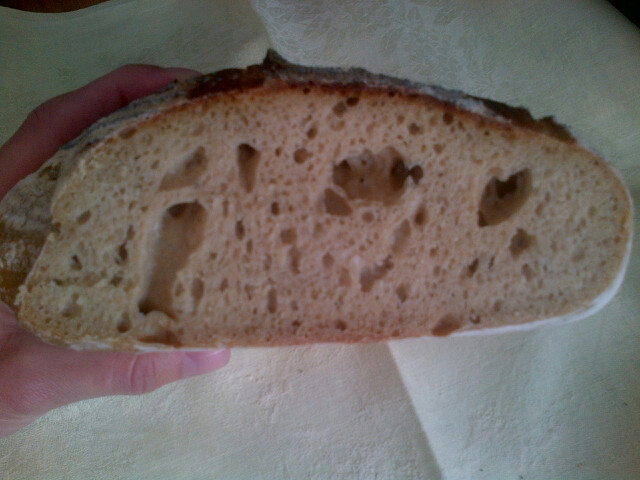 Levain made from 50WW/50BF at 80% hydration, used at 4hrs when peaked.
A few changes to Chad's recipe:
1. I did not add the wheat germ. 
2. I reduced the salt slightly from 2.5% to 2.4%, a marginal change I feel.
3. I upped the levain from 15% to 16% in part because that's how much went in and I couldn't be bothered to faff around trying to take 5g out to hit the perfect 15%. 
Otherwise, I followed Chad's instructions making adjustments for time/temp.  Autolyse was an hour, 6 S&F with a total bulk ferment of 4.5hrs and it was proofed for 14hrs in the fridge.  Baked in the DO at 250C then taking the lid off after 30mins, and left for another 20mins at around 230C. 
This is a winner, I just love the flavour.  At this point, The Husband was seriously looking for an improvement to his popularity ratings so I got no helpful or constructive criticism whatsoever.  Good spring but the crumb was a bit too dense - as the photo shows, some big holes but the rest is quite dense.  I am going to try this again soon and increase the bulk ferment as my kitchen was very cool and I might up the hydration slightly as well.  We smeared what appeared to be the entire contents of our fridge on this bread and were greatly satisfied: hard cheese, soft cheese, goat, ewe and cow cheese, salami, ham, paper thin slices of roast beef, butter, honey, tomatoes and pate.  Success and, despite what the clearly very un-fun Ms. Post has to say below, I highly recommend smearing food about this bread.
Bread must never be held flat on the palm of the hand and buttered in the air. If the regular steel knife is used, care must be taken not to smear food from the knife's side on the butter. Any food that is smeared about is loathsome. 
The graduating tests in table manners from Etiquette (1922) by Emily Post.