August 12, 2014 - 10:22am
Inspired by one of the many killer loaves I had eaten at High Street on Market in Philadelphia, I decided to try and recreate their buckwheat cherry bread. They haven't shared their recipe, so I played around with a basic sourdough cherry bread recipe and subbed in 20% buckwheat flour. 
This version ended up with a moist crumb, a chewy crust, and a great flavor balance from the nutty buckwheat and the tart cherries. Just as good as High Street's, if you ask me. It's delicious toasted for breakfast or just devoured on its own.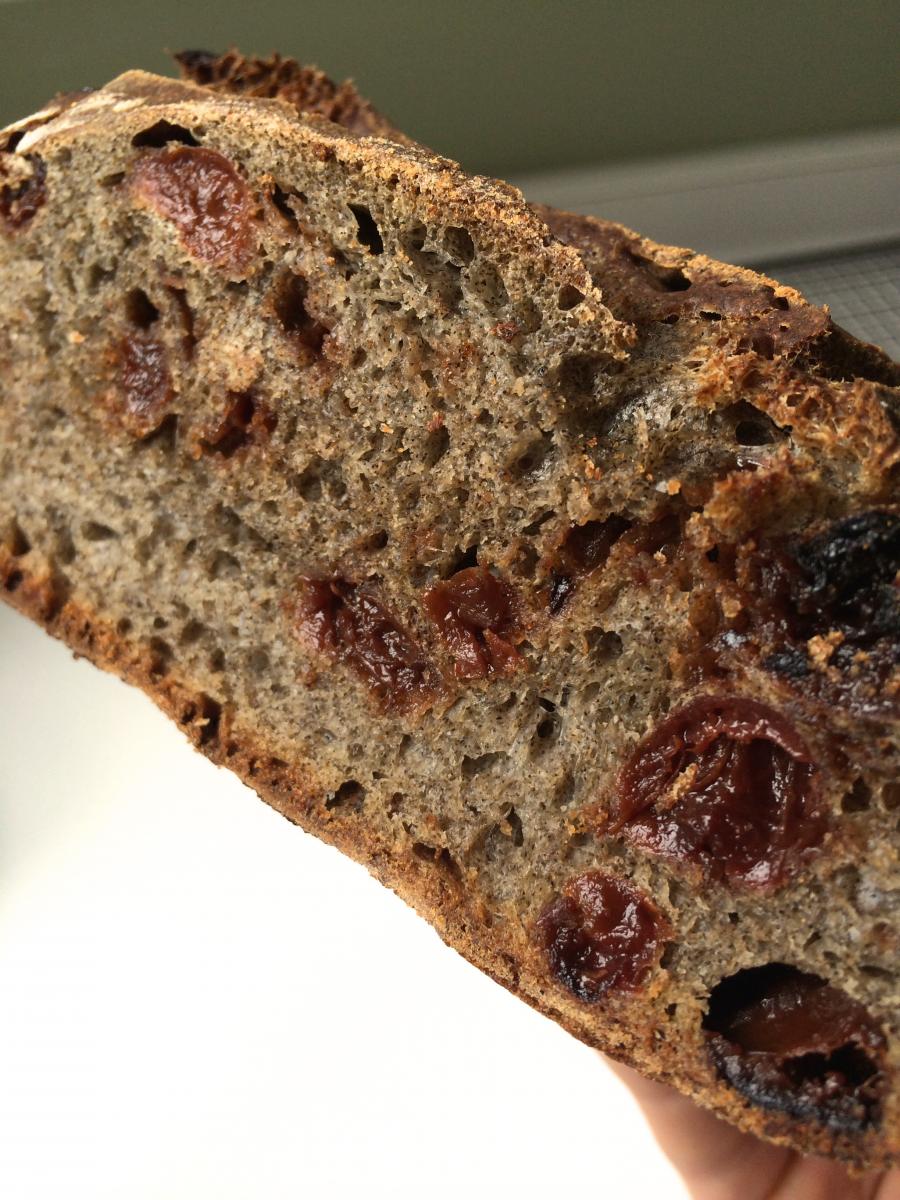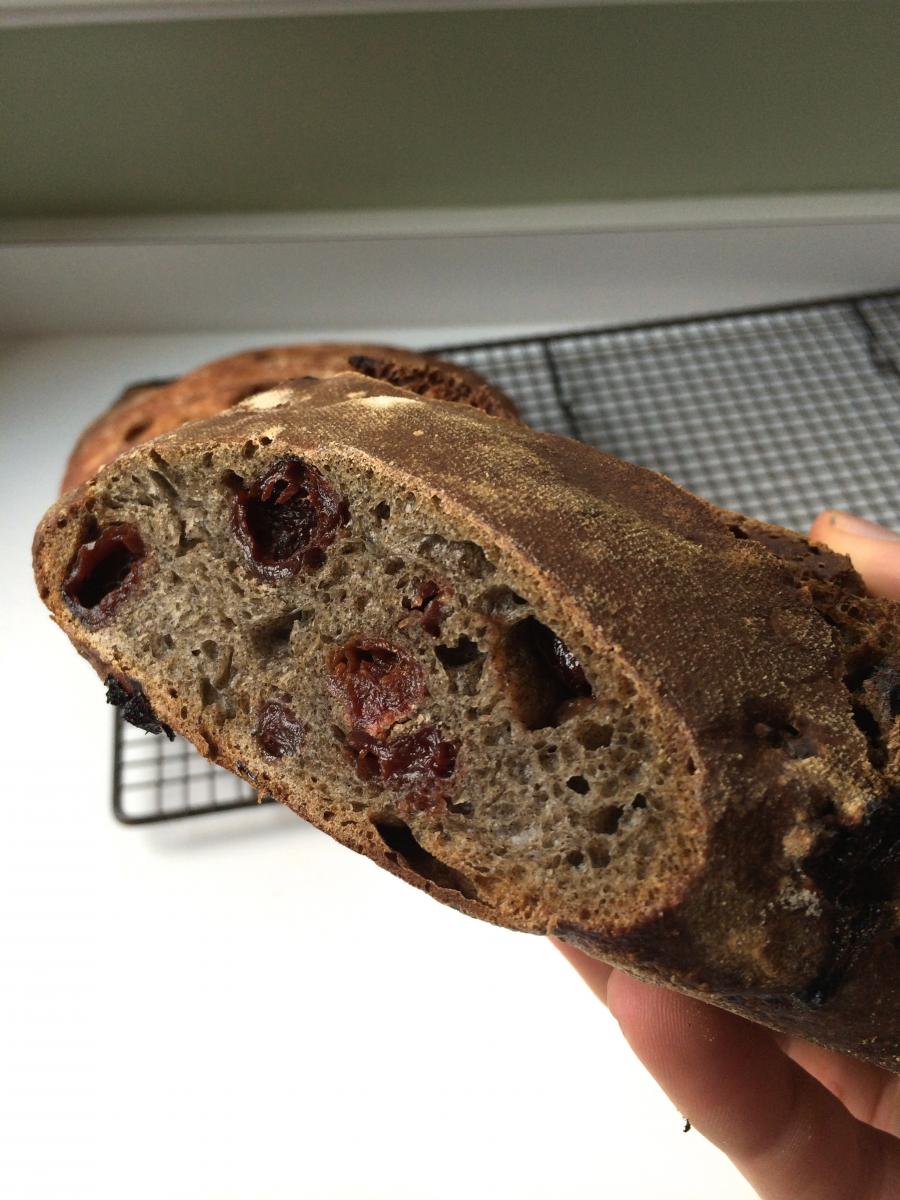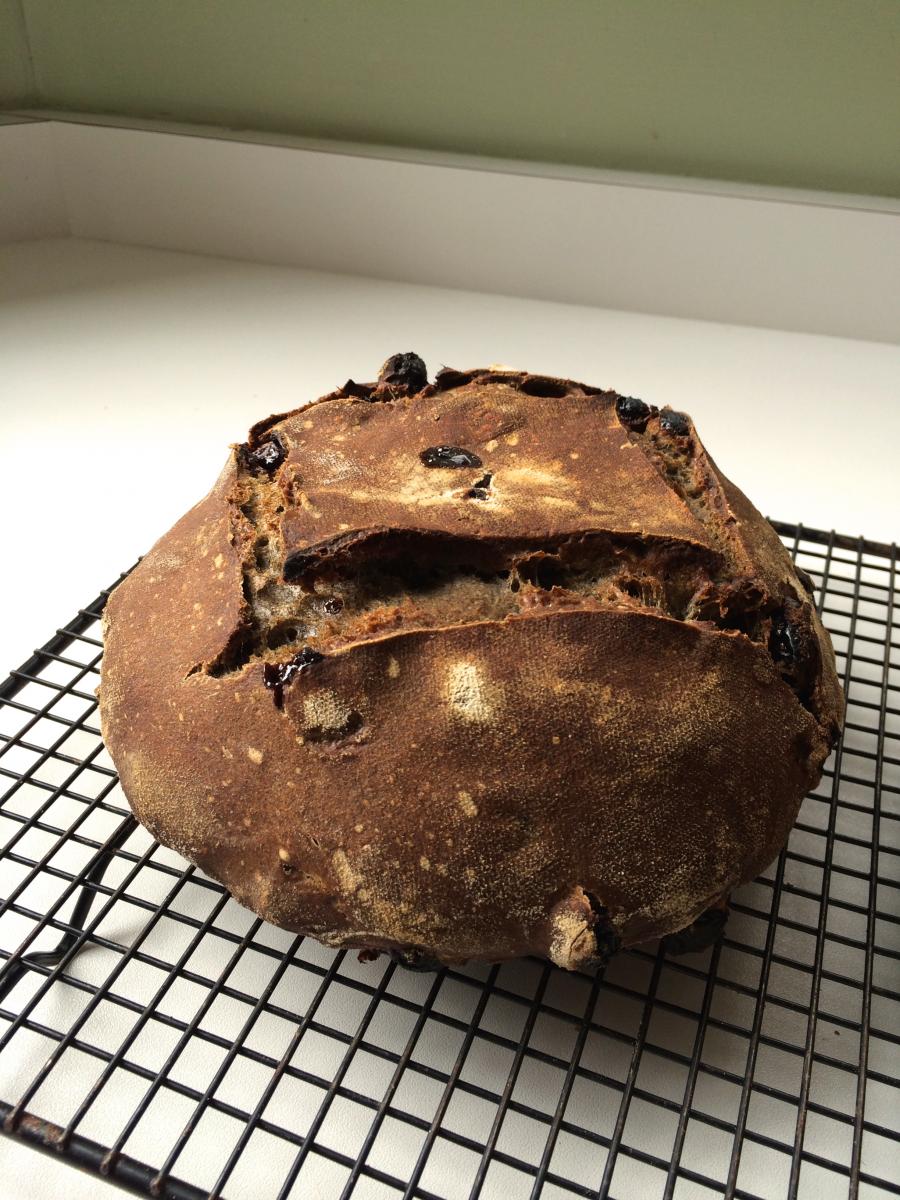 To start off I fed my starter at night to create the leaven. The next morning I mixed the final dough, mixing the leaven, water, and flour together and letting it autolyse for 30 minutes. After the autolyse period I mixed in the cherries and salt using the finger pinch technique (thank you Chad Robertson) and tossed it in the oven at 85 degrees for its bulk fermentation. Following the Tartine method, I turned the dough once every 30 minutes for the first two hours of bulk fermentation (4 turns) and then left it to sit undisturbed for one more hour. 
The dough looked ready, so I pre-shaped my boule and let it set for a 20 minute bench rest. One more shaping and off into the fridge it went for 18 hours. 
I baked it the next morning in my Lodge enamel/cast iron dutch oven. 20 minutes covered at 450 degrees and then 14 minutes uncovered with the oven on convection bake at 440 degrees. 
Leaven
1 spoonful starter
30g buckwheat flour (Bob's Red Mill)
30g bread flour (King Arthur)
60g filtered water
Final Dough
120 g leaven
270g bread flour
30g buckwheat flour
210g water @ 85 degrees F
8g salt
150g dried tart cherries
-Mix dough with leaven, adding in cherries and salt after 30 minute autolyse. 
-4 hours bulk fermentation at 85 degrees with 4 turns during the first 2 hours. 
-Pre-shape followed by a 20 minute bench rest, followed by the real shaping. 
-Proof in the fridge for 18 hours. 
-Bake covered at 450 for 20 minutes
-Bake uncovered on convection at 440 for 14 minutes