ChocolateStout&FreshCherries&Hazelnut Levain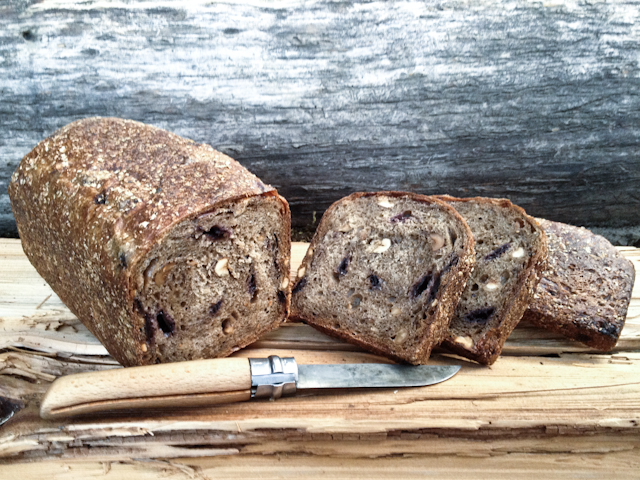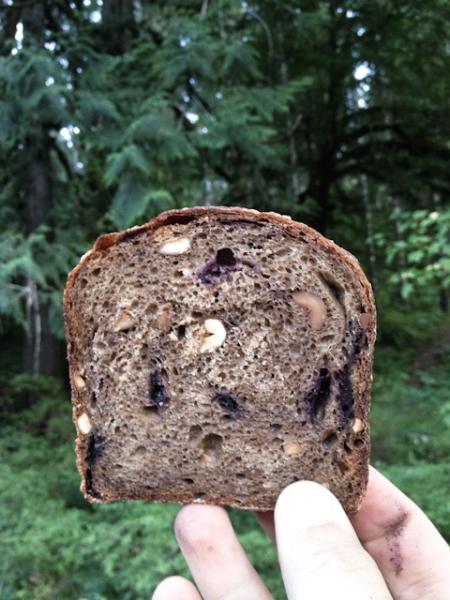 I went camping over my weekend (tuesday and wednesday) and wanted to bring along a hearty sweet loaf that would be tasty and filling when eaten alone. I think I hit the nail on the head with this one, though we ended up eating it with peanut butter and honey. Also going (relatively) deep into the big woods of the pacific north west calls for a bread that is an embodiment of that very landscape. Heres how I made it.
35g WW, 7%
122g AP, 22%
321g BF, 59%
120g Ripe Levain (12% water 12% four)
369g Rouge Chocolate Stout, 69%
135g Fresh Cherries, 25%
81g Hazelnuts (lightly roasted and lightly ground) 15%
11g Salt 2%
I gave this rascal an hour long autolyse including the levain, then added the cherries, nuts and salt and mixed well with a wooden spoon, then proceeded with short sets of slap and folds interspersed with rests. I then bulk fermented for an additional two and a half of so hours, pre shaped very firmly, shaped and rolled it in oatbran and proofed for two and a half or so hours. then I baked it at 450 for 40 minutes of so, turned the oven down to 425 and continued baking for twenty minutes, then I shook the loaf out of the pan and baked it for another five or so minutes just to even up the browning.
A note, though the recordable final hydration of this loaf is a pretty manageable 81% the fresh cherries impart an incrediable amount of moisture so if you give this recipe a go (which I highly suggest) proceed with caution or maybe cut back on the hydration a little.