Götz Brot - Juergens Take
Karin (hanseata) invited me to her Götz-Brot challenge, an interesting one that leaves lots of room for imagination.
http://www.thefreshloaf.com/node/38938/challenge-fellow-bakers-bread-knight-iron-hand
Here is my take:
My idea for this Götz bread was to create something that
- could easily be made in a hotel kitchen
- uses a straightforward and flexible process
- uses ingredients that grow locally
I came up with a bread using white flour, light spelt flour,wholemeal rye and wholemeal wheat.
The crumb looks like this: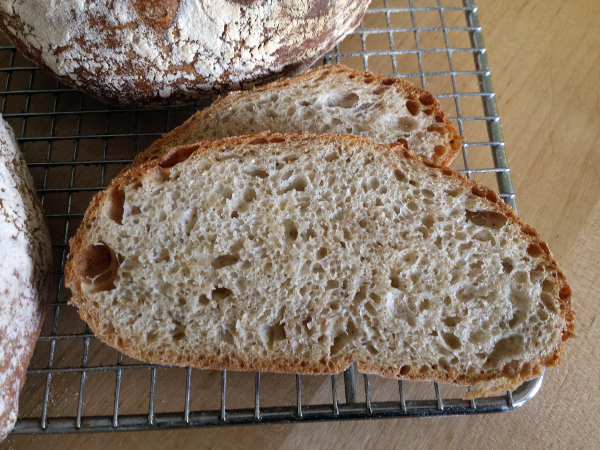 Spelt is quite abundant in the region east of Heilbronn (Badisches Frankenland).
Usually it gets harvested while the kernels are still green, and then roasted. This is called "Grünkern", is used as grains, flaked etc, and sadly it is impossible to get in England.
The taste of it is remarkable. It goes very well as meat substitute in meatballs (Grünkern-Frikadellen)! And it is also great in soups, as risotto etc.
But I don't have Grünkern, hence the spelt.
To make this bread more interesting and unique (among Germany's hundreds of breads) I added crushed fennel and dried,pulverised nettle leaves.
Here is the formula:
| | | |
| --- | --- | --- |
| Ingredient | Percent | Weight |
| Bread Flour (white) | 70 | 396.6 |
| Light Spelt Flour | 15 | 85.0 |
| Wholegrain Wheat Flour | 10 | 56.7 |
| Wholegrain Rye Flour | 5 | 28.3 |
| Nettle Leaves dried and crushed | 3 | 17.0 |
| Fennel Seeds, crushed | 1 | 5.7 |
| Salt | 2 | 11.3 |
| Yeast (instant) | 0.5 | 2.8 |
| Water | 70 | 396.6 |
| Yield | 176.5 | 1000.0 |
The process is the same as for any white yeasted direct bread. NoKnead techniques can be used, or the dough can be worked until Gluten is moderately well developed, and then proofed with one fold halfway through.
It is really a matter of taste, scheduling, and skills of the baker.
First proof will take about 2 to 3 hours at 22C. Shape in any way you wish, the dough is not sticky and suitable for all sorts of things.
Second proof will take about 1 hour.
Bake in hot oven, like any white bread. In my simple fan oven I start at 240C with steam and turn down to 210 after 15min, then baking for another 15 min (500g loaves). Please adjust as necessary.
The bread is on the rustic side and the herbs come clearly through, but the blend of Fennel and Nettle (which is also used in teabags by a big British tea company) lends itself to honey and stronger jams as well as savoury toppings.
This bread also has very good ageing characteristics.
Enjoy,
Juergen