Yeast Water Whole Grain Breakfast Rolls w/ Snockered Fruit and Dark Chocolate
These sort of cinnamon rolls are similar to the one's here:
 http://www.thefreshloaf.com/node/32275/yeast-water-cinnamon-rolls
 With some differences  The 72%  Ghirardelli Dark chocolate that replaced the original chocolate chips.  We used a 70% whole grain wheat spelt and rye flour mix and the dough weight is about 400 g grams less making there 'mini' rolls.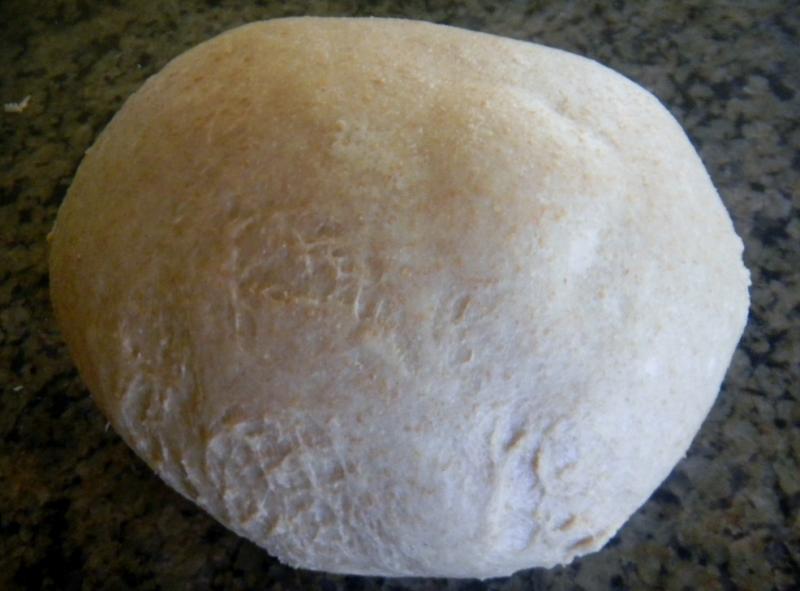 On the process side, we did 3 stets of slap and folds on 15 minute intervals of 5. 1 and 1 minute each, let the dough rest 15minutes and then rolled it out 1/4 " thick and added the fillings.  Once the dough was rolled up and cut into 9 rolls, we placed them in an 8x8 pan and immediately retarded then for 4 hours to fit our next morning bake schedule..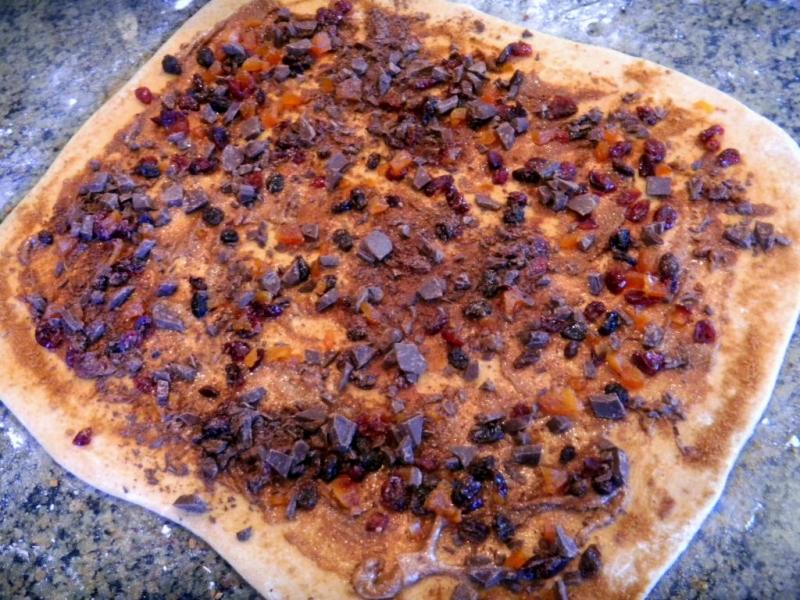 Once they came out of the fridge, they were allowed to proof on the counter for 10 hours overnight before baking them at 375 F until they hit 195F on the inside middle.  After a 10 minute rest they were glazed with the GMA's Lemon powdered sugar glaze.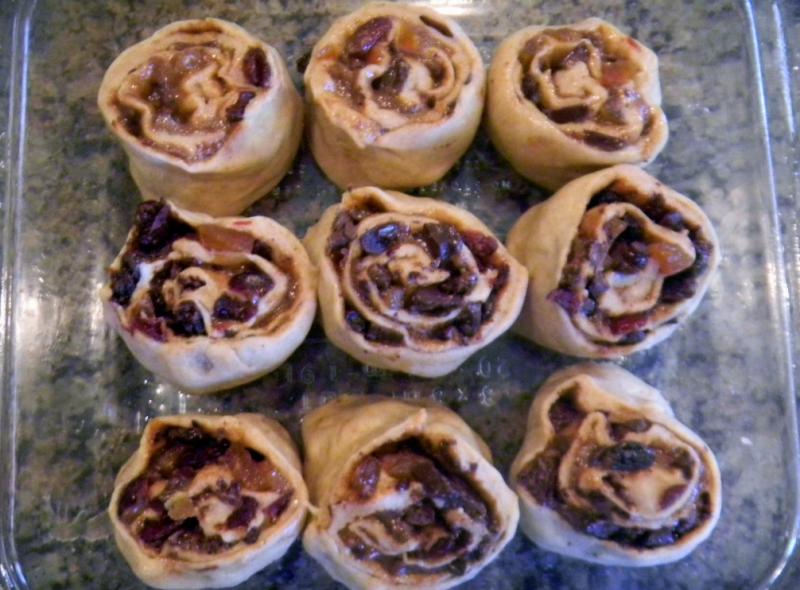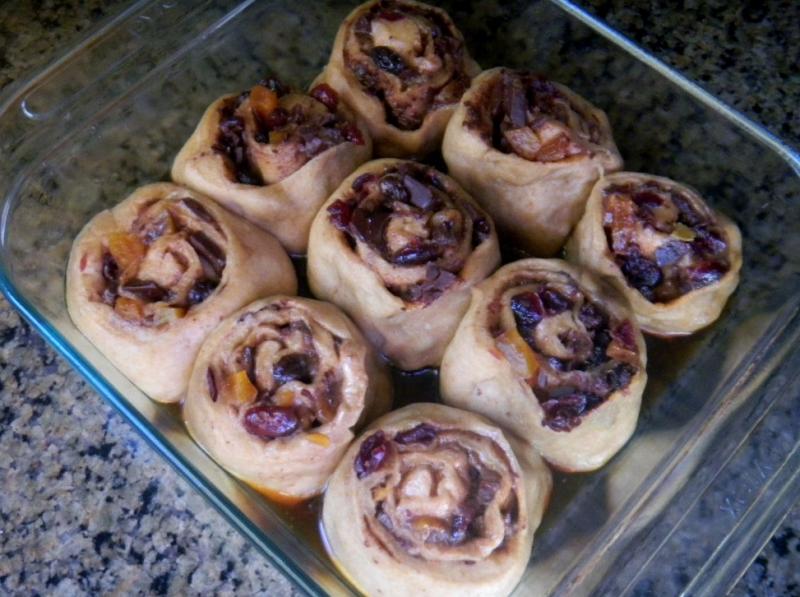 These don't relly taste or have the texture of puffy soft white flour cinnamon rolls. While the bread part is still soft and very moist, these are less sweet, fruitier and have the dark chocolate undertone which changes the flavor to one all its own.  We like them better than cinnamon rolls and these are healthier too.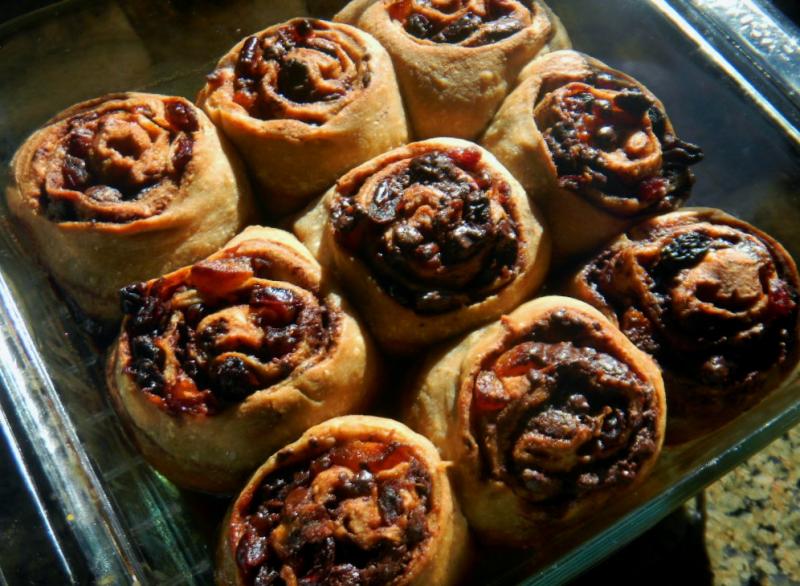 Formula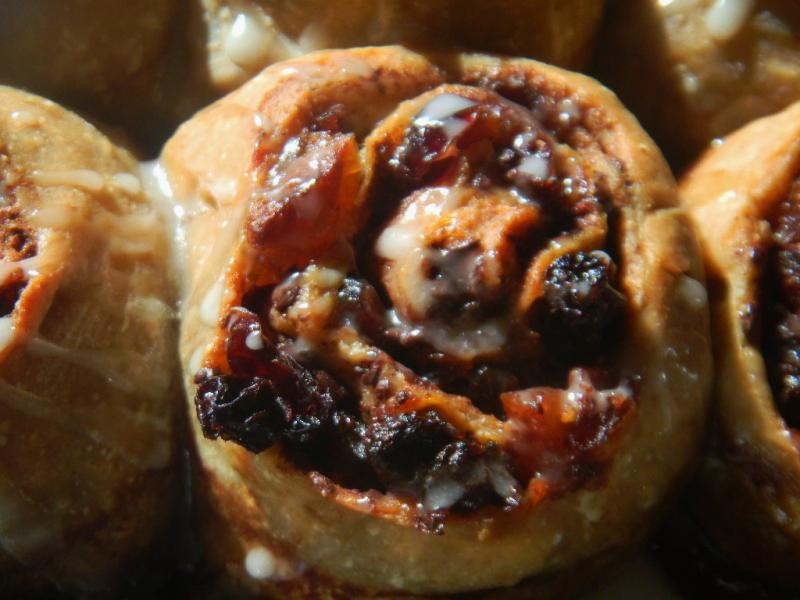 Yeast Water Cinnamon Rolls

 

 

 

 

 

 

 

Yeast Water Build

Build 1

Total

%

Yeast Water

100

100

30.77%

AP

100

100

30.77%

Total

200

200

61.54%

 

 

 

 

Yeast Water Starter Totals

 

%

 

AP Flour

100

30.77%

 

Water

100

30.77%

 

Starter Hydration

100.00%

 

 

Levain % of Total

31.80%

 

 

 

 

 

 

Dough Flour

 

%

 

Whole: Wheat, Spelt & Rye

225

69.23%

 

Total Dough Flour

225

69.23%

 

 

 

 

 

Salt

6

1.85%

 

Water

85

26.15%

 

Dough Hydration w/o starter

37.78%

 

 

 

 

 

 

 

 

 

 

Add - Ins

 

%

 

Sugar

15

4.62%

 

Egg

56

17.23%

 

NF Dry Milk powder

12

3.69%

 

Butter

30

9.23%

 

Total

113

34.77%

 

 

 

 

 

Total Flour w/ Starter

325

 

 

Water

185

 

 

 

 

 

 

Hydration w/ Starter & Adds

71.69%

 

 

Total Weight

629

 

 

% Whole Grain

69.23%

 

 

 

 

 

 

Filling

 

 

 

100 g of 72% Cocao Chocolate

 

 

3/4 C Cranberries, Raisins & Apricots Rehydrated in 2 T Bourbon

1/2 C Brown Sugar + 1 T White Sugar

 

 

1/2 T Pumpkin Pie Spice

 

 

 

1 YT Cinnamon

 

 

 

 

 

 

 

Glaze

 

 

 

1/4 C Powdered Sugar and 1T of Lemon Juice