70% Whole Wheat Bread with 100% Poolish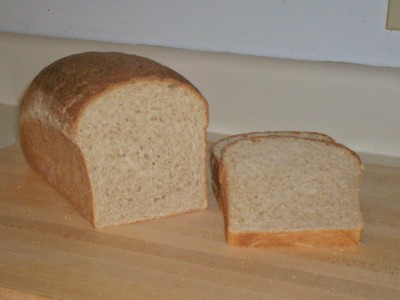 The preferment for this loaf contained 100% of the water and yeast, as well as 1/4 of the total salt. The malt extracts contained in the malted milk powder supplied the necessary diastatic action to sustain the yeast during the long preferment stage. Here is the formula:
Poolish:
70% Whole Wheat Flour
70% Water
5% Malted Milk Powder
2% Vital Wheat Gluten
0.6% Instant Dry Yeast
0.5% Salt
0.18% Soy Lecithin Granules
The photo below shows the sponge after 8 hours of fermentation.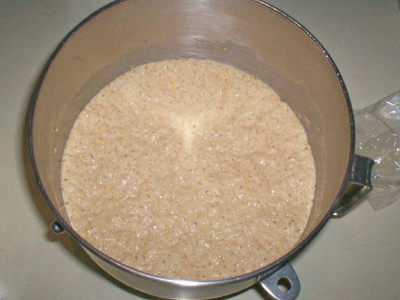 Dough:
30% Bread Flour
2.8% Shortening
3.5% Sugar
1.5% Salt
The poolish was fermented for 8 hours at 75°F (24°C). This should be long enough for the enzyme phytase to hydrolyze most of the phytic acid content of the whole wheat flour into inositol and orthophosphoric acid. Even after 8 hours, the poolish had not yet reached the "drop", so the fermentation time might be extended. There was a 1.8% fermentation loss during the sponge stage.
The ripened poolish was re-mixed with the dough ingredients using a KitchenAid K5SS stand mixer equipped with a spiral dough hook. Total mixing time was 5½ minutes, with the first two minutes at low speed and the remainder at speed setting #2. After a short rest of about 10 minutes, the dough was panned. Proofing and baking proceeded normally.