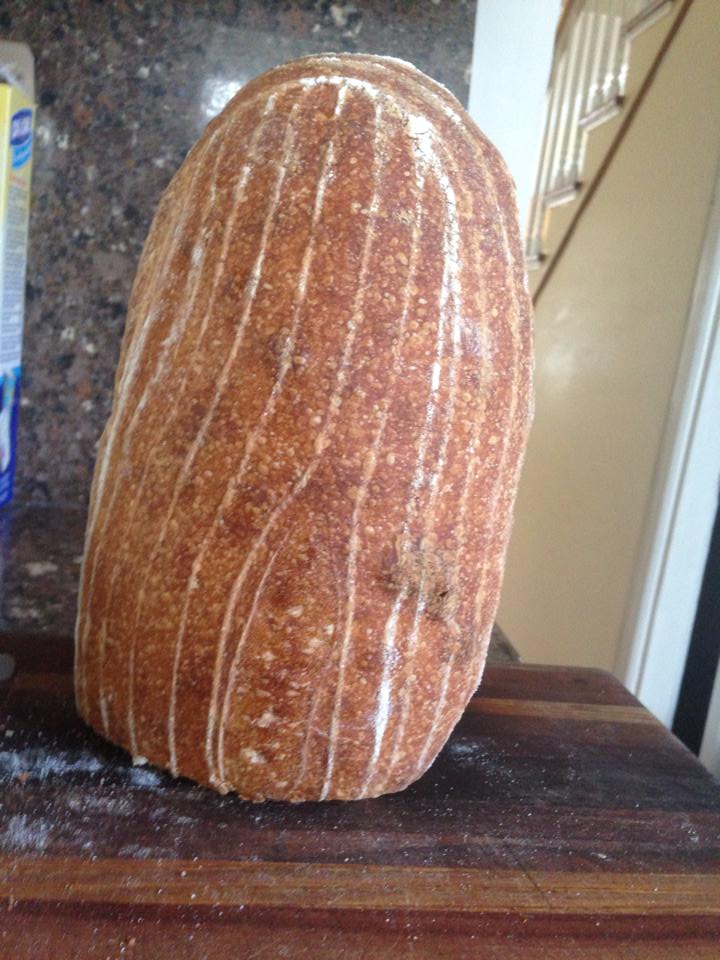 Well, this time around, I pre-heat the oven to 500 and then, accidentally, when it was time to bake I "lowered" the oven to 550.  I realized the error of my ways when I lifted the top off the combo cooker and saw that the loaf had started to caramelize on top. Actually, I didn't quite realize it then, though I should have.  It took me until I finished the last of my waffle to notice that the oven was on 550, at which point I lowered it to 400 and then a few minutes later, I lowered it to 350.  I took the loaf out a few minutes "early" and it looked like this: 
I also made a batard with the other half of the dough.  The dough had stuck to the brotform a bit, causing it to stretch a bit in height.  I did try scoring but you wouldn't know it... I cooked it in the turkey roaster.  It was a little pale after 40 minutes, so I took it out and put it on my cast iron pizza pan that resides in my oven, and cooked it for another 2 minutes.  
And the crumb on the batard is delicious as is the crispy crust.  I have to say that paying attention to temperature seems to make all of the difference. This dough stayed at 75-80 degrees through the 4 hour bulk rise, and was retarded overnight (from 2pm till 8:30 am) and baked right out of the fridge this morning. Still slightly warm when I cut into it, and quite divine.