Farmer's Market 26 (Five Grain Levain)
Well after seeing dmsnyder's post on J.H.'s 5 grain levain from "Bread" i had to give it a go.  I also thought it would be fun to finally follow  a recipe from a book (or not).  Since i couldn't get Cracked Rye I couldn't resist but make a small modification.  
To keep the same percentage of Rye in the recipe (9.2%) I just used some Rye Sour as a portion of the Levain.  In place of this I used some Bulgar in the soaker.  
I ran into trouble quickly as the dough was much drier than I anticipated and i was hand mixing a 10KG batch of dough for trading. I added nearly 4% more h20 to get a dough i could manage. I used the pincer method followed by 2 s/f to make up for the lack of mechanical mixing.  The dough actually felt okay by shape time but I think it could have been better devloped.  Not nearly as nice looking as David's but 
The flavor and crust of this loaf are so good.   After baking the first set straight from the fridge I remembered Davids caution and paid the price and had a few loaves broken at the score that never really filled in.  The following I pulled 1 hour befoer baking and went much better. I will certainly make this again but increase the H20 by another 2-4%.  
Spring/Summer Market starts back up next week so I'll be getting back out to some regular trading.  
Happy Baking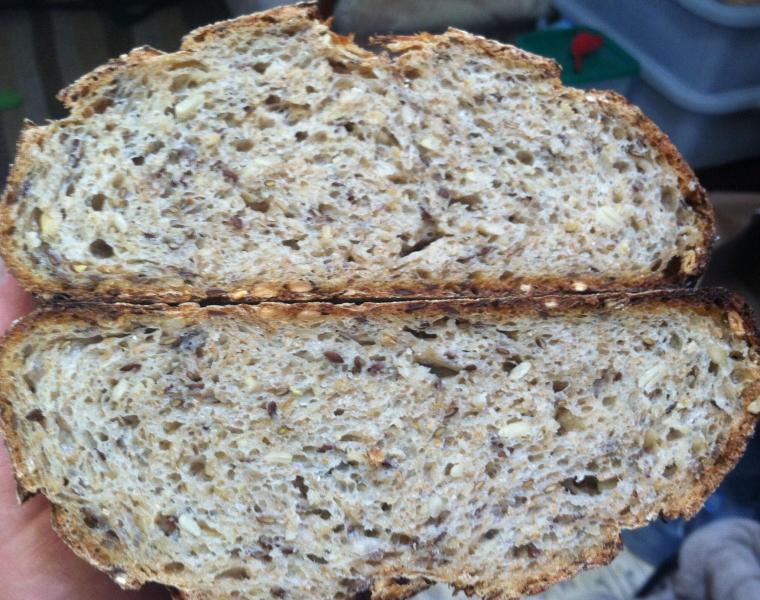 Josh