February 20, 2014 - 3:56pm
Olympic loaf, come join the party!
It's a Spelt & wheat loaf, with rye, chia, and fluffy hemp hearts.  It speaks Italian.
Cranked out a sourdough loaf with a rather slow starter based on the famous 1,2,3 ratio recipe.  Letting the dough retard in the fridge overnight gave it an edge and I didn't have to worry about it.  Set it out to warm up, gave it another fold and rested it in a make-shift banneton lined with a large paper napkin.  Baked it around noon.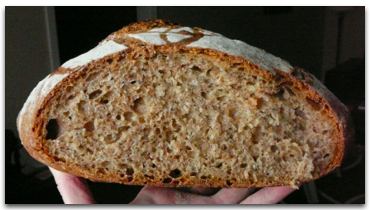 The loaf is decorated with a slurry of rye, water, lemon juice, active malt, salt.  A small coffee cup transferred the "rings" from the plate of slurry to the flour dusted loaf.  Scoring could have been a bit deeper but I'll take it.  
RECIPE:
150g wheat starter (just peaked) 
285g water
 15g fresh lemon juice
13g or 1 Tbs olive oil
200g spelt flour
150g white wheat flour (I used Antimo Caputo 10% protein) (that's where the Italian comes in!) 
 55g dark rye (Rogers)
 25g hemp hearts
 20g chia seeds
10.5g salt  (2% of 525g total flour)
Mix dough by spoon adding the oil after the flour and seeds have been moistened.  Rest 30 minutes and lightly knead the dough one minute.  Let stand until the dough starts to puff up about a third.  In my case with a weakly yeasted starter, 4 hrs.  First firm stretch and fold followed by another in one hour.  Cover and place in the refrigerator.  
Next morning (about 12 hrs before baking) remove and let dough come to room temp and rise.  When almost doubled, turn out,  degas and fold to shape.  Place top side down in a basket lined with a large flour dusted paper napkin (wow, it works!)  (The dough had so nicely risen before I took notice that I think shaping sooner and letting double in the banneton or tin is also another way to go with this stiff dough.  Pretty easy to manage and not sticky.)
Heat oven to 230°C (450°F)  just before dough has risen enough.  Turn out onto parchment.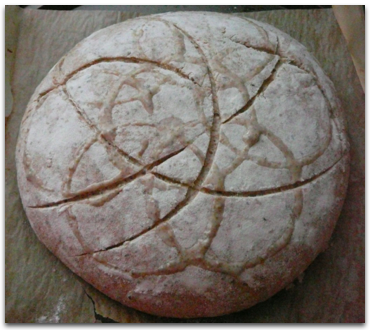 A slurry of 20g rye flour, 1/2 teaspoon of active malt (for a dark colour) lemon juice (for stretch) pinch of salt, and water( to make a thick paint) is mixed on a plate.  
Dip the rim of a glass or coffee cup into the slurry and then "print" it onto the dough. Easy!
These make the olympic Rings on the floured surface of the dough.  I got a little carried away adding more rings.
Slash and bake about 40 to 45 minutes turning down to 200°C (400°F) halfway into the bake.  
Inside temp measured 208°F (98°C)