January 24, 2014 - 11:07am
New AKM Assistent (Electrolux DLX) Mixer Arm Won't Lock
I purchased my new Assistent about 1 year ago and have loved it -- until the past 30 days. 
It seems the locking arm adjustment knob no longer holds the arm set at my desired distance from the side of the bowl (about 2") and as it mixes my dough, the arm snaps back closer to the edge.  Within only 8-10 revolutions, the dough is near the bowl edge and gets "jammed" between the roller and scraper while the bowl continues to spin.  Then I have to bail on the mixer and hand-knead.
I am wondering if a part is missing or worn and have included a photo of the knob assembly.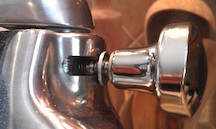 Or am I doing something wrong?  It worked before.  I would appreciate any assistance or solutions.  :)
Thanks,
Amy