January 24, 2014 - 9:13am
Greek Sourdough Country Bread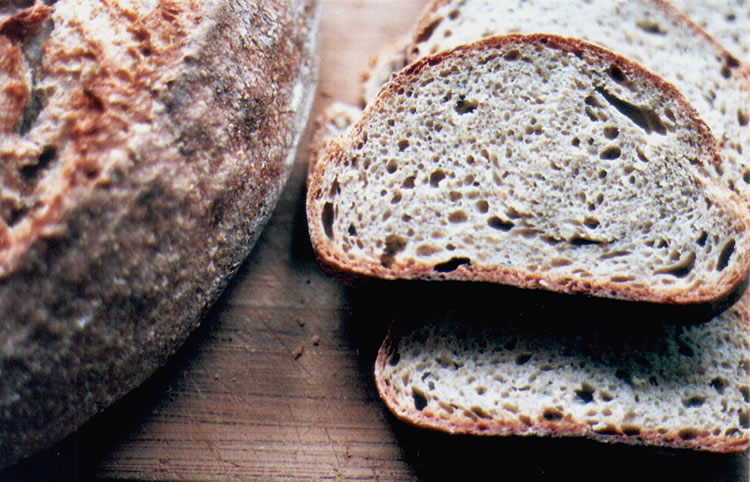 Hello everybody! I managed today to post this bilingual article in my Romanian blog. It features one of my favorite breads. I first baked this some months ago, when I discovered the spice "mahlab" in a spice shop and since then I have baked it over and over again. All the people who tasted it got very enthusiastic about it, despite the fact that it didn't taste like "normal bread" (because of it's mahlab scent).
Mahlab (mahlep) is a very old spice obtained by grinding the seeds of a kind of cherry tree and it tastes and smells charmingly, somewhat like bitter almonds and cherries. It is used in Greece, in Turkey and in Middle Eastern cuisines to spice breads, pastries and sweets. 
This bread is also interesting because it contains around 20% barley flour and cornmeal and 15% whole wheat flour, which all contribute to its deep taste. It's a sturdy bread, very nourishing, indeed a good old peasant's bread. 
The basis formula for this bread is taken from Aglaia Kremezi's "The Foods of Greece", a great book, which I highly recommend. I adapted the formula somewhat. Lately I am very passionate about regional breads, the kind of special breads, that are sometimes made only in a very small region of a country, but which have a very long tradition among those people. I have found such recipes in some of my cookery books (Aglaia Kremezi, Paula Wolfert) and even if some of the recipes don't include sourdough (but commercial yeast), I am sure they were adapted for the average reader (sometimes this detail is even mentioned). I plan to try more of these breads, with sourdough of course. I will share with you my experiments in the near future.
Meanwhile, you can check the formula for this mahlab country bread in my blog article. 
Happy baking to you all and happy new year!