January 12, 2014 - 12:57am
It seems everyone is enjoying cheesy bread's lately and with Ian's last post on Calzone and watching 'Diner's Drive Inns and Dives' hosting an old favorite diner of mine and it's Calzone's.  It has certainly put me in the mood for one.   
Mike had taken Saturday off from work to do a mountain bike race and neighbors were all home.  So I was make K.Forkish's levain pizza's for everyone.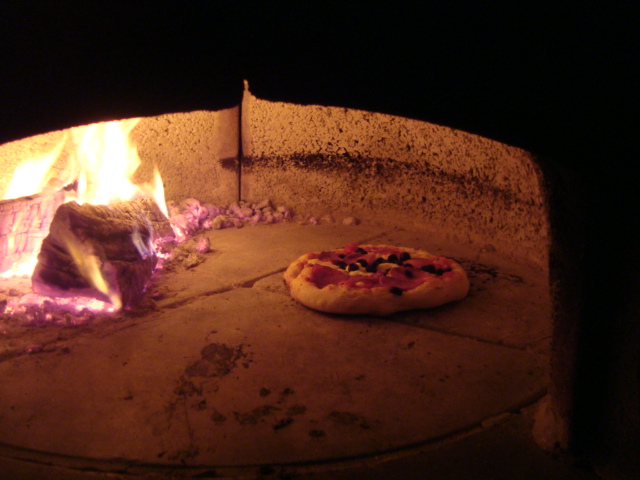 Before making the pizza's.
My wood fired oven needed a pre-warm up.  I built a small fire and removed most of the coals and ash.  Thinking I might have enough heat stored in the oven for a little baking.  I decided to make up a quick one day dough for calzone's.  I found just the recipe from Beth Hensperger...mini calzone's.  So I made my version based on the one's I saw on DDID tv show and used BH dough recipe.  I liked it because it also had Semolina or Durum flour in it.
The calzone's were delicious and I was surprised at how light they were dispite the filling.  The crust was crisp and very tasty with the fillings.  Mike loved the one we cut open and ate while I prepared the pizza's.
The rest were frozen as suggested by BH. I liked that idea.  Just place them on a sheet pan freeze and then seal them in a freezer plastic bag, freeze and warm up later for a snack.
I placed them into my WFO and baked them for a few minutes.  I could see the oven was not quite hot enough so I had to remove them and finish baking them in my electric oven.  They turned out great and just needed a few more minutes in a good hot oven.
These are simple and delicious.  This was great time for simple and easy.  I had plenty to do later.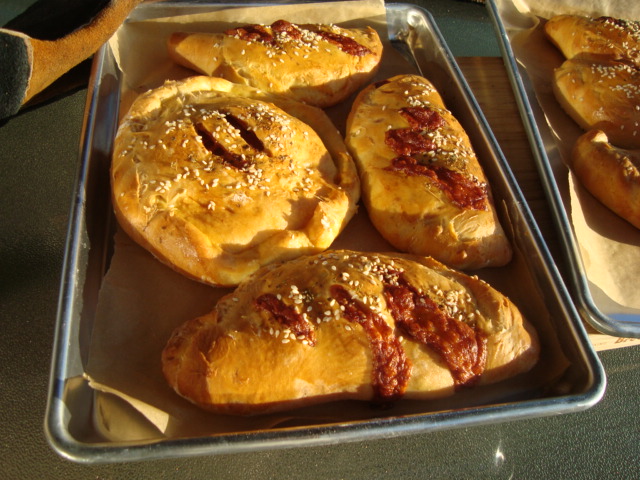 You can easily mix this dough up in your bread machine's dough cycle or by regular mixer.
Here's my version of the recipe.  You won't be disappointed and neither will your kid's, husband or game watcher's when it's snack time.
1 1/8 cups Water
3 Tablespoons Olive Oil
340 g King Arthur All Purpose Flour
63 g of Durum Flour
1 1/2 teaspoons sea salt
2 3/4 teaspoons Instant Yeast
Filling
sliced/diced, ham, pepperoni, sweet Italian sausage cooked, provolone and parmesan cheese.  A dab or two of sun dried tomato in oil with pesto.
Egg wash - one egg yolk with about a TBsp of milk
sprinkle of sesame seeds and Italian oregano on top of calzone's.
Pre heat oven 425F - Bake apx. 25-30 - until nice and golden.
ADDED:
After your dough has proofed.  On a lightly flour a surface.  Divide into dough balls for how ever many calzone's you wish to make.  A couple of very large one's or mini's, it's up to you.  Roll into thin rounds, fill, shape and place them onto your parchment lined pan.  Then egg wash, slash, sprinkle with sesame seeds 'opt' and bake.  I didn't proof them any farther than the time it took to put them together.  They went right into the oven and baked.
I have frozen thawed them in the frig, nuked them, frozen and unfrozen and also heated them in my mini oven.  The froze and heated up beautifully.  
Roll out your prepared dough into about 8 or 12 mini calzone circle's.
layer half of the circle, leaving about one inch.  Egg wash edge and fold over and seal.
Egg wash top and sprinkle with oregano and sesame seeds.  Cut slits to vent.
Bake till golden, about 25 - 30 minutes on parchment lined pans.
oops, looks like I'm running out of battery.  I'll have to do any further posting 'proof read' later.
Sylvia