October 26, 2013 - 9:11pm
Sprouted Wheat Flour Sourdough - 'From the Wood Fired-Oven' By Richard Miscovich
Since baking my first loaf of 100% sprouted wheat flour loaf and other recipes using this flour I have loved everything about this bread and the use of this flour.  It's health benefits and versatility is no less than amazing.
No wonder my first choice and first bake from RM new book 'From the Wood-Fired Oven' is his beautiful loaf of 100% sprouted wheat flour.
I began all my baking preparations with the intent of a WFO bake.  I made enough dough for 6 loaves of my http://wwwefreshloaf/node/29050/sourdough-semolina-country-bread and the lovely SWFS loaf.  
This time I changed my formula for the SSCB by using my Caputo Rinforzato flour in place of the KABF.  The loaves turned out delicious with a lovely chew and crust.  I think a little more chew than when I use the KABF.   All in all I was very happy with the loaves and sent one very large loaf over to my neighbor.  They said the pizza I sent them over tasted just like the ones they had in Italy.  That was such a lovely compliment.  I had told them the flour used was from Italy : ) and this bread also had Italian flour in it.
I don't normally make this many loaves of bread at once.  But since these were intended for the wfo there would be plenty of room and the more loaves the merrier the bake.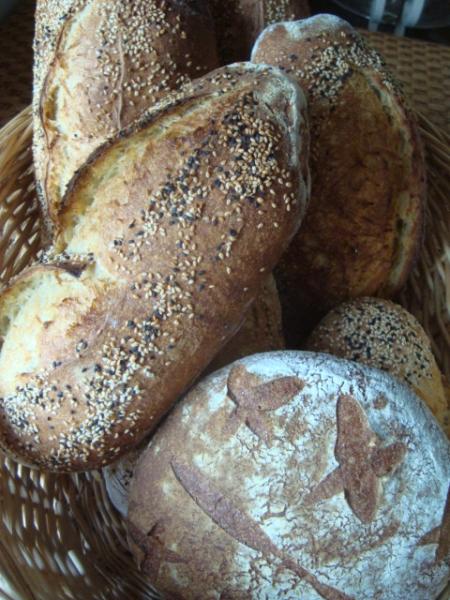 Well, to make a long story a little shorter.  Men and their bike's or motorcycles in this case come first.
Mike had a new muffler system installed on his motorcycle.  He is a cyclist bicycles at heart but loves his motorcycle too!
On his way home from the bike shop on his newly installed muffler system it went caput to say the least..the very least.  
The tow service went to the right highway but the wrong town.  Mike was left beside the road in the dark for 2 hours.  He was fit to be tied.
He asked me to take him to the bike shop today because some more parts were supposed to arrive at our house today and he wanted me to drive him to drop off the parts.  The plan was the bike would be would wait for the bike to be fixed and ride it home.   The parts not being delivered on time by our friendly UPS guy.  They arrived to late by postal service.  
I put firing up the wfo off.  To many time warps.  Mike was pretty clueless to what I was planning today.  I didn't fill him in.  He had enough on his mind.  I could fire up the oven another day :)
To make things worse.  After the parts did arrive late.  Tomorrow BMW is closed until Tuesday :/  More delays for Mike.  He'll have to wait a little longer to enjoy his birthday present.
I could not be more pleased with my new WFO bread book by Richard Miscovich.  
To quote Peter Reinhart.  "This is the book for which all wood-fired oven owners, hopeful owners, and serious bakers have been waiting."
It is beautifully written and printed on high quality paper and binding with gorgeous photos.  A wonderful addition to my collection of wfo books.  
This Sprouted wheat flour sourdough is absolutely delicious.  
The only changes I made was to do an overnight ferment and made enough dough for one loaf instead of two.
Levain
Ingredients
Sprouted wheat flour - 89g - 100%
Water -75ºF -                58g -  65%
Liquid starter                 14g    16%
Combine you flour, water, and starter.  I mixed by hand or use a mixer until the flour is incorporated and dough is cohesive.  Mix until there is no more dry flour.
Cover and let ferment at 75º for 8 hours.  Starter is ready when the volume has increased by about 2/3 and is fluffy.
Final Dough                                  Bakers %
Sprouted Wheat Flour    266g       100%
Water                              261g         90%
Sea Salt                               7g          2%
DDT - Adjust water so the dough is 76º at the end of your mixing
Autolyse
Combine flour and water in a mixing bow.  Holding back levain and salt.
Mix until throughly incorporated and homogeneous.  Does not need to develop the dough at this point.  The dough can be of a shaggy.  Cover and autolyse for about 20 to 30 minutes.
Mixing.  Either by machine or hand.
I used my KA mixer on slow.
After the autolyse, add the salt and the levain cut the levain in chunks.  I mixed on slow for about 5 to 6 minutes.  Until the dough was sticky by a little gluten formation was starting and the surface will look a little shiny.  This dough does tear more easily than if using a regular flour.  The dough will transform between mixing and shaping, especially after the second fold.
Place the dough in a covered container and let it ferment for 2 hours, flolding every 30 minutes.  Three folds in all.
Preshape.  Half an hour after the last fold, turn the dough onto a lightly floured surface.  Shape into a loose round ball.
Place on a lightly floured surface, cover and let rest for about 20 minutes.
Shape into a boule or bâtard seam side up.
Let them proof for approximately 1 1/2 to 2 hours.    I did an overnight prove. 
Score with the Carpal Sutra score mark and bake in a steamed 450ºF oven.  
I baked on pre-heated stones for approximately 30-35 minutes.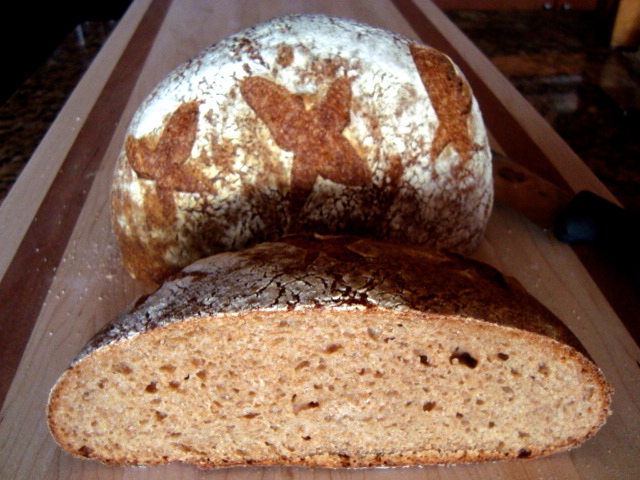 A creamy delicious crum not to dry or moist with a lovely browned crust.  I just imagine what it will taste like tomorrow toasted.
Pomegranate Jelly makes this a perfect holiday gourmet bread.  Absolutely delicious!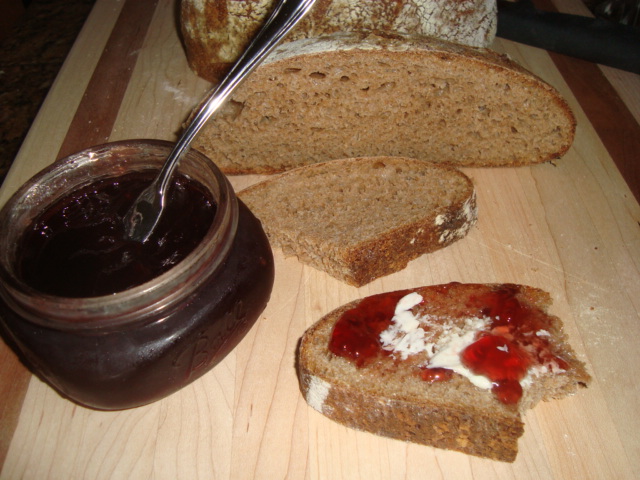 If this all disappears I'll cry.
Sylvia