October 18, 2013 - 9:57pm
Anadama with Black Walnut
What a lovely flavor combination for such a robust and tasty loaf of bread.  It will be a staple around here through the holidays.  The corn, walnuts, molasses just seem to mingle so well with all those lovely holiday cold weather dishes.  I can't wait to have a turkey sandwich on this classic New England bread.
The black walnuts are a wonderful addition to this bread.  So very healthy, naturally wild black walnuts, none of those pesticide sprays and a flavor that no other nut can compare to IMHO.  Have you ever had black walnut caramel cake, ice cream, oh my! 
I like the formula from PR BBA.  The only changes I made were adding the black walnuts and I did boil the water that was poured over my cornmeal soaker.  I would have preferred using polenta and know I have some stashed somewhere in one of my refrigerators.   
If you haven't tried this bread and many have and love it.  Do give it a try and enjoy your own variations.  It slices up beautifully for a change of everyday sandwich bread.
Black walnuts can be found in the stores now.  I found these at my local Costco's, other large stores should have them available and fresh. 
The bad photos were taken in my kitchen light and night.  
I added about 3/4 cups lightly toasted BW.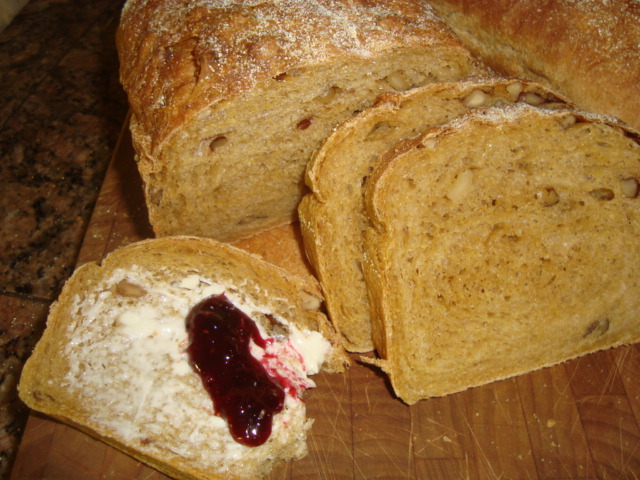 Sylvia