September 29, 2013 - 12:04pm
Baking Bread in a Slow Cooker - Crock Pot
I was reading online this week about baking bread in slow cookers (more here and here), so I decided to make a 3.2 kg (~7 lbs) batch of my house loaf - here's the formula ....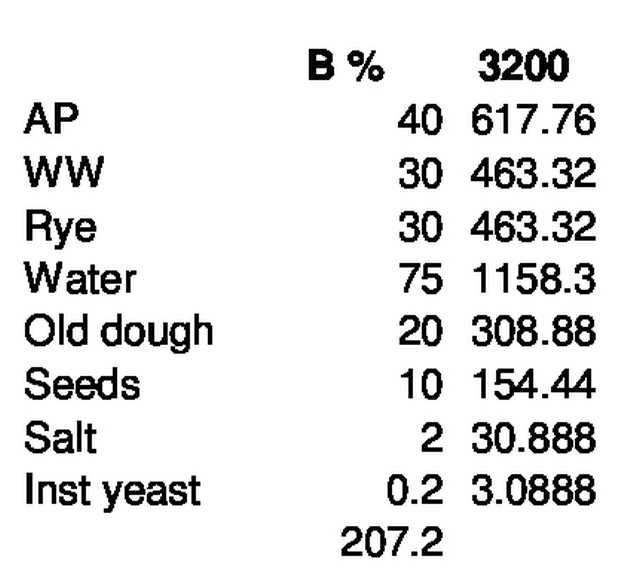 .... and bake three 800 gram (~28 ounce) boules in the oven, and one in our trusty old slow cooker/crock pot.
Whipped up the dough, fermented it overnight in the fridge, shaped up the boules and proofed them (three in cane bannetons, one in the slow cooker ceramic insert lined in parchment paper) for about 90 minutes at coolish room temp. 
I baked the oven boules on a stone, 500 degrees for 9 minutes with steam followed by 45 minutes at 400.  I baked the proofed crock pot boule at "high" for two hours.  In both cases, the internal temp of the bread ended up ~200 degrees. Here's what the slow cooker version looked like out of the pot:
After removing the crock pot loaf, I crusted up the top for 3-4 minutes under a high broil.
Here's a compare and contrast shot, with the boule trio on top, and the crock pot loaf down front.
The boules came out with the usual nice crust.  The crock pot loaf came out VERY soft - when I first poked it after the two hours, it didn't feel quite done.  Checked the internal temp, though, and it was up to 200.
The crumbs?  Not a gross amount of difference ....
Both tasted about the same, with the oven version (not surprisingly) having a much nicer crust to chew on, and the slow cooker version being moister overall (again, not surprisingly, given its cooking in a steam environment).
Bottom line? 
Yes, you can bake bread in a slow cooker using artisan formulas, and it comes out like a nice, soft sandwich loaf - probably close to how I imagine it might come out in a bread-making machine. 
No, the crust won't be anywhere near as nice as doing it in a hotter oven.
That said, it might make an interesting "steam bread" tool, or could be a last resort for someone truly desperate for some home-made bread without access to an oven.