September 22, 2013 - 7:45pm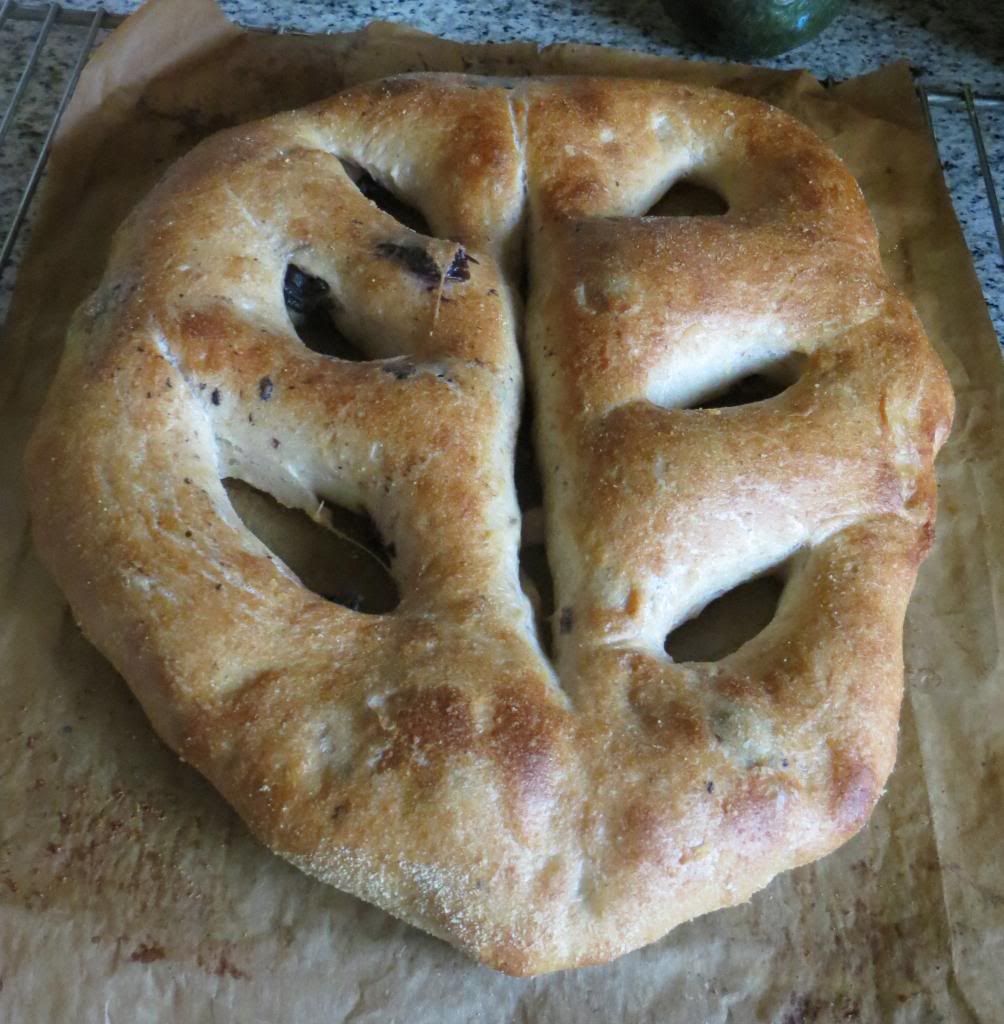 I've wanted to make an olive fougasse for a long, long time, but never got around to it until today. Served it for dinner along with a white bean soup that's a lot like the well-known U.S. Senate Bean Soup recipe.
Here's how I made it.
Preferment:
150 grams all-purpose flour
3 grams salt
97 grams water
A pinch of instant yeast
Final dough
All the pre-ferment
300 grams all-purpose flour
50 grams whole wheat or whole rye or a mix
4 grams salt
1/2 tsp instant yeast (1-2 grams)
40 grams coarsely chopped black olives, pitted
245 grams water
1 Tbs olive oil (optional)
Mix up the pre-ferment the night before, knead it and let it rise 12-16 hours. Once the pre-ferment is ripe (it should have domed and collapsed slightly in the middle), break it up into about 10 pieces and mix with the other ingredients. Develop the dough, adding the olives at the last minute (I sprinkled half on the flattened dough, rolled up the dough, flattened it again and repeated) and let it rise for 1.5 to 2 hours. Shape it into a boule and let it rise, covered with plastic or baker's linen for another hour or so. Meanwhile preheat a stone and a steam pan to 500 degrees F. Once the dough has risen about 50% or more, stretch it to half again its length and shape into a rough triangle. Using a knife or a pizza cutter, make one long cut all the way through the dough down the center, with three others along each side so it looks a bit like a leaf. Stretch the dough to open the cuts.
Bake the fougasse with steam for about 20 minutes at 450 degrees F. Serve warm.