September 16, 2013 - 8:16am
CHALLENGE FOR ALL MULTIGRAIN BREADS FANS
Dear fellow TFL bakers, I have a challenge for you!
During our recent trip to Germany we spent a few days in Potsdam, to visit Frederick the Great's Sanssouci. We stayed at Schlosshotel Cecilienhof, a wonderful hotel right inside another historic site, Cecilienhof Palace.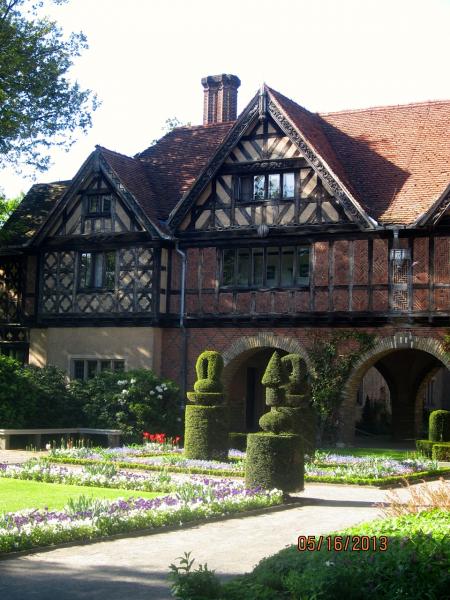 Cecilienhof Palace
Named after a crown princess, this palace was also the place where those three jolly old guys met: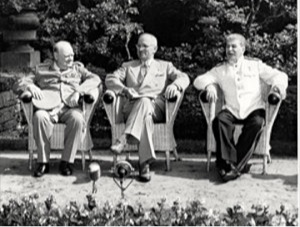 Churchill, Truman and Stalin at the Potsdam Conference
To honor the history and importance of this heritage, the hotel's pastry chef came up with the idea to create a special bread for the guests' breakfast buffet: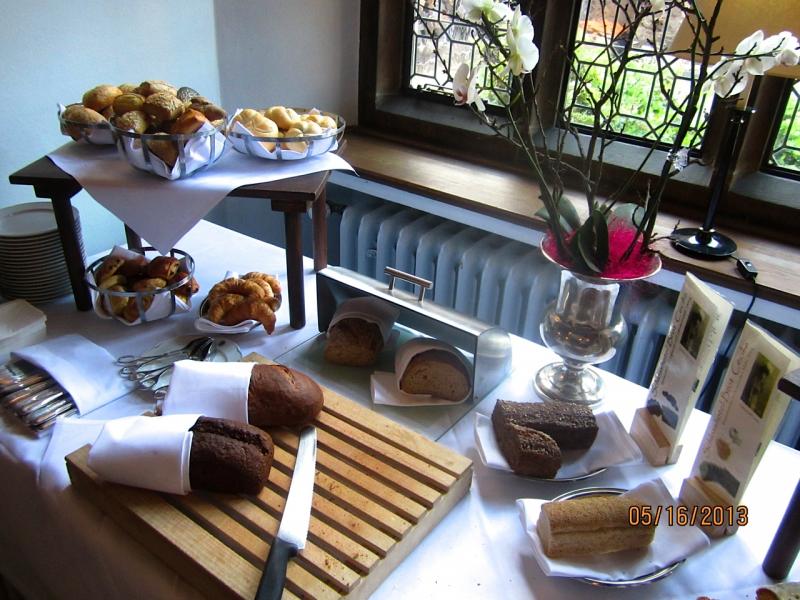 Bread buffet at Schlosshotel Cecilienhof
An ancient grain bread, "Urbrot", a rye sourdough with a lot of different grains and seeds. To educate their guests, the hotel had placed a little brochure on the table, with informations about the bread: "Taste meets Tradition", including a list of the ingredients: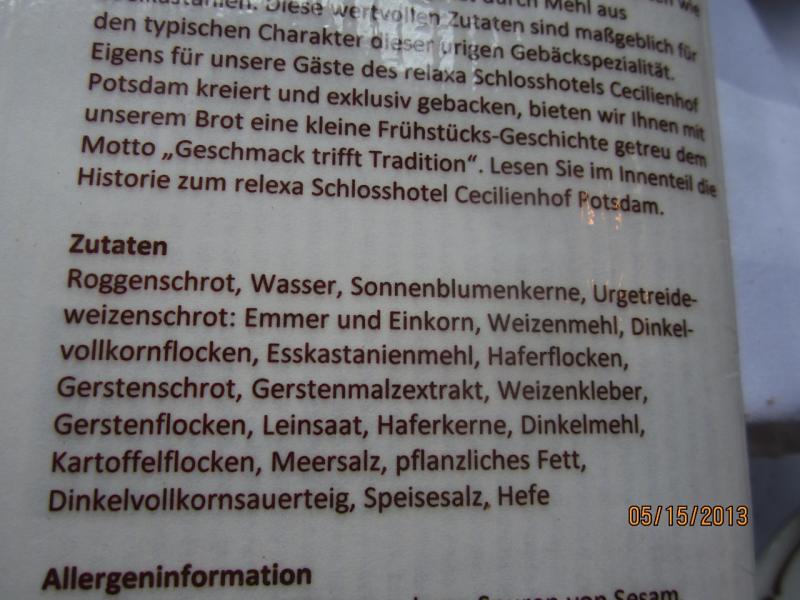 Ingredients of the Cecilienhof Ancient Grain Rye Bread
Rye meal
Water
Sunflower seeds
Ancient wheat meal: emmer and einkorn
Wheat flour (white or medium, not whole wheat)
Rolled spelt
Chestnut flour
Rolled oats
Barley meal
Barley malt extract
Vital wheat gluten
Rolled barley
Flaxseed
Steel cut oats
Spelt flour
Potato flakes
Sea salt
Vegetable fat (shortening)
Whole spelt sourdough
Table salt
Yeast
Unfortunately they didn't supply the bakers' percentage!
We really enjoyed the bread, and I think it would be wonderful to have another bread in my repertoire, associated with an important historic event (like the wonderful Wild Rice Sourdough - The Bread That Ended The Cold War.)
A moist, very flavorful loaf - created to honor the history of Cecilienhof Palace
I couldn't stop thinking about it, and see this as a challenge worthy of my talented fellow bakers at TFL. Certainly not all ingredients will be available for us, and we have to come up with a formula, but that is the fun part of it.
WHO WANTS TO JOIN ME AND TAKE UP THE CHALLENGE?
Happy Baking
Karin