September 9, 2013 - 12:15pm
Dan Lepard's Pumpkin Whey Bread
I'm baking a lot, but, since it's summer, mostly for sale.
And then there are other time consuming projects like painting windows (with some tireless mosquitoes for company), massaging my husband's cramped neck (after installing aforementioned windows), and hunting for those friggin' Japanese beetles that turn my raspberry leaves into lace.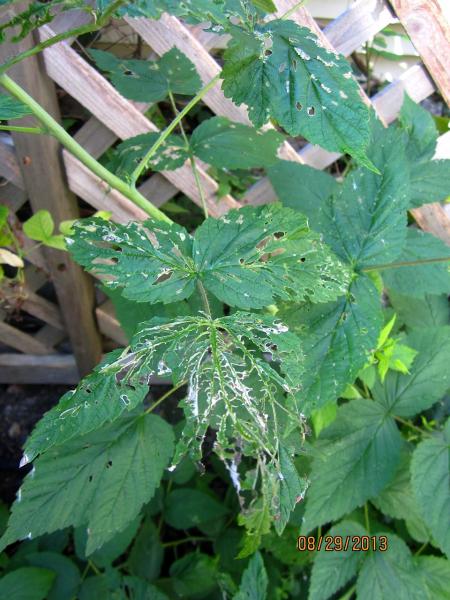 Beetle "Lace"
My list of "Equal Opportunity Breads" still waits for more items to be checked off - I did some more, but got a bit listless after a few stubborn loaves just didn't turn out the way I liked.
But in a recent weekend edition of "The Guardian", master baker Dan Lepard published an interesting bread made with whey instead of water. From my last batch of Greek yogurt I had a lot of whey left over, sitting in my fridge, while I wondered what to do with it.
Pumpkin Whey Bread was just what I was looking for!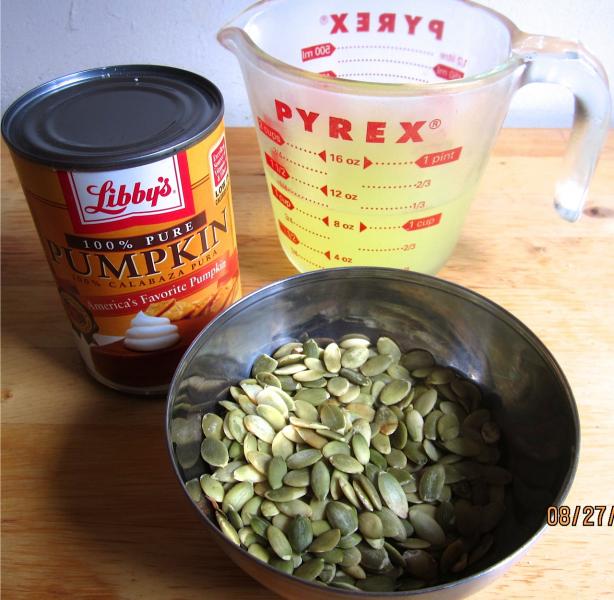 Pumpkin, Pumpkin Seeds and Whey - main ingredients for this autumn loaf
Dan Lepard cooked fresh butternut squash for his puree, but here in the US good quality canned pumpkin is readily available, and preparing and draining pumpkin puree a time consuming process.
I always have a supply of pumpkin puree in my pantry (to satisfy a sudden craving for pumpkin pancakes or pumpkin chocolate chip muffins). But for those who don't (or prefer making their own), here is a link to the procedure.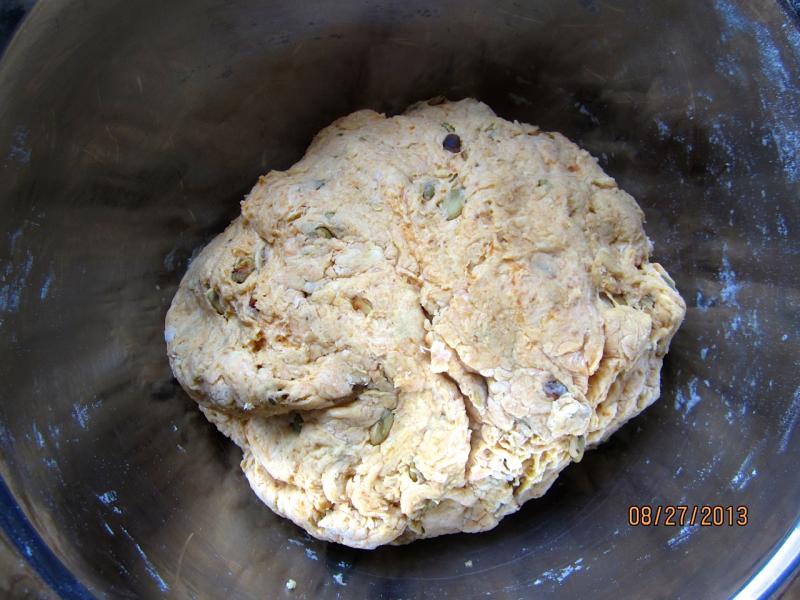 The dough looks a bit dry still, but will be soft and a bit sticky after brief kneading
What I like about Lepard's loaves is his minimalistic approach to kneading. Much as I admire Richard Bertinet's breads: compare his 30-minute-complete-upper-arm-workout to Lepards 10 seconds of gentle handling.
Normally I would use a stand mixer, but this soft dough can be easily (and less fussy) made by hand.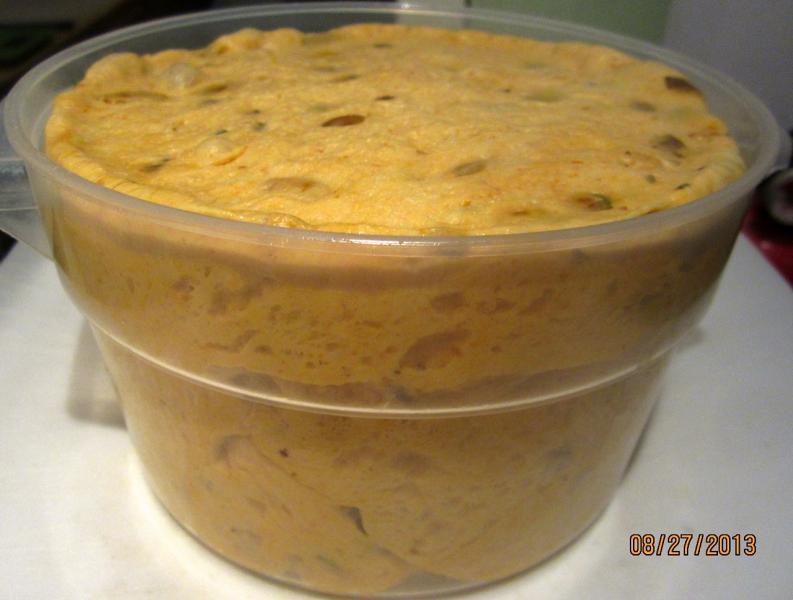 Threatening dough overflow - next time I will reduce the yeast!
Preferring longer fermentation I mixed the dough the day before, and let it slowly rise overnight in the fridge. It rose so mightily that it almost popped the lid. A sure sign that the instant yeast can be safely reduced to 5 grams down from the 7 grams the recipe requires. 
And, (for the good conscience) I substituted some of the white flour with whole wheat.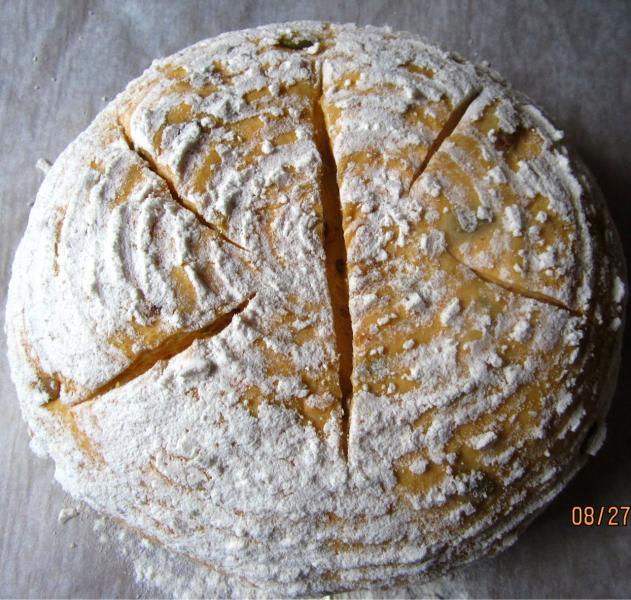 Ready for the oven
My Pumpkin Whey Bread turned out really nice. It had a delicate crisp crust, and a rich, dark golden crumb. Very flavorful, it is a true multi-purpose bread, and can be enjoyed with ham as well as jam. It is also good for toasting.
Stored in a brown paper bag, it kept fresh for several days.
Dan Lepard's formula you find HERE.
MY CHANGES:
Use good quality canned pumpkin (like Libby's or One-Pie) instead of fresh
Reduce the amount of instant yeast from 7 g to 5 g
Substitute 100 g of the bread flour with white whole wheat flour
Cold bulk fermentation in the fridge overnight (remove 2 hours before shaping)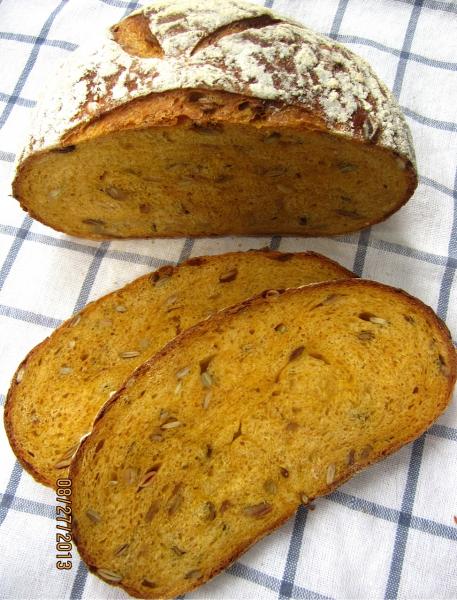 Striking gold with this wonderful tasty loaf!