August 26, 2013 - 11:10am
Lucy's Fruit Stupid - Nutella, Peach, Plum and Plantain Pizza and No Fruit Bagels
After seeing FlourChild's, breadsong's and David Snyder's pizza posts where some of them were dessert pizzas, my apprentice just knew it wouldn't be long before she had to try one.  But, instead of using traditional pizza dough, she used a slightly sweetened enriched dough like a hamburger bun.  We have no idea why she does these things but it is fun to watch.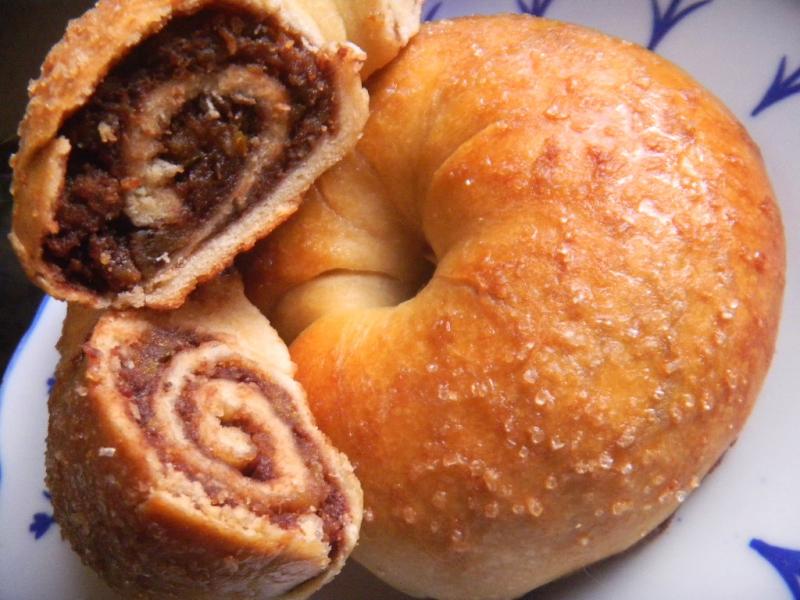 David - http://www.thefreshloaf.com/node/34452/pizza-bliss and Breadsong's post here - http://www.thefreshloaf.com/node/34610/was-good-pizza and FlourChild's post here - http://www.thefreshloaf.com/node/34626/pizza-levain-and-highextraction-flours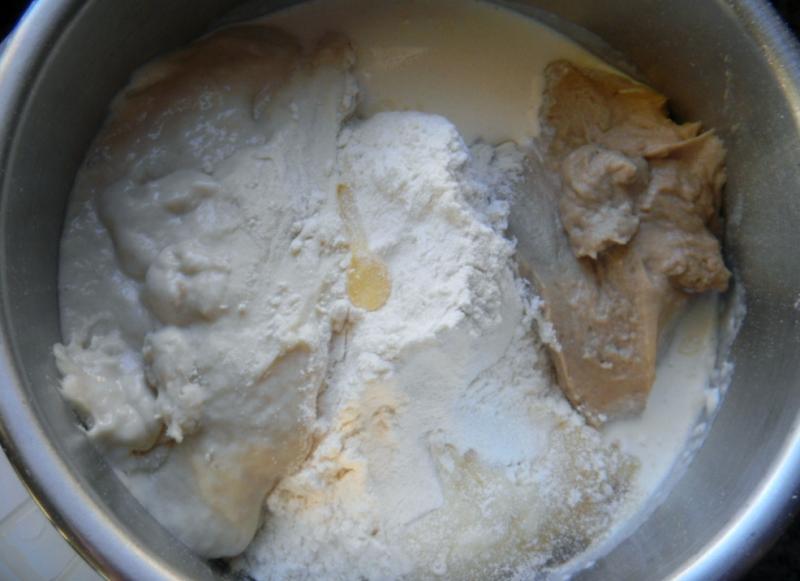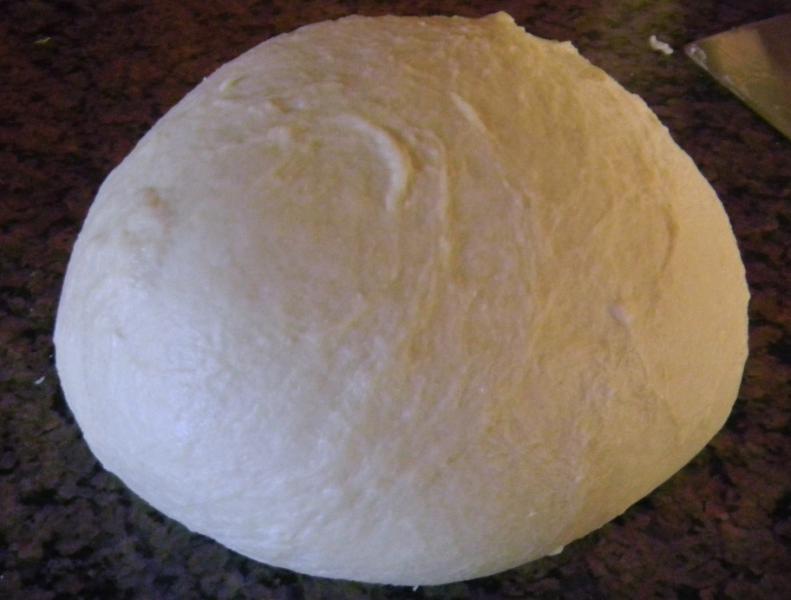 To jazz things up a little bit and having to get this bake done in 7 hours again, we used a 100g, 100% hydration poolish with a pinch of ADY and AP -  and a 100 g 100% hydration levain made with white whole wheat and some apple cherry yeast water.  We upped the percent of the leavens to 30% to make sure everything got fully proofed this time before hitting the mini oven.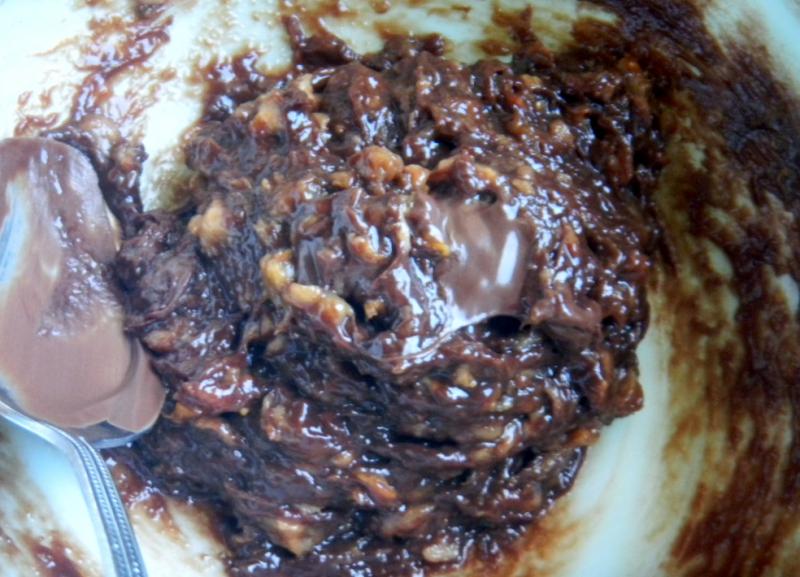 There is a dessert bun made in Mexico where the filling is ripe plantain.  A very ripe near black plantain is sweet and similar in taste to a banana. I this case I had a couple of plantains like that 3 week ago when I put them in the fridge to get midnight no moon black, shriveled up and flavor packed.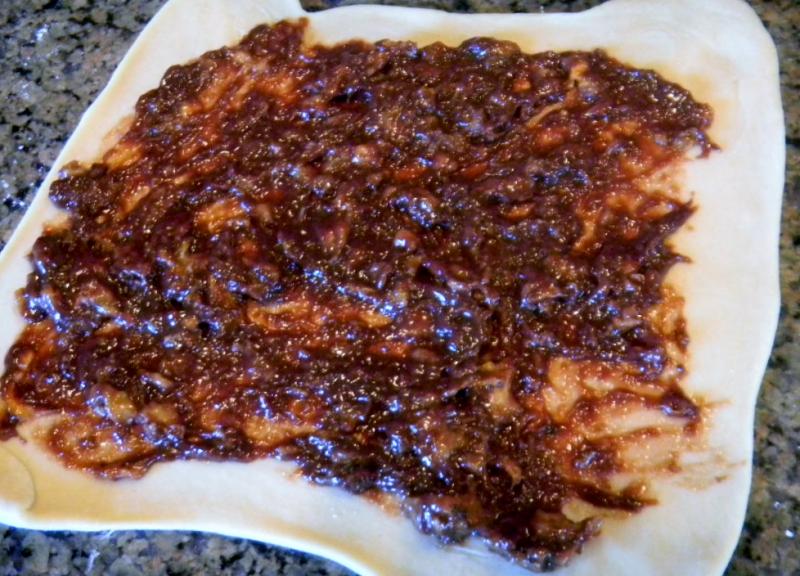 To help the plantains out Lucy added some Nutella.   When mixed together it made an odd filling combination we have never tasted before and not likely to again as she is so absent minded and quirky.
She used this filling for the rolled up bagels but then added some mini chocolate chips and English toffee pieces to the fruit galette just to make it different thinking the fruit wouldn't make it different enough as is was. She was pretty confident that the galette was plenty different enough when she got through messing around with it.  I call this concoction Lucy's Fruit Stupid.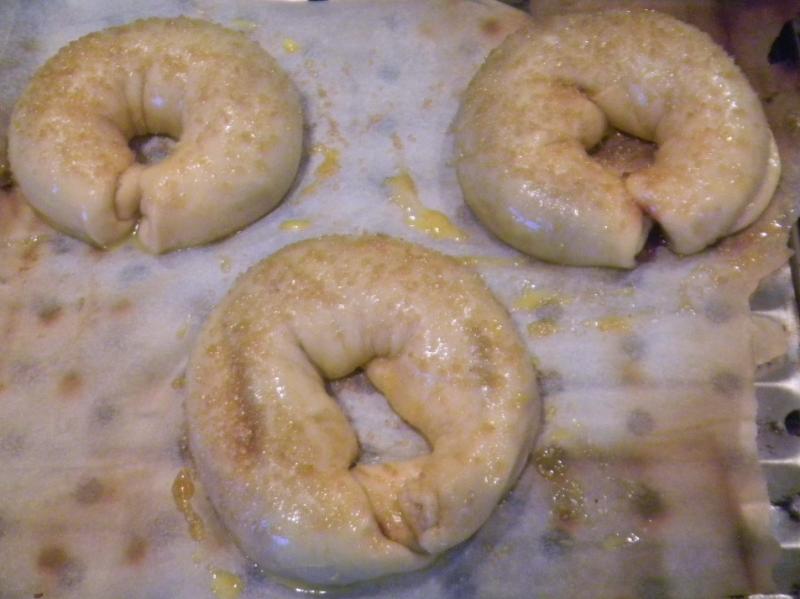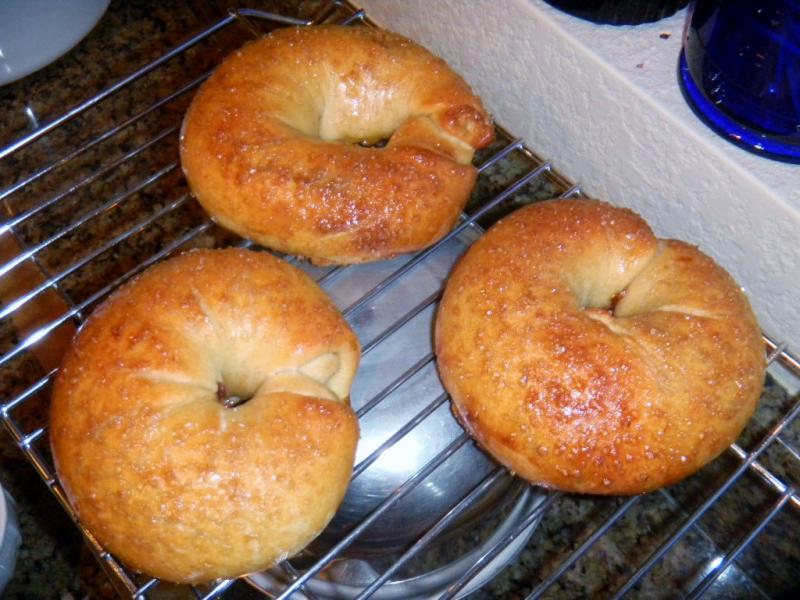 Oddly, the Stupid started out pretty smart - unlike Lucy herself.  The levain and poolish were made separately and left to do their thing on the counter for 2 1/2 hours.   We cut off the ends of the plantains and squeezed out the ripe insides like toothpaste – these were very ripe plantains indeed!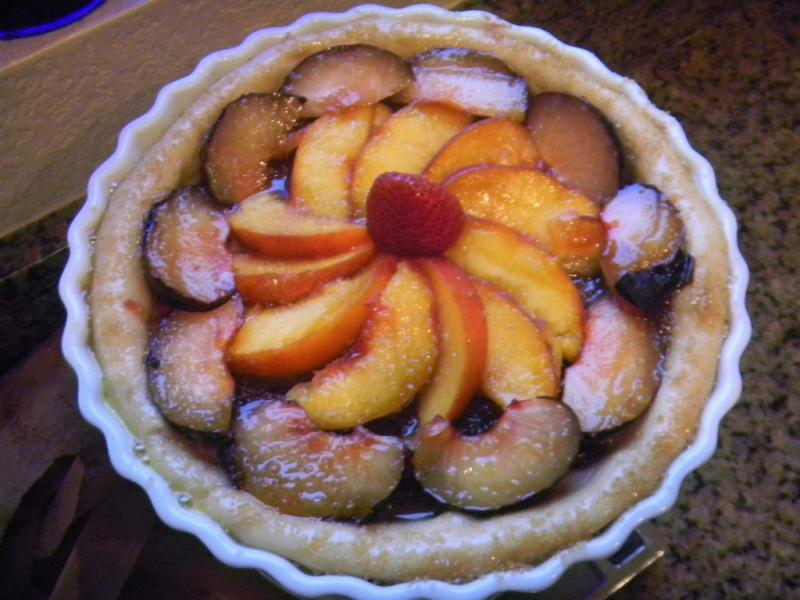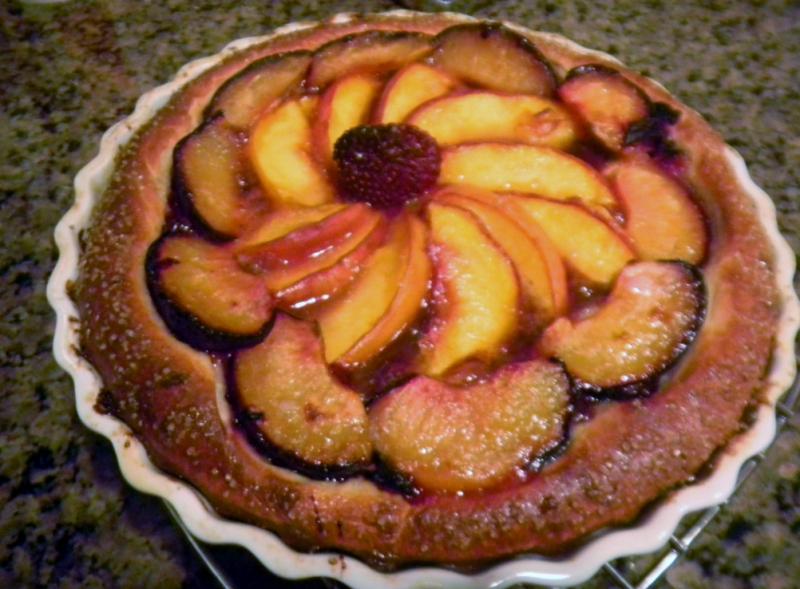 We mashed them with a fork and then added a couple of scoops of Nutella to it and mixed it well.  When the leavens met the rest of the dough ingredients we did 8 minutes of slap and folds to get the gluten develops and then let the dough rest for 12 minutes before doing the first of 2  S&F's on 20 minute intervals.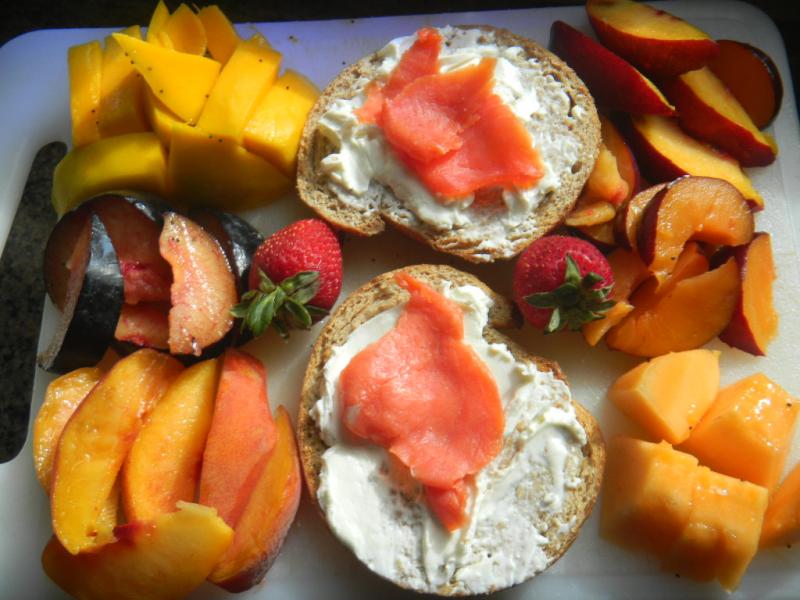 Breakfast on bake day.
The dough then fermented on the counter for another hour getting us to the 4 hour mark.  We then divided the dough in half and then one half into 3 pieces of 107 g each to make the roll up bagels – the other half would be used for galette crust.  Once the three pieces we rolled out into rectangles the Nutella / plantain mix went on and they were rolled up jelly roll style from the long side and then formed into a circle that looked like a bagel.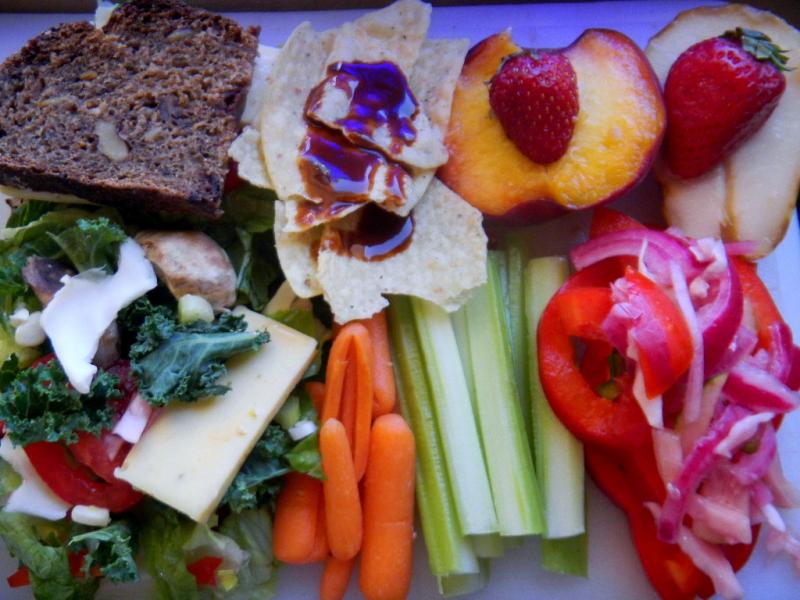 Lunch on bake day.
After stretching the other half of the dough into a pizza shape and placing it in the ceramic tart dish, we then added the mini chocolate chips and English toffee pieces to the Nutella / plantain mix and spread this out on the crust bottom after docking it.  The plum slices were places around the perimeter ad the peach slices were placed in the center as a pinwheel with a strawberry in the middle.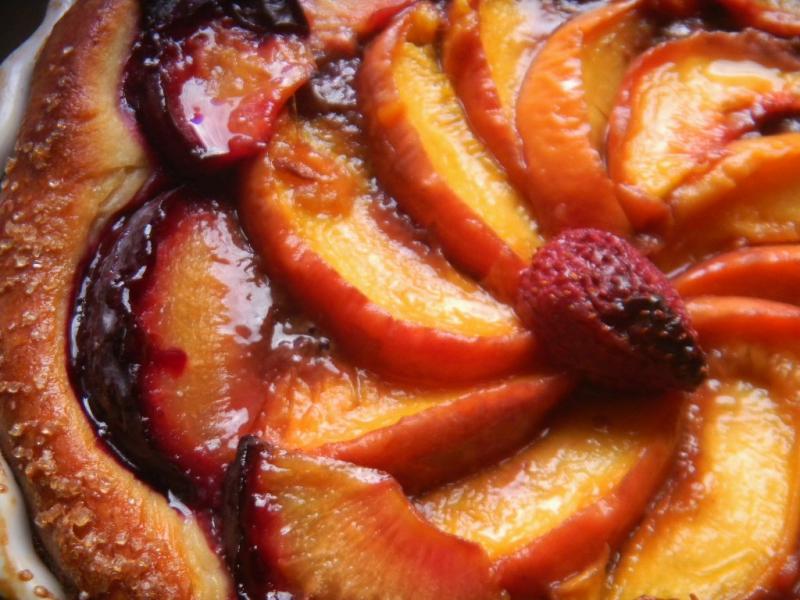 The chocolate bagelish thingies were egg washed, turbanado sugar sprinkled and baked in the mini oven - first at 375 F for 8 minutes and then 10 minutes at 350 F, convection this time.  They browned up well and we brushed them with skim milk as they came out of the oven to keep the crust soft.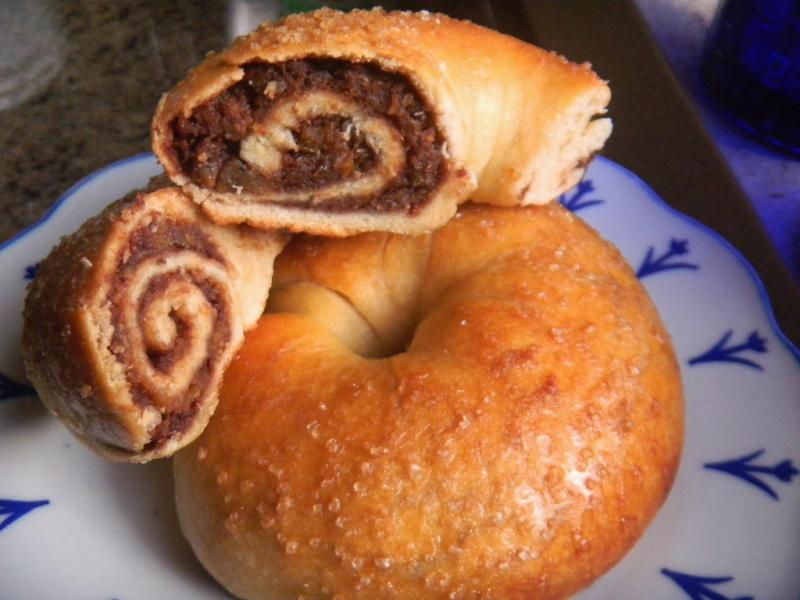 Then Lucy's Fruit Stupid went in the heat after having the crust rim brushed with egg wash the top sprinkled with turbanado sugar.  We started the bake at 400 F convection and baked it for 8 minutes.  We then rotated the galette 120 degrees and turned the oven down to 350 F.  After 8 more minutes we rotated the galette 120 degrees again. After 24 minutes the crust rim was brown and we deemed it done.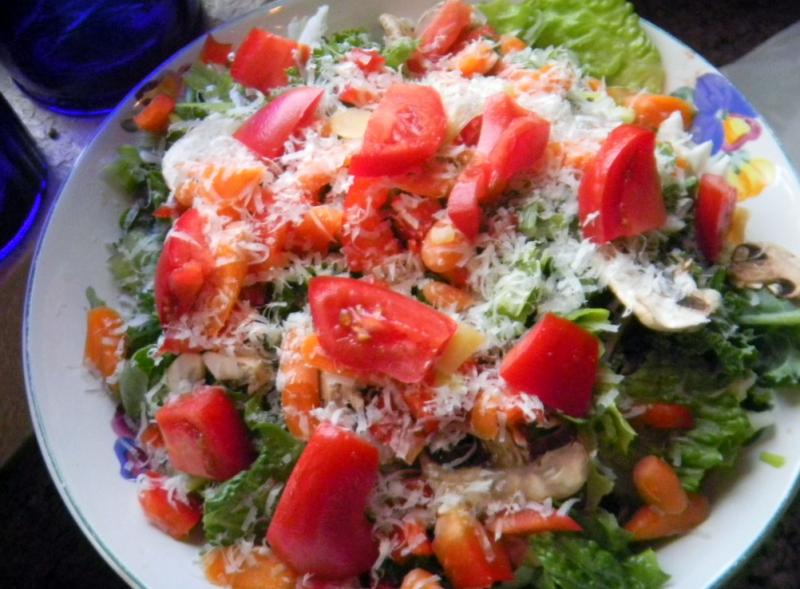 A dinner salad is a nice foil for the dessert.
The bagels were a little on the bland side when compared to Lucy's Fruit Stupid.  The Stupid was stupendous.  I asked Lucy why she didn't make two of her fine Stupids instead of wasting half the bake on not nearly as nice Nutella and plantain roll up bagels.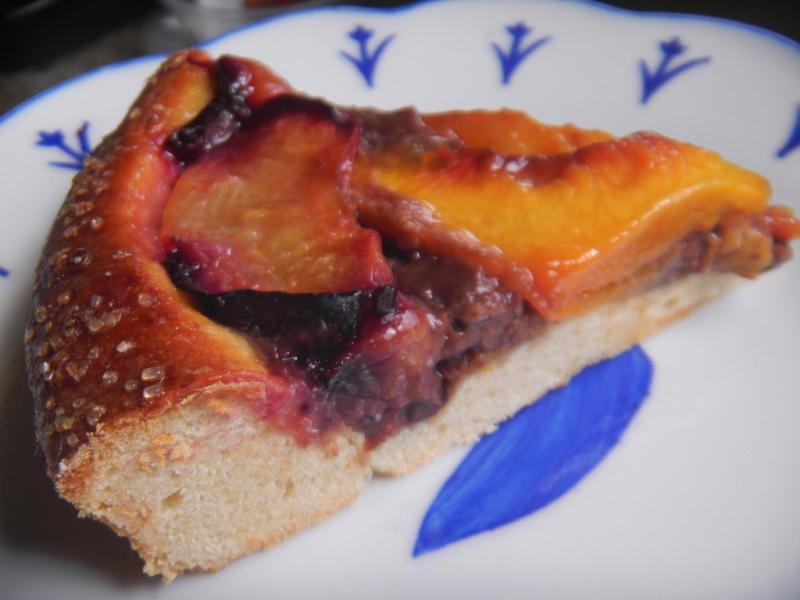 Her comment was that next time the rollups would have fruits mini chocolate chips and English toffee added to them and they would be great too.  You never know what will work better until you try them out and know for sure.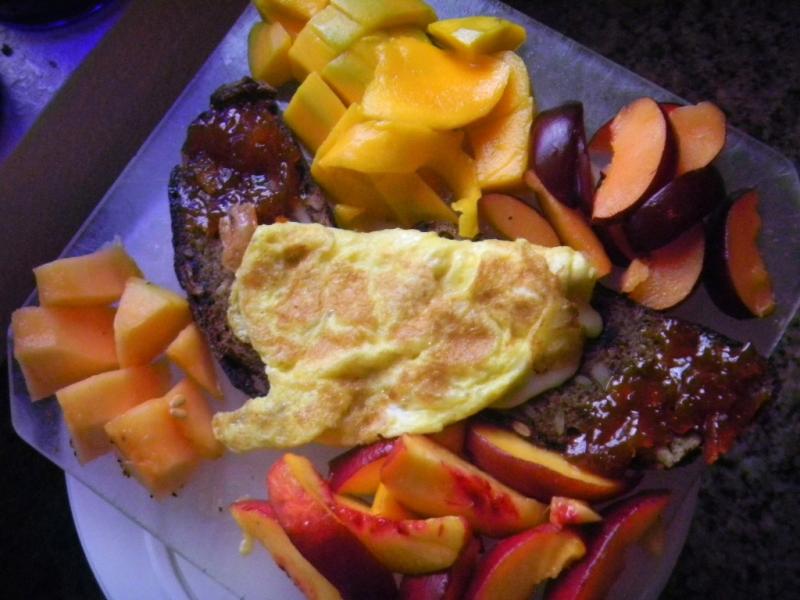 This morning's breakfast.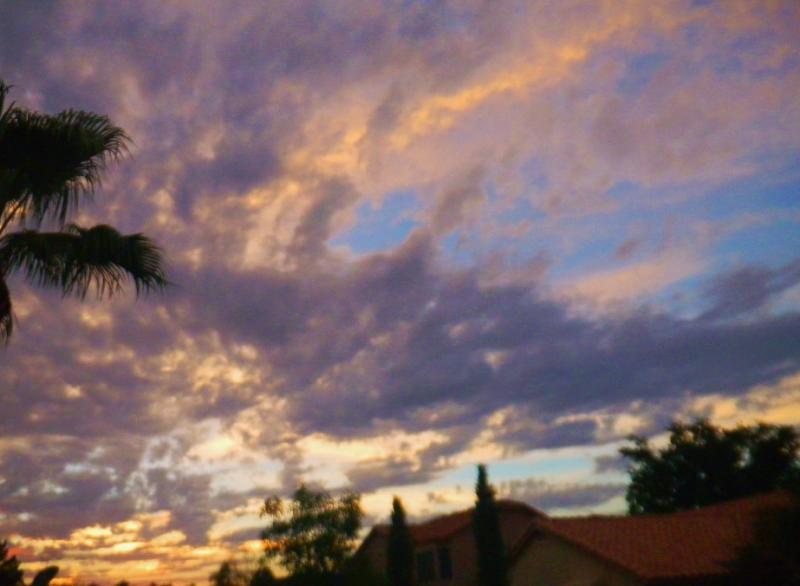 Formula
| | | | |
| --- | --- | --- | --- |
| Poolish Pinch of ADY | Build 1 | Total | % |
| White Whole Wheat | 50 | 50 | 14.29% |
| AP | 50 | 50 | 14.29% |
| Yeast Water | 50 | 50 | 14.29% |
| Water | 50 | 50 | 14.29% |
| Total | 200 | 200 | 42.86% |
|   |   |   |   |
| Multigrain SD Levain |   | % |   |
| Flour | 100 | 28.57% |   |
| Water | 100 | 28.57% |   |
| Hydration | 100.00% |   |   |
|   |   |   |   |
| Levain % of Total | 30.44% |   |   |
|   |   |   |   |
| Dough Flour |   | % |   |
| White Whole Wheat | 50 | 14.29% |   |
| AP | 250 | 71.43% |   |
| Dough Flour | 250 | 71.43% |   |
|   |   |   |   |
| Salt | 6 | 1.71% |   |
| Cream 100 | 112 | 32.00% |   |
| Dough Hydration | 44.80% |   |   |
|   |   |   |   |
| Total Flour | 350 | 100.00% |   |
| Cream 112, Water 100 | 212 | 60.57% |   |
| T. Dough Hydration | 60.57% |   |   |
| % Whole Grain Flour | 14.29% |   |   |
|   |   |   |   |
| Hydration w/ Adds | 74.23% |   |   |
| Total Weight | 657 |   |   |
|   |   |   |   |
| Add - Ins |   | % |   |
| Butter | 25 | 7.14% |   |
| Honey | 10 | 2.86% |   |
| Egg | 54 | 15.43% |   |
| Total | 89 | 25.43% |   |