August 25, 2013 - 11:38am
Pizza with Levain and High Extraction Flours
Couldn't resist joining in all the pizza frivolity, it is hands down my favorite bread to make.  I was inspired by David's post here http://www.thefreshloaf.com/node/34452/pizza-bliss and Breadsong's post here http://www.thefreshloaf.com/node/34610/was-good-pizza, both takes on Ken Forkish's SD pizza in Flour, Water, Salt, Yeast. 
Sasauge and Roasted Red Pepper Pizza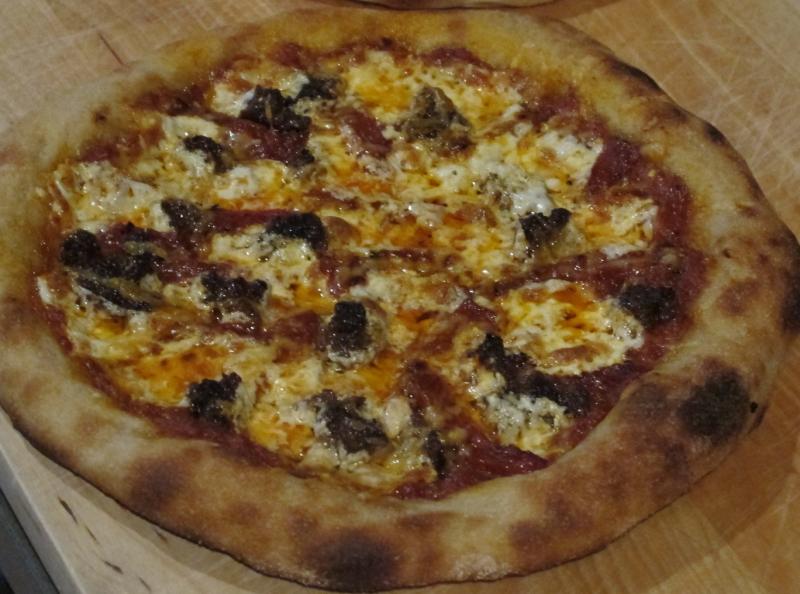 My go-to pizza crust falls somewhere between Forkish's version and a miche made with high-extraction flour.  It's a sourdough with a small leaven, high hydration and 20% high extraction flour.  After David raved about his pizza made with Caputo 00 flour, I decided to bake off my formula using two different unbleached flours, one was KAF's  Italian-style flour with 8.5% protein, and the other was Gold Medal unbleached AP, with about 10-10.5% protein.  I left the high extraction flours the same for both, and lowered the hydration to 75% for the lower protein Italian-style flour.
Pizza with Braised Leeks, Roasted Yellow Tomatoes, Goat Cheese and Bacon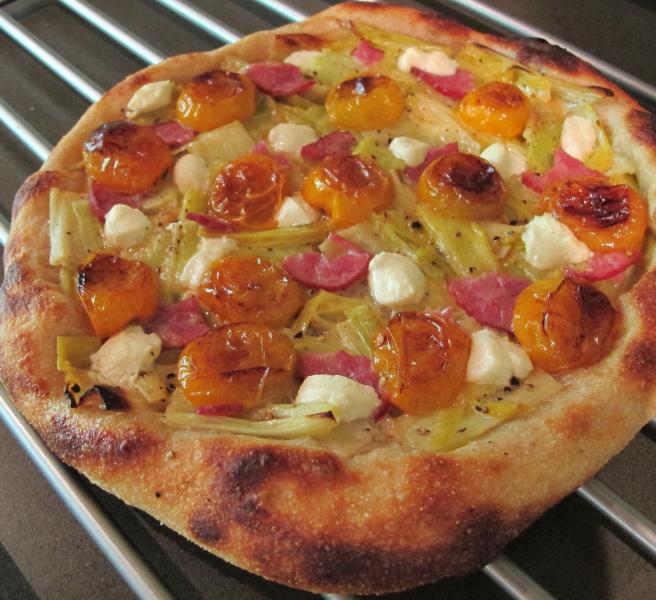 I have to say that the Italian-style flour was far superior, baking up with a perfectly crisp exterior and a light, tender and delicious interior.  I'm headed up to KAF in a couple of weeks, this bake has me wondering where on earth I could fit a 50lb bag of this stuff, it is that good.  If it came in an organic version, I'd be even more thrilled.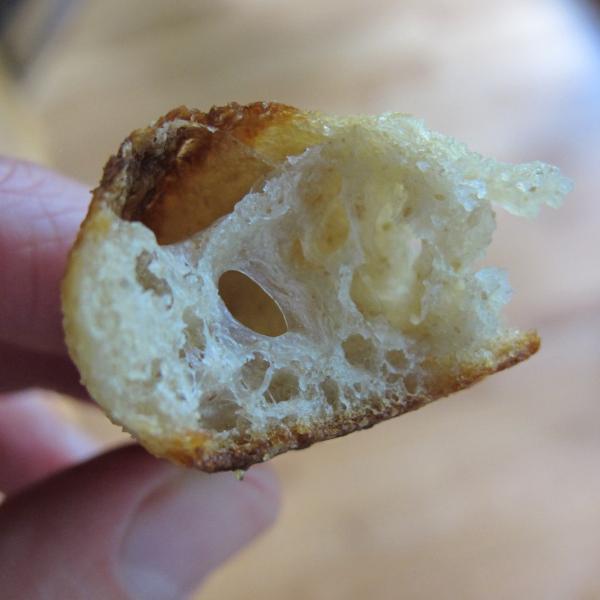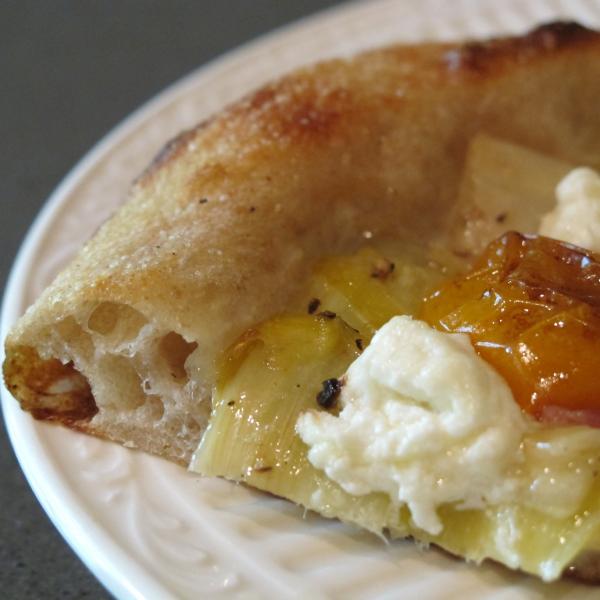 Yield: Two 12" pizzas, can be doubled easily for 4-5 pizzas.
| | |
| --- | --- |
| Levain | Grams |
| Seed | 6 |
| KAF AP | 30 |
| Water, RT | 30 |
|   |   |
| Main Dough |   |
| Gold Medal AP (or Italian   style flour) | 178 |
| Hi-Ex Red Wheat | 40 |
| Hi-Ex Rye | 10 |
| Water | 178 (165 for Italian flour) |
| Levain | 45 |
| Sugar | 1.5 tsp |
| Salt | 1 tsp |
|   |   |
| Baker's % |   |
| Total flour | 250 |
| White flour | 80% |
| Hi-ex flour | 20% |
| Water | 80% (75% for Italian flour) |
| Salt | 2.3% |
| Levain flour | 9% |
| Sugar | 2.5% |
| Total dough | 463 |
 Levain (night before):  Mix the levain and allow it to ferment overnight at about 68F.  My goal is to have the levain well-risen but not yet ready for another feed- a young levain.  In hotter weather my seed: flour ratio is 1:10 and in cooler weather it is 1:2.
High Extraction flours:  I sift hard red whole wheat flour and whole rye flour through a fine strainer to create high extraction flour, only takes a couple of minutes and it helps to keep the pizza texture light and open-crumbed.  Using high-extraction flour also works well with my goal of creating a dough that is full-flavored, rich and complex, but not overly acidic. 
Autolyse (morning of):  Stir main dough flours to combine, add water (85-90F unless room is quite warm) and mix until no dry spots remain.  I like to make a well in the dough and add the levain, then draw the sides around to encase it without mixing it in.  That way, the different hydration levels begin to equalize and the levain has a nice place to hang out during the autolyse.  Autolyse for at least 20 minutes and up to a couple of hours.   I autolyse in my folding proofer set at 78F to keep the dough temp from cooling too much before the bulk ferment.
Encasing the levain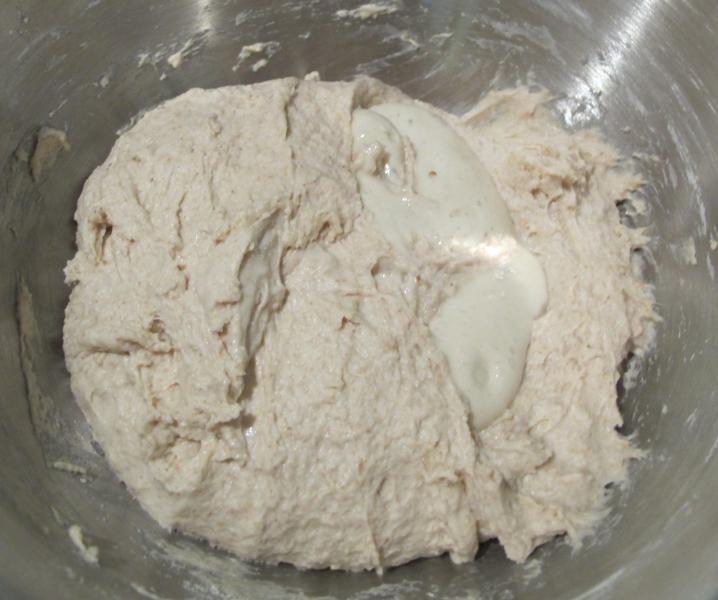 Mix the Main Dough:  Stir the salt and sugar together in a small bowl and sprinkle over, around and under the dough to coat it all over.  This helps keep the high-hydration dough from being too sticky for a short while.  Once the salt and sugar are mixed in, the dough becomes quite sticky and stays that way for the rest of the process.
Sugar in the Dough:  I don't add sugar to most bread doughs, but after making what seems like a gazillion pizzas over the last several years, I'm thoroughly convinced that sugar really helps create rich flavors and a browned, charred crust in a home oven.  It can be omitted and the main dough can be mixed at the same time as the levain and autolysed overnight if desired, but I find that adding the sugar gives the best browning.
Bulk Ferment:  In my folding proofer set at 78F, the dough takes about five hours to bulk ferment.  The version with AP flour needs 3 stretch and folds in the first two hours, and the Italian-style flour version needed 4 stretch and folds.  This dough is very wet and sticky, so I leave it in the mixing bowl until the folds are complete, then transfer it to a lightly oiled container to gauge the volume.  I like the flavor best at a volume increase of about 2.25x, though it also works just fine at 2x or 2.5x. 
Dough Balls:  Divide as desired and pre-shape into balls.  I like to proof them upside down (seam side up) with oil on the pan and coarse semolina on the seam side.  During shaping I continue with oil on the tops of the crusts and semolina on the bottom, it helps give the pizzas a softer top crust with a crisp underside.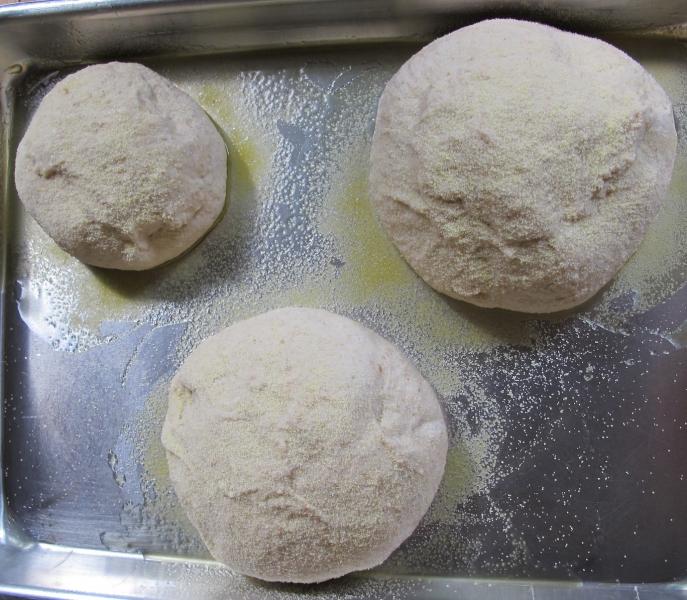 Proofing:  The dough balls need to proof another 2 hours at 78F, covered.  If the main dough was mixed early in the morning and more time is needed before baking, they can be refrigerated after an hour of proofing.  Most of the time I don't refrigerate them.
Shaping:  I shape just before topping and baking them, being careful not to compress the rim.  The Italian style flour version was harder to shape because the dough was both wet and delicate (less gluten), but it was so enjoyable to eat that I didn't mind.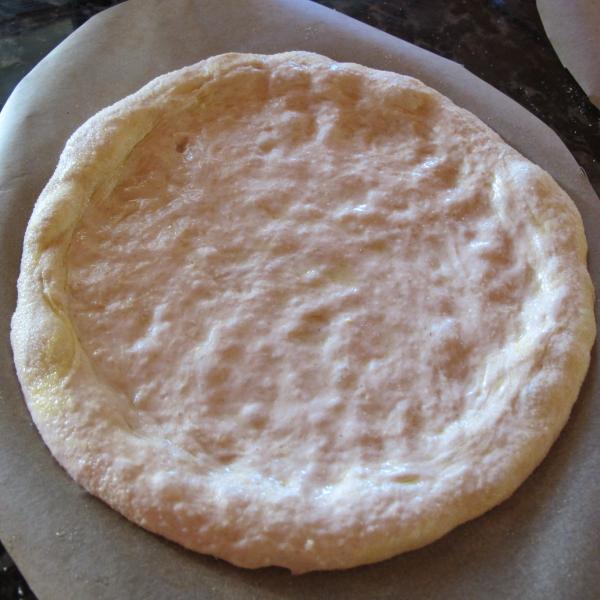 Baking:  We preheat the oven to 500F+ for an hour with a stone on the middle rack.  Pizzas take about 5-7 minutes and get turned half way through baking.
Toppings:  The pizza at the top of this post is a seasonal favorite, it is made with burrata, pan roasted yellow tomaotes, a little parmesano reggiano and fresh basil.  If you haven't used yellow tomatoes on pizza before, I recommend giving it a try, they are phenomenal.  We like them on pesto pizza, as well as the two versions shown here. 
The pizza below is a simple goat cheese and basil pizza (my daughter's current favorite), she likes her crust a little paler/softer than the rest of us (braces). 
The last pizza pictured is a dessert pizza- we don't make dessert pizzas very often because once you've had them for a main course it seems a bit repetitive to have them again for dessert, but it was quite good and fun to try.  I brushed the rim with melted butter and used lightly sweetened whipped cream for the "sauce".  Then topped that with sliced peaches and blueberries, and sprinkled the whole thing, rim and all, with a tablespoon of sugar.  I lowered the oven to 450F so that the fruit would have enough time to bake through.  It was delicious.
Basil and Goat Cheese Pizza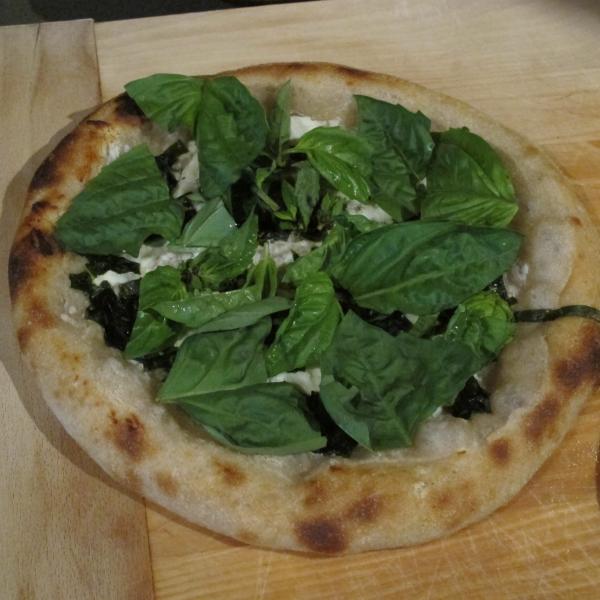 Dessert Pizza