August 13, 2013 - 10:57pm
Pain au Levain with cracked Spelt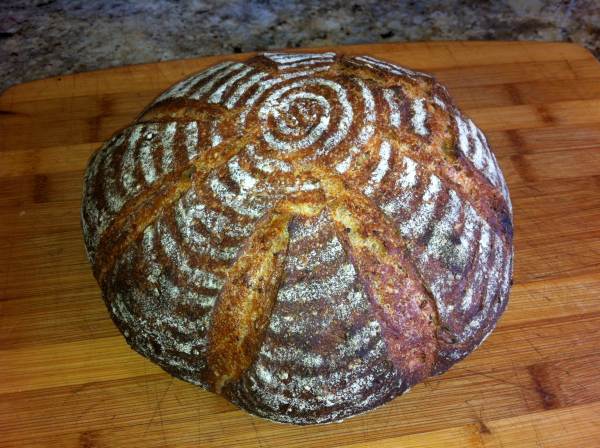 Continuing along using sprouted spelt flour as a key ingredient for the last few bakes, this time I decided to up the grain percentage by adding a soaker of cracked spelt to the mix. I'd forgotten I'd even had the stuff until I re-discovered it rummaging around in my storage bin of various grains for something else. The soaker adds more texture and tooth to this loaf over previous spelt loaves I've made, and is a step in the right direction for increasing the overall flavour as well. The mix is a pretty basic levain type with the exception of an extended (3-4 hour) autolyse. The long autolyse is just an experiment on my part to see what, if any benefits can be had from it. In terms of the crumb appearance it doesn't seem to have much impact, but the texture or mouth-feel is softer and creamier than similar type doughs made in the past using a much shorter autolyse period. Spelt tends to have a drying effect on the crumb, even at a relatively low ratio such as this loaf has, and my intention was to see if an extended period of water absorption for both the AP and sprouted spelt flours would mitigate the effect to some degree. Too early to say right now, but I'll monitor the eating quality over the next few days and see how it fares. As far as flavour, the bread has a medium tang to it, surprising given the nearly 16 hours the levain fermented for, but the overall the flavour is reminiscent of Hamelman's Pain au levain, with lots of toasty, wheaty notes to it, supported by the rich flavour of the crunchy crust. There really aren't any changes I'd make to this formula for the next bake, it's just a good everyday loaf of bread to use for sandwiches, and for toasting. Having recently received a gift of lovely homemade preserves from a good friend, this particular bake couldn't have been more timely.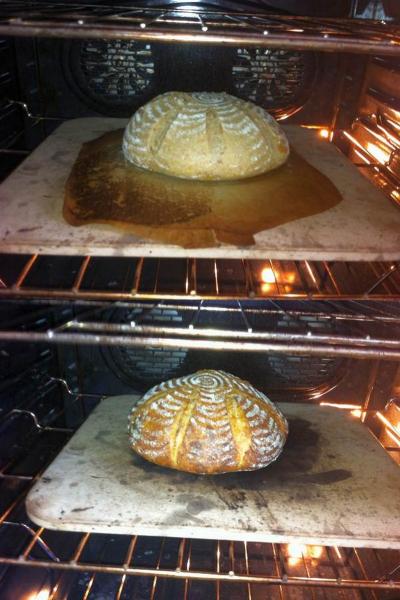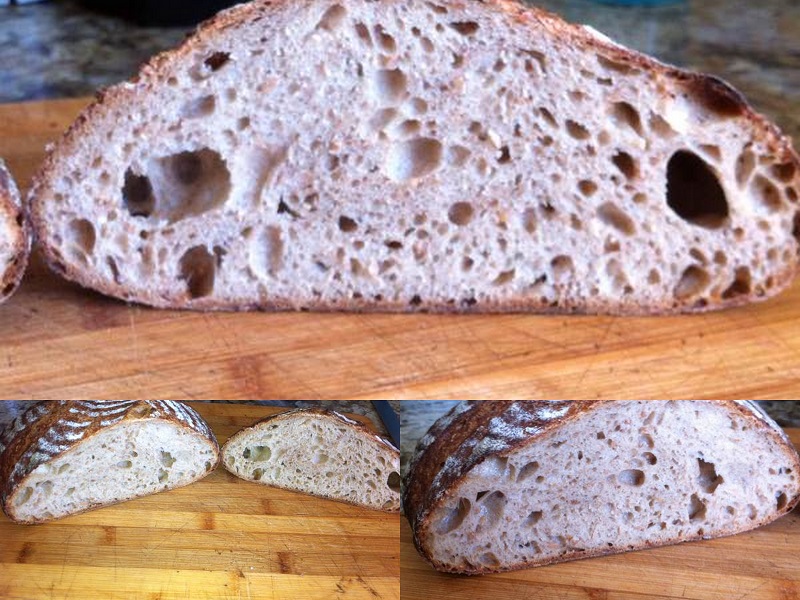 | | | |
| --- | --- | --- |
| Sourdough with Cracked Spelt | % | Kilos/Grams |
| Ingredients |   |   |
|   |   |   |
| Leaven |   |   |
| Organic AP Flour | 100.00% | 99 |
| Mature Starter -Rye-100% | 20.00% | 20 |
| Water | 68.50% | 68 |
| Total weight | 188.50% | 187 |
| Ripen for 15-18 hours @ 72F/22C |   |   |
|   |   |   |
| Cracked Spelt Soaker |   |   |
| Cracked Spelt | 100.00% | 55 |
| Water-boiling | 150.00% | 82 |
| Total weight | 250.00% | 137 |
| soak overnight |   |   |
|   |   |   |
| Final Dough -enter desired dough weight in yellow cell |   | 1000 |
| Organic AP Flour | 60.0% | 249 |
| Sprouted Spelt Flour – Organic | 40.0% | 166 |
| Leaven | 45.0% | 187 |
| Cracked Spelt Soaker | 33.0% | 137 |
| Sea Salt | 2.8% | 12 |
| Water | 60.1% | 249 |
| Total weight | 240.9% | 1000 |
| DDT-76-78F |   |   |
| Autolyse the flours using all the water for 3-4 hours pre final mix. |   |   |
| Bulk ferment for -2-2.5hours @76-78 with 3 stretch and folds. |   |   |
|   |   |   |
| Overall Formula |   | Kilos/Grams |
| Total Flour | 100.00% | 579 |
| Organic AP Flour | 60.14% | 348 |
| Medium/Dark Rye Flour | 1.71% | 10 |
| Sprouted Spelt Flour – Organic | 28.68% | 166 |
| Cracked Spelt | 9.47% | 55 |
| Sea Salt | 2.01% | 12 |
| Water | 70.73% | 409 |
| Total weight/yield | 172.74% | 1000 |
| Total Pre-fermented Flour | 18.83% | 109 |
| Estimated Hydration | 64% | 368 |
Procedure:
Mix ingredients for the levain and ripen for 15-18 hours. Note: Whatever type of starter you have on hand can be used. The small percentage indicated in the formula will have little effect on the final flavour.

3 to 5 hours prior to the final mix, autolyse both the flours of the final mix and keep covered at 70-75F-21/23C

Mix all the final ingredients except the salt until uniform, then add the salt and continue mixing on 1st speed, or by hand, until the dough is smooth. Mix on 2nd or 3rd depending on mixer speed until the dough has come together and clears the sides of the mixing bowl, or by hand, slap and fold the dough on the work surface for 5-6 minutes, or until a window pane can be achieved.

Bulk ferment at 75F/23.8C for 2-2.5 hrs with stretch and folds every 30 minutes for the first 90 minutes.

When the dough has fermented enough that it's gassy and has some spring to it, take it out of bulk ferment and round it gently, leaving it for 15 minutes to relax, covered with a bowl or sheet of plastic, cloth.

Shape the dough as desired, being careful not to de-gas it, at the same time drawing the dough taut.

Final proof at 75-78F/23.8-25.5C for 90 minutes with 65-75% humidity if possible. Proof to 10% less than double the original volume.

Preheat the oven and baking stone to 485F/252C forty five minutes prior to baking and have steam system ready.

When final proof is complete, slash as desired and load in the oven.

Bake for 10 minutes, remove steam system and vent oven. Continue baking for 8 minutes, then rotate the loaf/loaves for even colouring. Remove parchment paper if using. Check colour, lower oven temp to 460F/237C and continue baking in 8 minute intervals till the crust shows good colour and the internal temperature is 206-210F/96-98C.

Cool on a rack for 60 minutes, wrap in cloth, and let sit for 5-6 hours before slicing. 
The week before last my wife and I wandered up to one of our neighbourhood blackberry patches and picked almost a full bucket in 45 minutes, the brambles just teeming with beautiful, succulent, and free fruit for anyone who doesn't mind a scratch or two. While I was picking away I gave some thought to how I might use them, a tart perhaps? Hmm..., then I thought of the perfectly ripe and juicy nectarines we'd bought at the market earlier in the day and a visualization started to form in my head on how to combine the two fruits in a way to showcase their very different but complimentary flavours. This is what I came up with.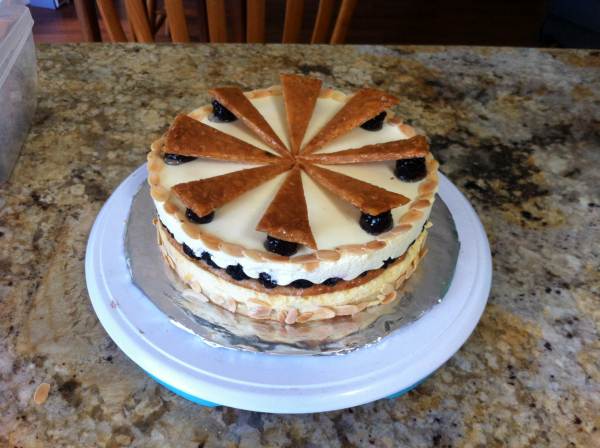 From the bottom up the cake is composed of a layer of almond sponge cake (Joconde), Bavarian cream flavoured with a nectarine puree and slices of whole nectarine. Next is a disc of almond Daquoise (thick, baked meringue with almond meal) topped with whole blackberries and then filled with a white chocolate mousse flavoured with Pisa , an Italian liquor that has similarities to Amaretto but not as sweet. The deco for the cake is made from almond nougatine, in essence an almond brittle that can be poured and shaped in a variety of ways. For the top deco, triangles were cut from a disk of nougatine, then laid pointy end towards the cake center and supported at the back by glazed blackberries. In a bit of a rush to finish it and get it over to my son and daughter in-law's, while my 11 month old Grandson wasn't snoozing, I regret not finishing it properly with one or more glazed blackberries in the center. Oh well...next time.
Below is a smaller version of the same cake that my daughter and I shared after her visit and dinner together later that same week. Rebecca loved the crunchy nougatine, and we both enjoyed the light texture of the cream fillings with the pure and natural flavour of the fruit and berries at their peak.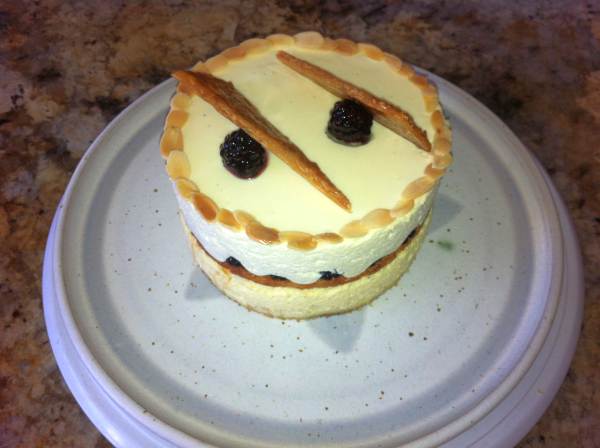 Cheers all, and happy baking,
Franko