My cousin's well-tended garden boasts the company of a clump of chives descended from our great-uncle's plants of about a hundred years ago. My garden is simpler and consists of what grows by inclination in the fields and forests near my home. Much of what I find was not here when Europeans arrived- New England was arboreal then, and the man-made grasslands are eternally trying to revert. Of the flowers in my vases only the common fleabane and a bit of madder are native.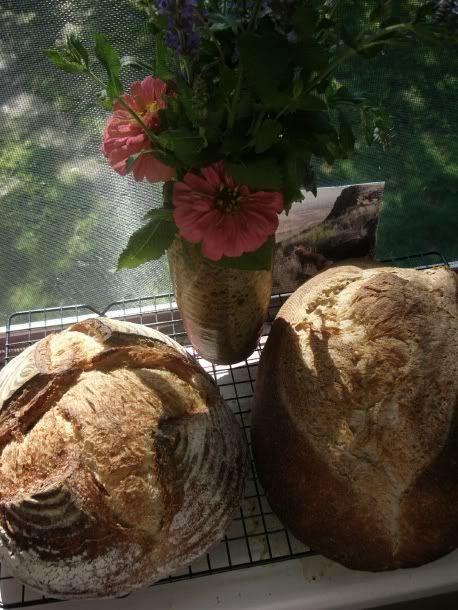 vsd
My starter was not begged from the ether like so many of yours, but given to me by a friend who, now in the riper reaches of five decades, was given it by his mother when he left home for college. It's been sluggish, fretful company and I a reluctant keeper til I found tfl which is a little like finding bread religion..multidenominational of course..So anyway my starter woke up recently with a flower in its hair and a song in its heart, don't ask me why, I just thought I better use it and not ask any questions. The wind could and probably will change directions any day. These are a couple loaves of Vermont Sourdough, and an edition of Dan Lepard's White Leaven bread.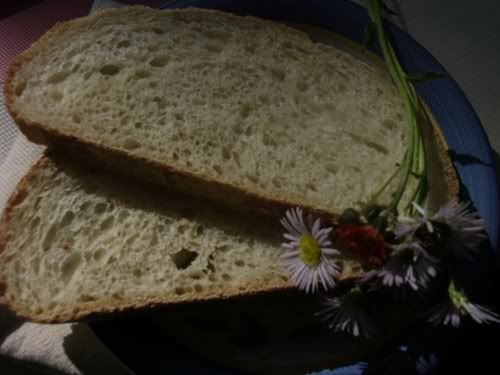 and with the fresh discard:
This is an adaptation of Hamelman's Golden Raisin bread, obviously unbound by particulars... Oatmeal bread is typically snugged up with sugar, fat and spices--this loaf is so warm and country without those things that it should have pigtails and a checkered shirt.
-brown dog,
white horse.