beginner's guide to creating and maintaining sourdough starter
There's quite a few good tutorials on this on TFL, but tons of lousy ones online, but I thought I would add my own. Mine is a bit different than others in that it focuses on maintaining warm temps throughout the starter creation process. I believe this is key to establishing good yeast and bacterial multiplication and a healthy starter ecosystem. It also focuses on just using flour, water, time and temperature to build a starter. No sugar, potatoes, honey, (heaven forbid) commercial yeast, other fancy stuff. Be patient, pay attention (look, smell, taste, and take good notes) and you will be rewarded with a strong, tasty starter. 
You'll need:
A quart-sized Ziploc bag (or other clear plastic or glass container)
A bowl (optional, to contain the Ziploc bag in case it leaks) 
An instant read thermometer (that provides accurate temperature between 60 - 110F) 
Whole wheat (or rye) flour (organic is nice but not required)
Day 1
To the Ziploc bag, add: 
1/2c whole wheat (or rye) flour 
1c very warm water (98F)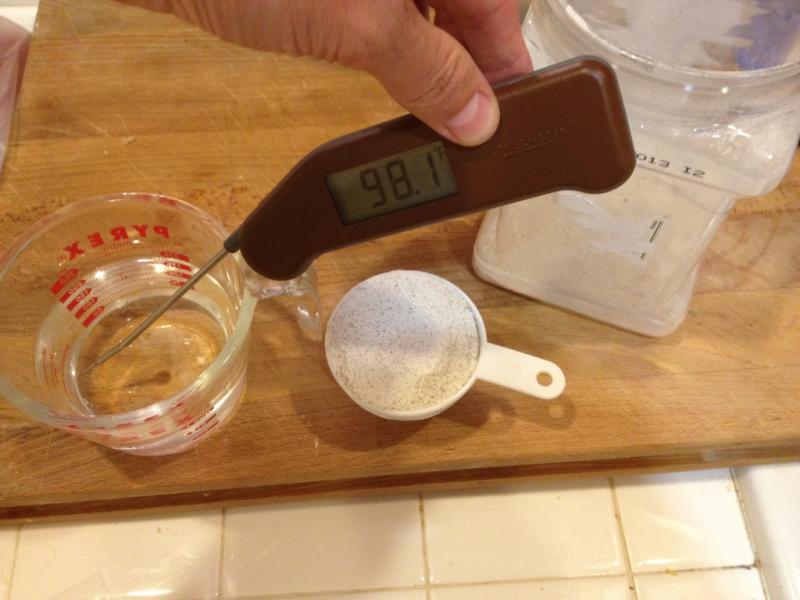 Get as much air as you can out, zip it up, and squish the mixture around.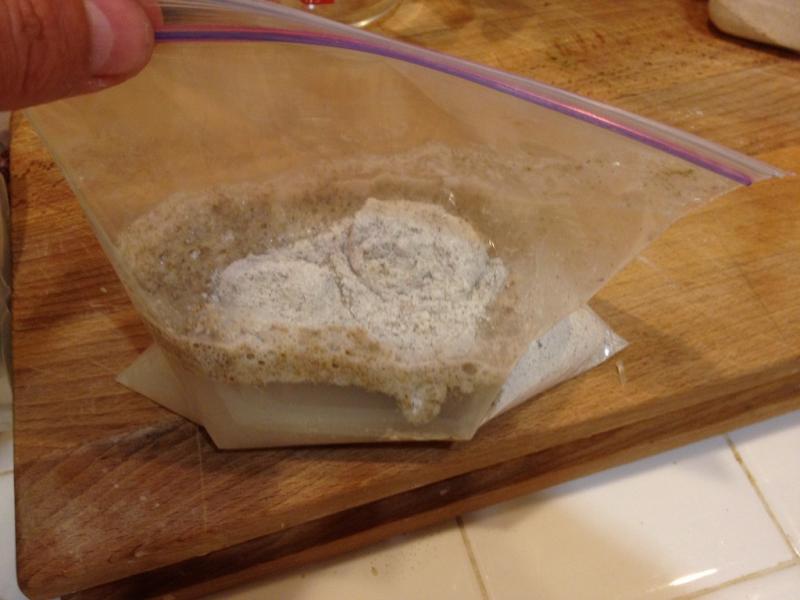 Now put it in a very warm place (but not in direct sunlight!) between 85-99F...this is important. If your house isn't warm enough, you can place your starter in your oven with the oven light on. Or you can use a heating pad. Use your thermometer to check the ambient temperature where you are keeping it. You don't want it to get hotter than 100F, otherwise this has a negative impact on yeast and lactic acid bacteria development: any hotter and you risk killing them.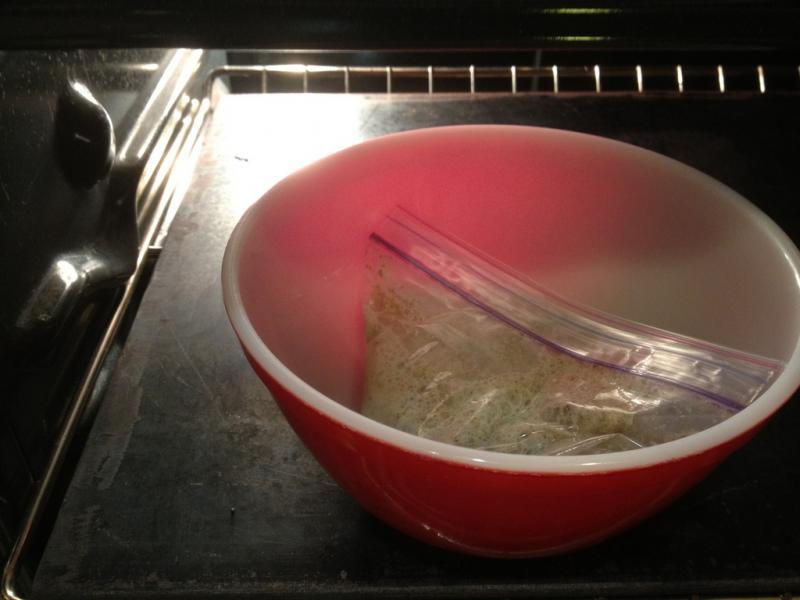 Let the Ziploc rest in this warm place for 24 hours. Relax and congratulate yourself...you've taken your first steps towards a healthy starter. 
Day 2
Your starter might look fizzy or foamy today. That's good; if it doesn't, don't worry about it. It's time for its first feed. Beware, it may smell vomit-like and be gag-worthy. Don't sweat it, this is normal; pinch your nose or breathe thru your mouth if it bothers you.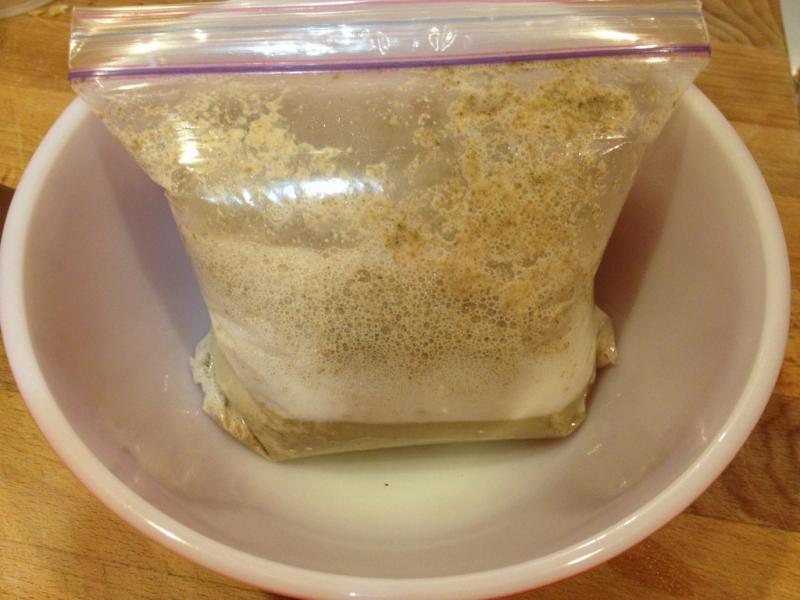 To the Ziploc, add: 
1/2c whole wheat (or rye) flour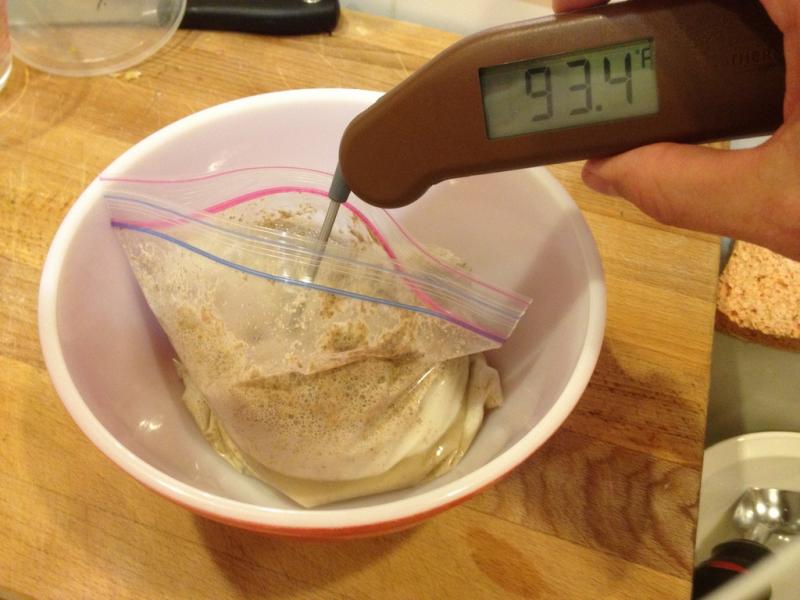 Again, squeeze the air out, seal the bag, then squish the mixture around again. Let it again sit between 80-99F for 24 hours. 
Day 3
Give the bag 1-2 shakes to distribute mixture.  Check how it smells. Should be somewhat less vomit-like at this point. If you're lucky, it may start to smell a little vinegar-like, or like sharp cheese (like Parmigiano), or beer like. If it still smells vomit-y, don't worry about it. Over the next 2-3 days, with subsequent feedings, this smell will pass.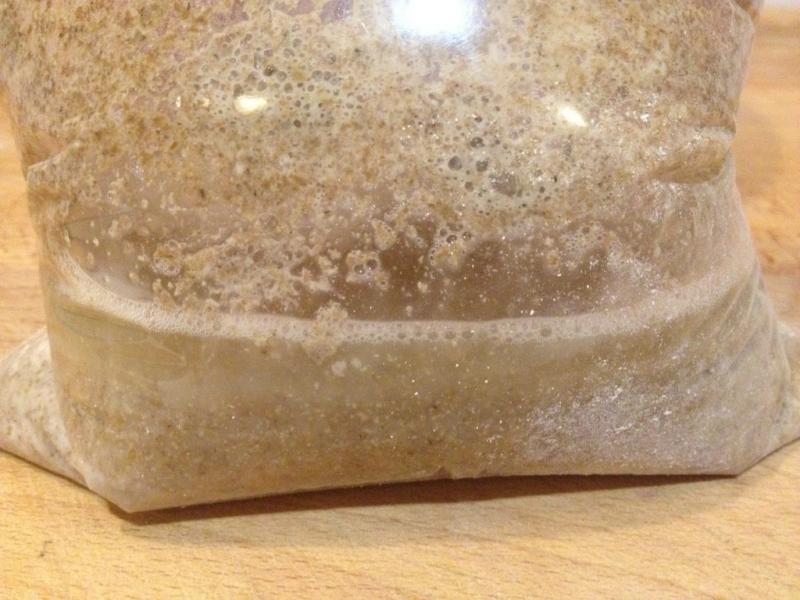 The mixture might look separated, as in the above photo. That's OK, don't sweat it, just give the whole thing a couple of shakes to distribute the mixture again. Now reserve 2 tablespoons of the starter, and dump the rest out down the drain or in the trash.
To the emptied Ziploc, now add:
2 tbsp of the reserved starter
1/4c. warm water (98F)
1/2c. whole wheat flour 
Seal the bag again, squish it around, let it sit at a comparatively cooler (but still warm) room temp (75-85F) for 24 hours.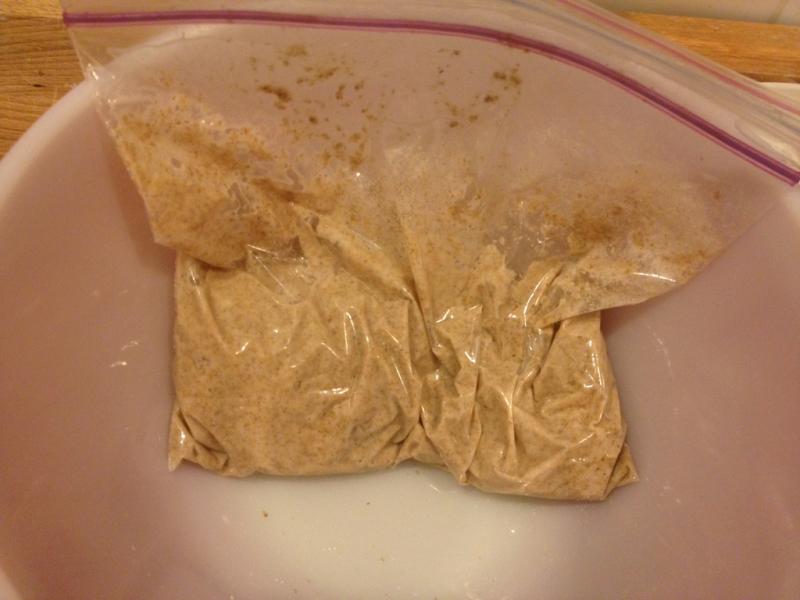 Day 4
Today your starter may be starting to show signs of life. This is when you start your regular feed cycle. It's also a good time to transfer your starter to a new container, like a large mason jar, or a plastic quart deli container, or other plastic container. Just don't seal the lid tight, it could pop!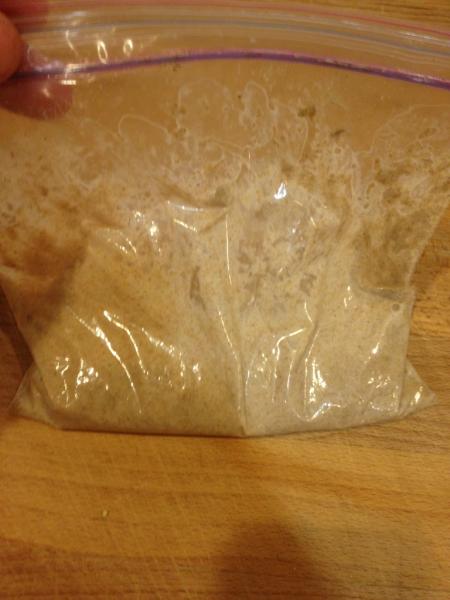 From here on our, you want to feed once or twice per day, as follows: 
Toss all but 2 tbsp of your starter in the trash
To your reserved starter, add 1/4 c. warm water (85-90F), and stir to combine
Feed it 2/3c. whole wheat flour. 
Store it at warm room temp (70-85F) 
Always try to feed your starter at the same time of day. For this and subsequent feedings, your starter will look pretty thick and pasty, like this: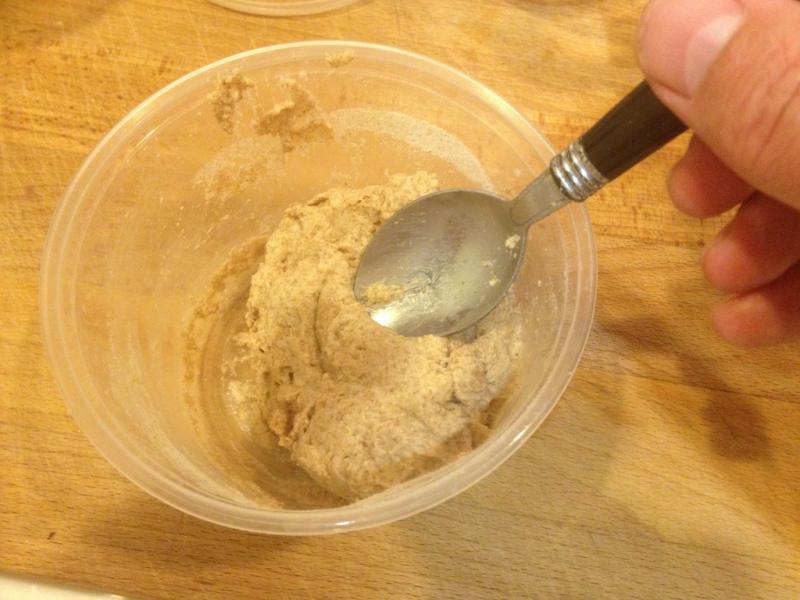 Day 5, 6, 7: continue feed in the same way as described in Day 4 above.
This is what mine looked like on Day 7. Notice the nice air bubbles and pockets visible on the side and bottom of the container: this means your starter is active and ready to use. Don't worry if this doesn't happen for you on Day 7. Be patient, and keep going (as directed) through Day 11, and in that time you will have an active starter that looks like this.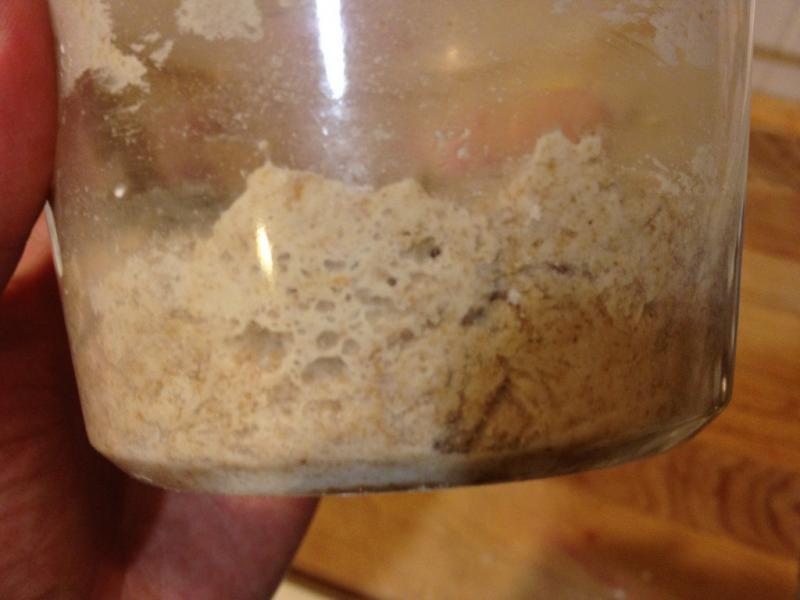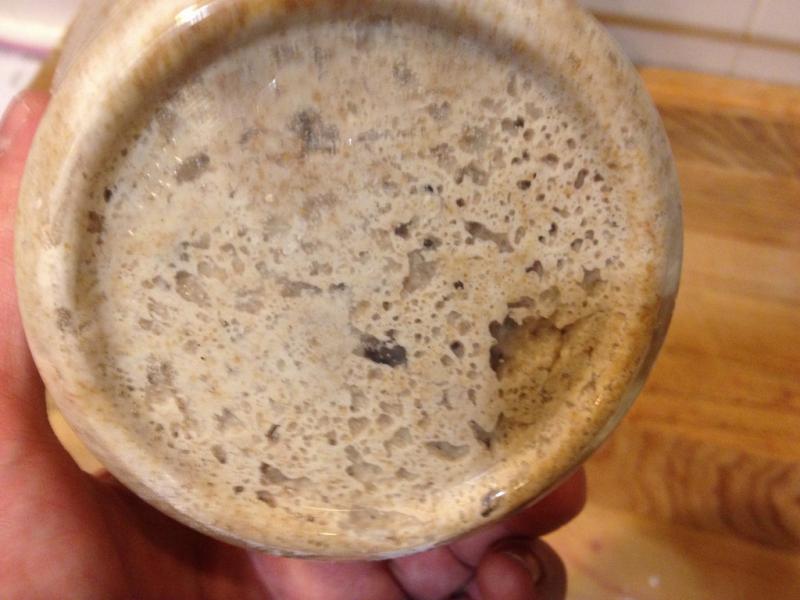 Day 8, 9, 10: feed in the same way as Day 4. Your starter should be pretty active by now. Start keeping track of how long it takes for the starter to double. Record the time you feed, and how much it rises. You are aiming to get it to double within 4-6 hours. When it does this, the starter is ready to use. 
Day 11: you can switch to feeding with all-purpose flour or a 50/50 combo of whole wheat and all-purpose flour, if desired. Whole wheat will give a more sour flavor to your starter.
By this point your starter should be quite active and ready to use in your recipes. It will be more active if you feed it 2x per day. It will be more active if you keep it at a warmer room temp (between 75-80F). If you only feed it once per day, it will generally take much longer to leaven your bread. 
Frequent Issues or Problems:
If you ever get black or fuzzy mold, scrape it off, and save a tablespoon or two of the clean starter. Then transfer it to a clean container and feed it. 
Don't store your starter in the fridge. You can if you have to (it is more convenient if you're not baking), but it will change the flavor. If you do, pull it out of the fridge 2 days before baking, and feed it at least 2x over those 2 days before baking. 
After Day 4, you can feed smaller amounts if you're concerned about waste. You can reserve 1 heaping tablespoon of starter, 2 tbsp water, and 1/2c. flour for your daily (or twice daily) feeds. 
Problems? Successes? Questions? Comments? Post them here.