Advice for optimizing oven spring in a small Toaster Oven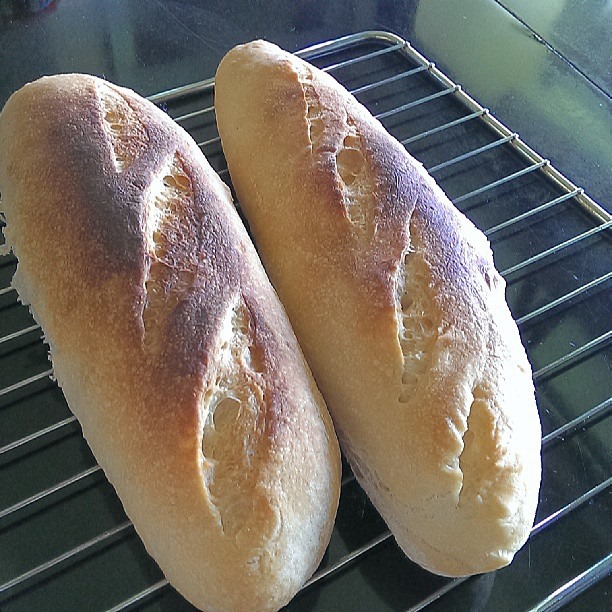 Sorry for poor Eng, non native.
Hi, I am new to TFL and baking.A home baker who is passionate with making Baguette lately. I am seeking advice for making an good oven spring :)
The biggest obstacle I have now is my small 21L toaster oven(Delonghi eo2150)
Biggest problems are uneven heating and stream making
It s too small and the bread is too close to the upper heating wire even I put them on the bottom rack(with a pizza stone).
First ,Crust forms on the top of my Baguette quickly and the color turns brown in 4~5mins after loading (i usually set my oven 230c and bake for 22mins)  It stops the oven spring too early.(I tried to make steam by spraying my bread even 30sec)
The heat is  so uneven that the center top of the crust turn black in 10mins while the sides are still white.
Color will be slightly even if convection mode is on but is not so effective. Also,I cant turn it on in first ten mins while the oven should keep as moist as possible.
Should I place a tray at the top rack  so it blocks the upper heat? but it may make the temp too low around my bread.
turn my bread up side down in the last ten mins to have even baking?
Or lower the temp and longer baking time?
Second, It  seems the oven cant hold any steam. There are too many vents and the oven door is not tight enough.
 as I must pick my breads on the bottom rack and they take space, i can only put the steam tray on top, but it will be too danger as it s so close to the heating wire. 
Currently I spray on the oven wall and the breads.in 30sec interval in first 3mins of baking,it s ok to spray directly on my breads or should I just spray the oven wall?  should I spray until 7mins? but the heat loss it huge from frequent door opening. The water on oven wall dont evaporate immediately after the third spray.
I plan to place a small container with some metal inside on the same rack of my breads and I pour some water to it at start, should I pour hot water or some ice? the steam will be gone with in ten seconds anyway and I still need to spray. But I hope it helps.
I have an idea that putting one more baking stone on the top rack so it block the over heating of my top crust while conserving heat and my breads can get baked between stone. It may also help retain moisture?
As a last resort,should I overproof my breads to make large air holes as I cant get proper oven spring anyway.
Photos below are my Baguettes