I thought I should clear out some old bread photos from the last few months that I never got around to posting, along with some more recent ones as well. All but one were taken this year, most have crumb shots, but some don't. Many of these breads were made with a yeasted preferment of some kind, either a poolish, biga, or Pate Fermentee. My starter had been put to bed for a few weeks, mainly to change things up a bit and to play around on the other side of yeasted leavening for a while. To keep this post from being even longer than it already is I've opted to leave out detailed formulas and procedures, so think of it more as a photo update than what I'd typically post.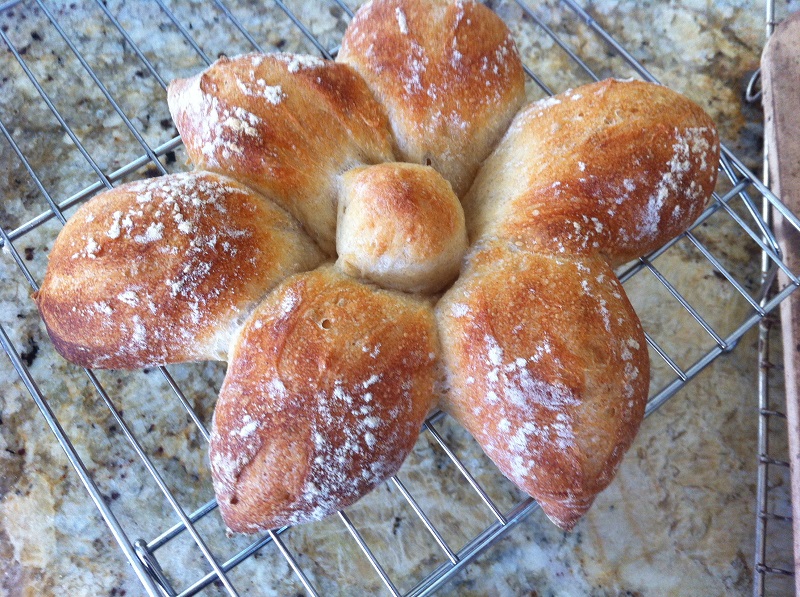 This Margueritte was made for a family dinner late in 2012 when I was still deeply entrenched in baguette mode. Being a first for me, I was pleasantly surprised at how easy it was to shape compared to a baguette and that everyone at the table thought it looked cool. 
In a somewhat random chronological order, below are a few collages of various bakes done since the beginning of the year.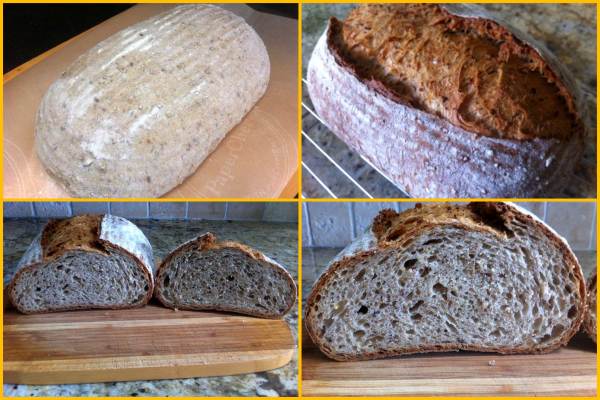 After weeks of eating nothing but baguettes, my need for something with whole grains and seeds was first and foremost on my mind when this loaf was made. It seems to me it had rye, barley, whole wheat and a 7 grain soaker in it and was made with a Pate Fermentee. I do remember that it didn't last too long, starved as I was for a bread with flavour other than wheat. A very tasty loaf it was. 
Next up is a series of four Semolina loaves that were made with varying degrees of hydration, all of which were made with a yeasted preferment, either poolish or a biga that included a portion of the total semolina in the formula.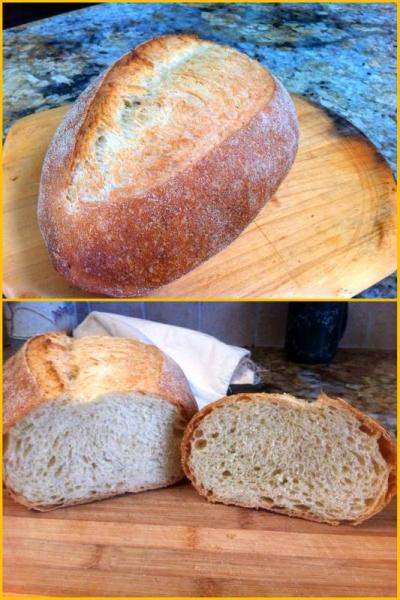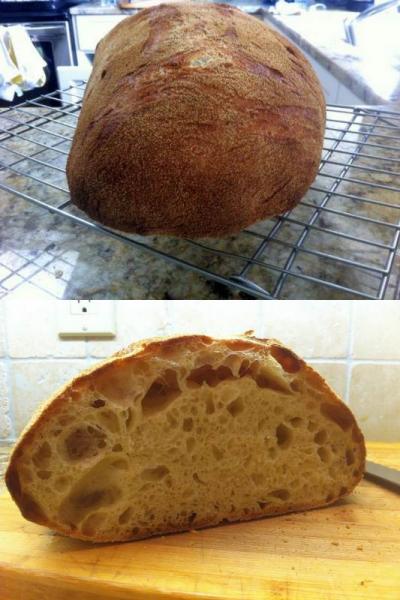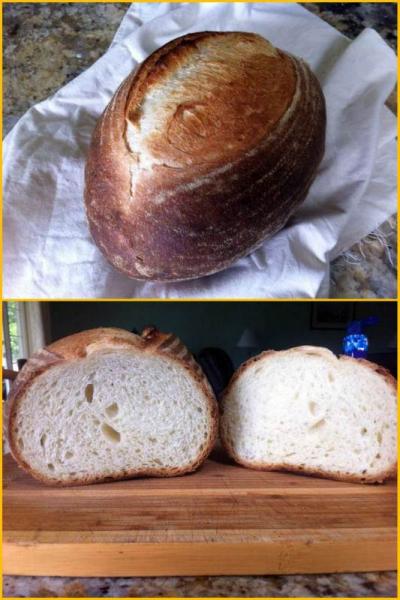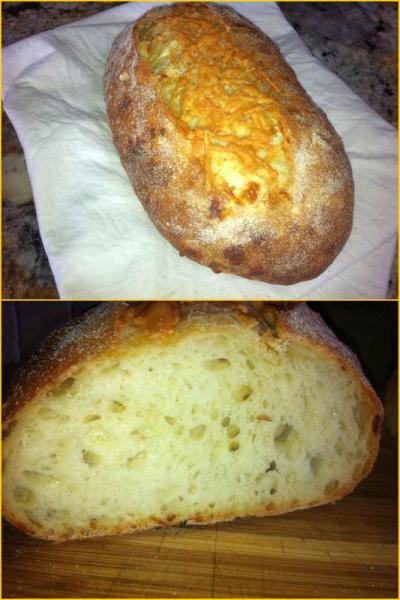 By the time this next bread was made I'd taken my starter out of hibernation and revved it up to deliver some tang to the mix. It's a very similar formula to the one above made with Pate Fermentee and the 7 Grain Soaker, but has toasted sunflower and pumpkin seeds included as well. Two slightly different versions of this bread were made and I liked em both!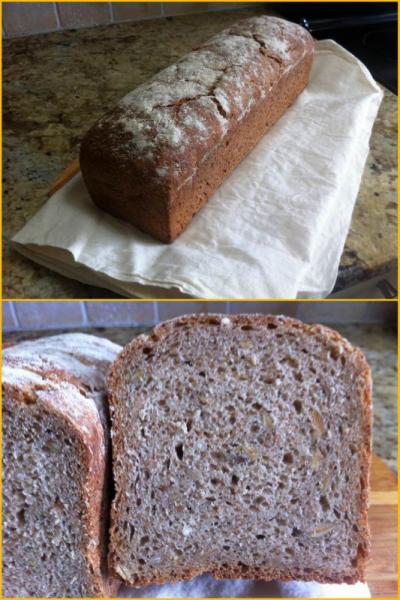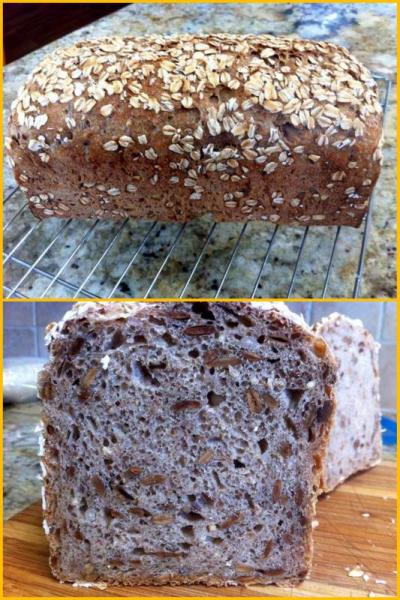 A Multigrain enriched sandwich loaf made the day before leaving for the UK and EU. A thank you! loaf for the nice lady who dog sits for us when we're away on vacation.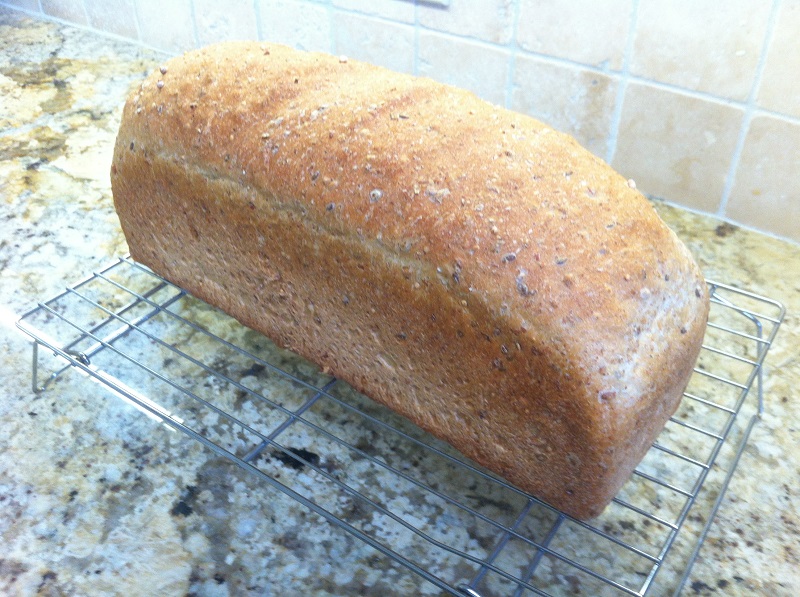 Bruschetta was the inspiration for the loaf below.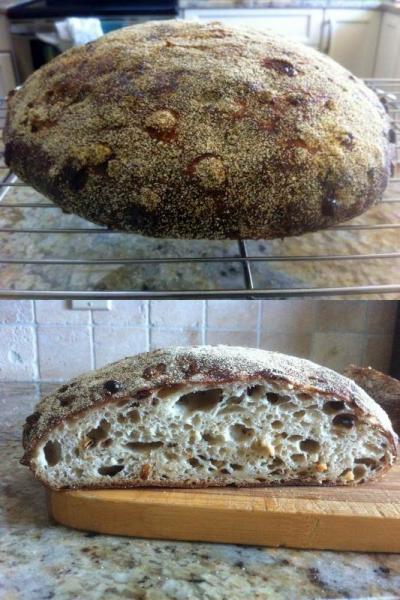 A naturally leavened mix of polenta, AP flour, roasted/grilled corn and Parmigiano, with some roasted garlic paste thrown in for good measure, it sounded like a nice combination of flavours for grilling and topping with fresh tomatoes and herbs. Made just a few weeks ago, this was easily the most difficult loaf to deal with of all the ones in this post. It's impossible for me to say what the true hydration of this loaf was because of the polenta. How much it actually contributed to the final mix I have no idea, but my best estimate for total hydration is somewhere between 80-85%, with wheat and cornmeal at 80 and 20 percent respectively. Much kneading, many, many slap and folds, andat least 4 stretch and folds were needed just to achieve some semblance of development in the dough. Let's just say expectations were not running high when I finally got it in the oven. The result was not what one could call a lofty loaf by any means, but hey, waaay better than I ever expected. Far from being thrilled with it, I was relieved it was at least useable, and in fact it was well suited for grilling. Soft, with a nice chew and mild smoky flavour from the roasted corn, this bread has some definite potential for future mixes. When I sent a photo of the crumb to my friend breadsong she encouraged me to post it, I'm sure because of the holey crumb. At the time I thought I'd wait and do a second bake to see if I could get something closer to what I'd had in mind. After a bit of deliberation I decided to include it in this photo post. It may not be the loaf I wanted at the time but perhaps someone would enjoy taking the basic polenta & flavour idea of the bread and bring it to it's full potential with their own interpretation.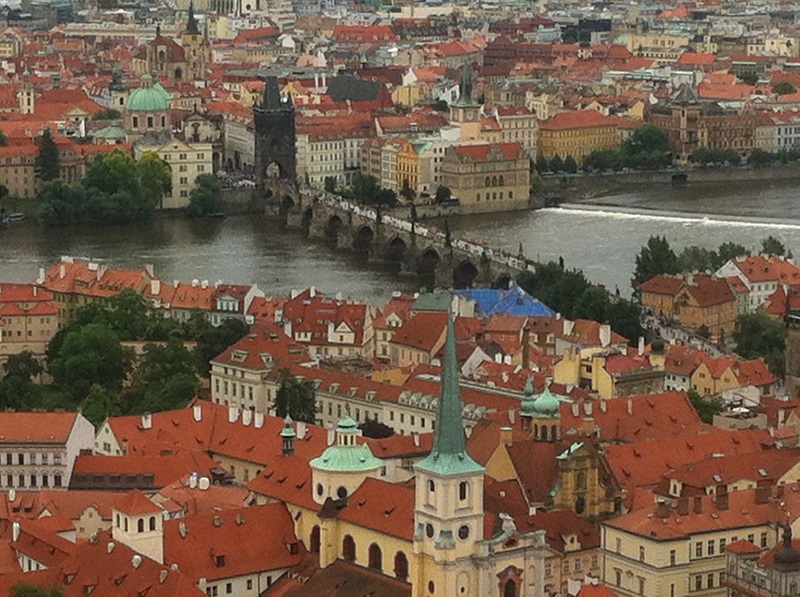 The last bread to show is one made with some organic rye flour I brought back from last months vacation in the Czech Republic.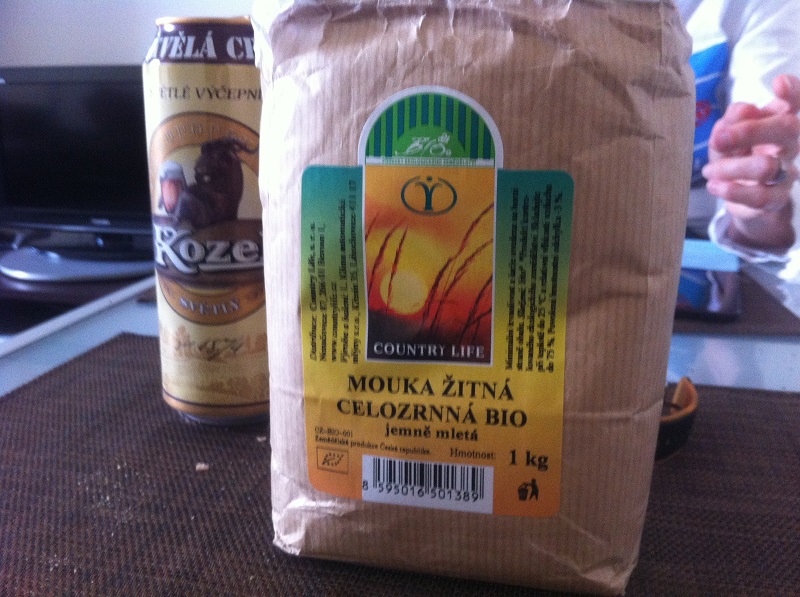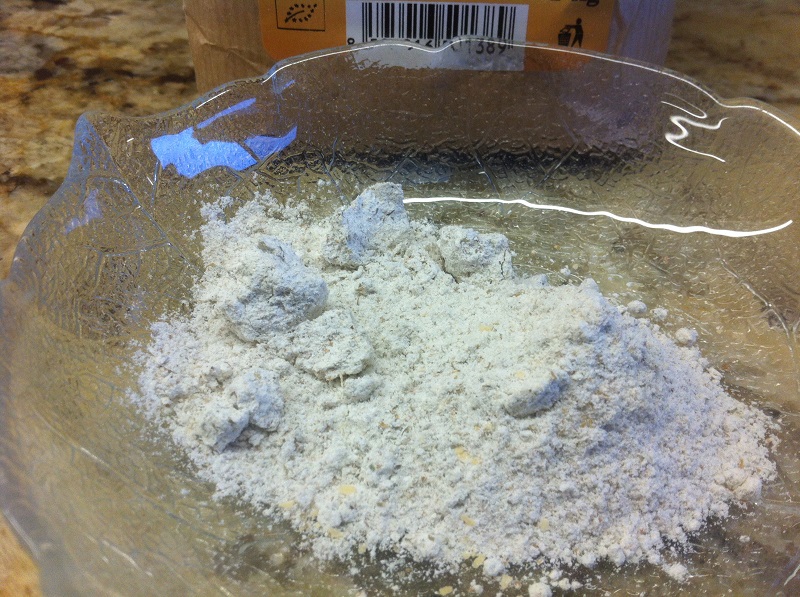 Since visiting the Czech Republic two years ago I've been trying to reproduce a bread I'd had there that had been served alongside a huge portion of delicious smoked ham from one of the street vendors.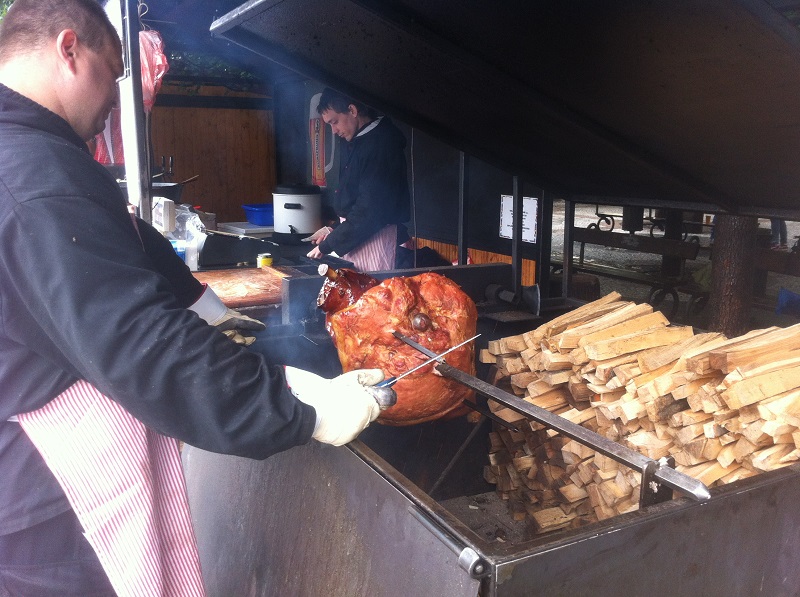 The flavour of that bread was OK, like a typical light deli rye with a hint of caraway, but it was the spongy texture of the crumb that appealed to me the most. I've made several attempts at duplicating it since then but the texture I've wanted has eluded me till now.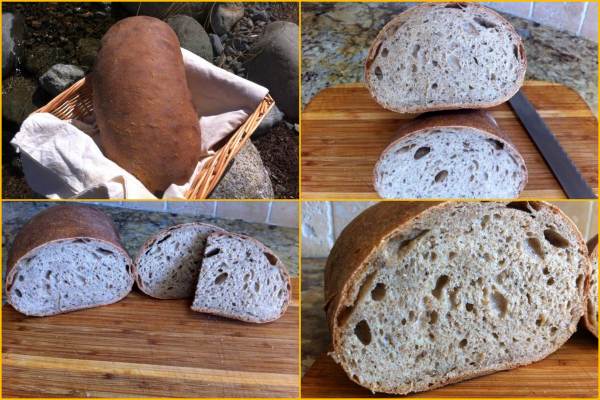 With the inclusion of a rye scald in this latest mix I finally have something I'm very happy with in terms of crumb texture and mouth-feel, with the added bonus of having a much better flavour than the vendor bread because of the 3 stage sour used in this mix. Now that I have the inside of the loaf the way I want it, I'll see if I can't shine up the outside a bit as well. After that it's just a matter of brining and smoking a fresh ham in the Prague style, and a cold Czech Pilsener to wash it all down with. That should tide me over till the next time I can return to that lovely city of spires.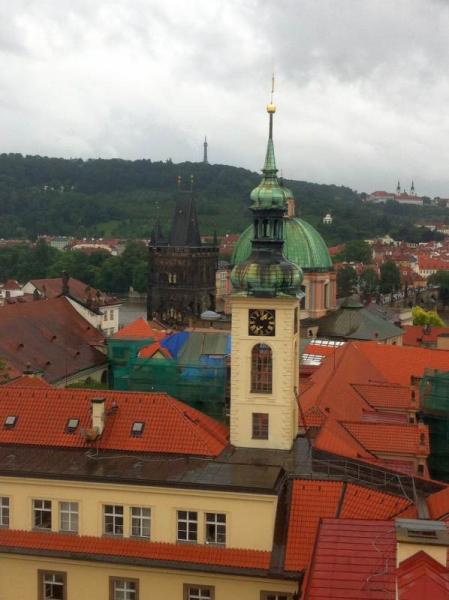 Although my wife Marie is the one who makes almost all of the desserts and sweet things around our house, sometimes I like to get into the pastry side of things as well, especially when our backyard berries are ready for picking. This year the raspberries arrived first, due to our early warm Spring temperatures here on Vancouver Island. Nothing inspires me more to roll up my sleeves and get busy making pastry, cakes and confections more than raspberries do. The tart below was made with a few of the berries from the first picking.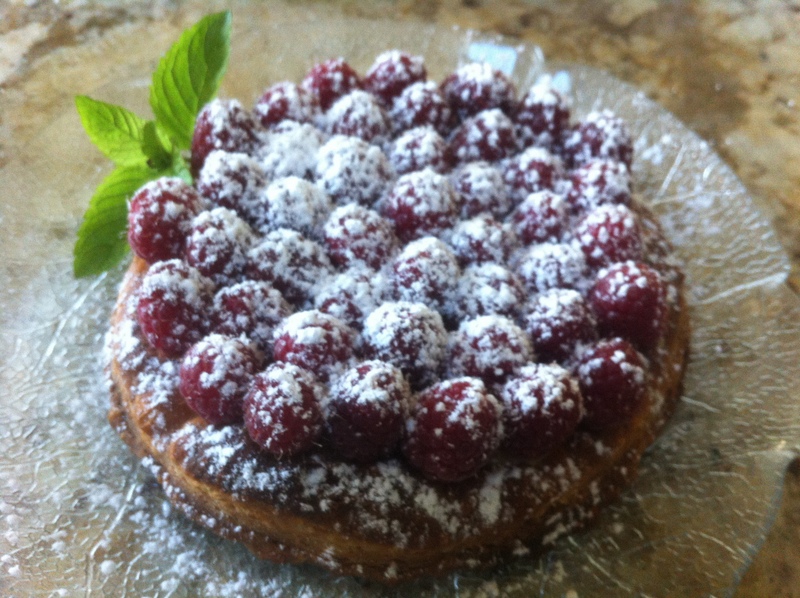 A few scraps of frozen puff pastry, thawed, stacked and rolled out to a disk then cut to size. Baked blind, then baked briefly again with a flour thickened lemon curd in the center and topped with raspberries dusted with confectioner's sugar. Quick, easy, delicious. 
The next one, a Lemon and Raspberry Charlotte Royale is a bit more involved.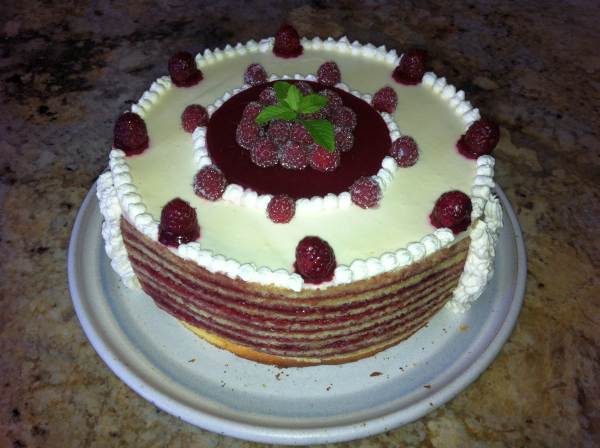 With all the various components and their separate procedures, I wont go through them all here. Briefly, it's made with a sheet of almond spongecake divided in four, spread with seedless raspberry jam on three of the cake pieces then all four stacked one on top of each other. The jam sandwich is divided in half then stacked together to make a total of eight layers. Freeze, then slice off 3/8" strips of the sandwich lengthwise to line a ring mold. 2 disks of biscuit culierre (ladyfinger batter) for the base and middle layer, a lemon curd flavoured mousse stabilized with gelatin to fill, and a raspberry gelee for part of the top decoration. Leave overnight in the fridge to set the mousse, then finished the next day with stabilized whipped cream piped around the edges and garnished with glazed fresh raspberries. The nice thing about making this type of cake is it can be done in stages over 2-3 days, or longer if you like. On the whole the cake is deceptively light and not overly sweet, the lemon mousse helping to balance out the sugar of the berries and jam. A delicious way to use some of the backyard harvest we've been waiting for all these months.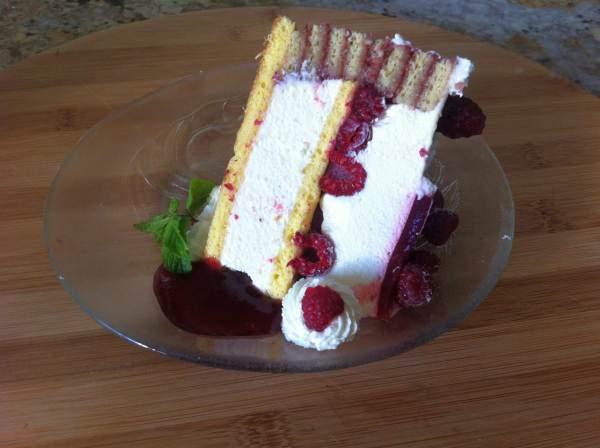 Best of the Summer or Winter to TFL'rs around the world.
Cheers,
Franko