Preparing for the 4th of July
It's pie month in my kitchen.   That time of year when berrries and stone fruits are the tastiest ever and a great excuse to make a pie or two.
I had my oven all heated up on a warm summer day and, didn't want to let the oven heat go to waste after my two large Sourdough Country Semonlina loaves came out.  I forgot to add the sesame seeds : / to them.  Still they are delicious and made wonderful garlic toast today for dinner. 
There were some raspberries, blackberries and blueberries in the frig, just enough for a mixed berry pie.  So I tossed one together.  Mike loved it.  Blueberry is his favorite pie.  It was throughly enjoyed on his days off from work.  Yes, this pie and bread were baked nearly 2 days ago.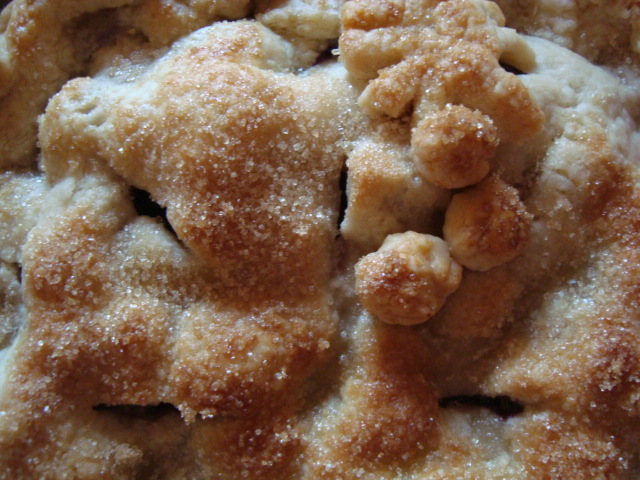 The pie crust texture is a little less layered when I use the food processor method, mixing all except the water, which is added after the mixture is removed from the food processor.
Three even TBsp. of Tapioca Flour gives me about the right consistancy for my  9 inch berry pie to 'set up' nicely, not to dry and not to runny.
I get the best results using dark or clear glass pie pans.  I like to brush the crust with milk and sprinkle with different sugar's.  This one had raw turbinado sugar..gives a nice crispness and added sweetness to my not to sweet pies.  I always use a rim cover, bake on a round pizza pan or cookie sheet...saves for runny messes.  Start out in a hot convection 425F oven for 15 minutes and then bake at 375F-350F convection oven, until I see the filling bubbling.  Remove the rim cover, brown the crust up and remove the berry pie.
I ran short on AP flour and added some cake flour and a teaspoon of vinegar to this pastry crust with Kerry Gold Butter and Crisco, sugar and salt in it.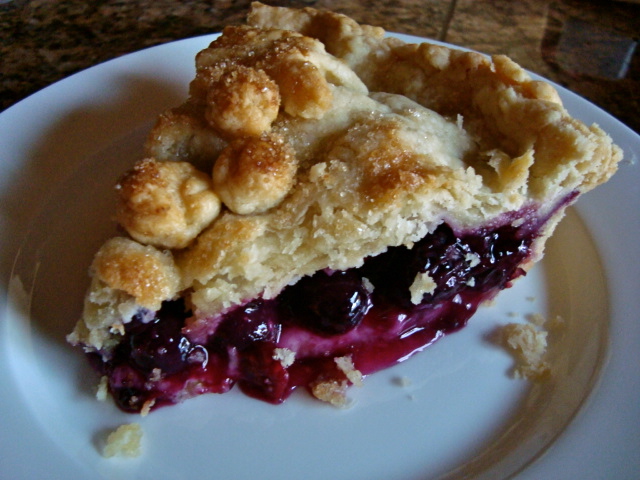 I have been wanting to make a good key lime pie for sometime now.  Yesterday I purchased some key limes and baked a KL pie today.  Mike declared it the best KL pie he has ever tasted.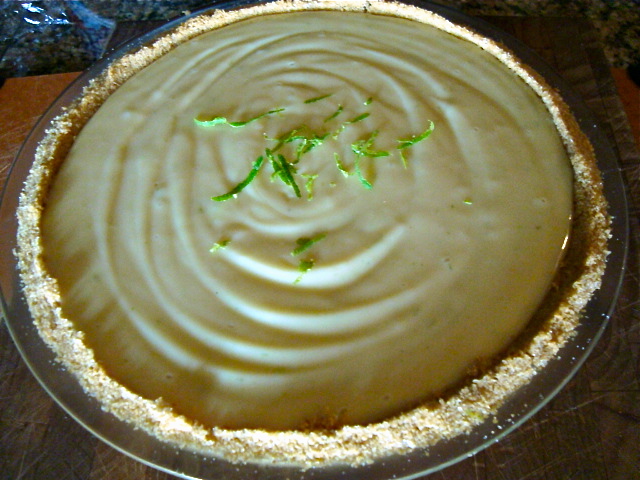 It is a version of a Key Lime Pie recipe I found on 'All Recipes.com' and it's a good one...given 5 stars by well over a thousand testers.  There's no egg in this pie and, that's my favorite way to enjoy a KL pie.  It's very easy to make.  The hardest part is juicing those tiny little key limes.  The best way to do it is with a 'garlic press' an absolutely wonderful way to go about juicing these little buggers.  It was suggested by one who had also made the KL pie.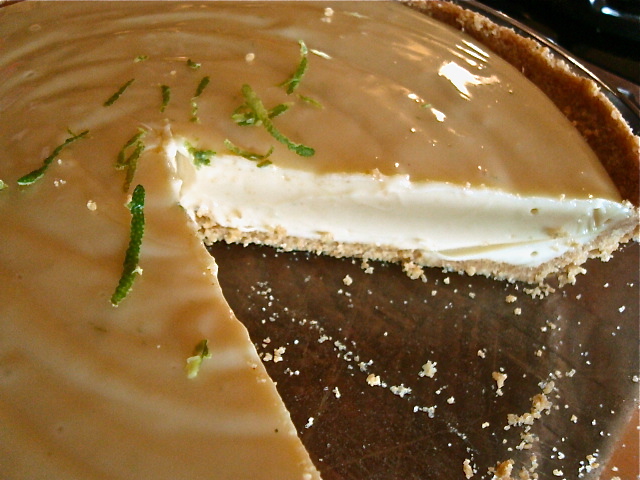 Just the right texture.  This is just how I like my KL pie to taste.  Mike just loved it...I think he has a new favorite.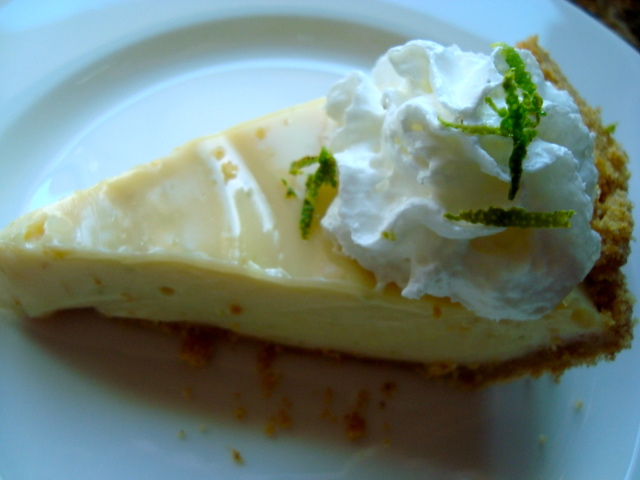 Here's the recipe for the KL pie and also the crust I made of gram crackers...or honey grams.  If your in the mood for a good KL pie, give this one a try.  I don't think you'll be disappointed.
Pre-heat Oven to 350F  (175 C)       -   This KL pie and crust was baked in my Toaster Oven... kept the house cool today.
Honey Gram Cracker Crust - 
1 1/2  cups Honey Gram Crackers
1/2 cup sugar
6 TBsp. Melted Butter
In a processor 'or can be done by hand'.  Process the Honey Gram Crackers broken up a bit with the Sugar and Melted Butter.  Until all holds together and is evenly moistened.
Press with fingertips and I also the smooth bottom of a cup.  Press into a 9 inch pie plate.
Bake for about 8 minutes in your 350F pre-heated oven.
Remove and let cool while you prepare your filling.
Pre- heat Oven 350F - (175 degrees C )
Key Lime Pie Filling
3/4 Cups Key Lime Juice
2 Cans of Sweetened Condensed Milk - 14 oz. each
1/2 Cup Sour Cream
1 TBsp. grated Lime zest
1.  In a medium bowl, combine condensed milk, sour cream, key lime juice and the zest.
2.  Mix well and pour into the graham cracker crust.
3.  Bake in the preheated oven for about 5 to 8 minutes.  Mine took the full 8 minutes.  
Bake until you see tiny pinhole sized bubbles burst on the surface of the pie.  DO NOT BROWN YOUR PIE.
Chill throughly before serving with some whip cream and a garnish with some sliced lime or zest.
These are also nice on a hot day. 
Frozen, chocolate dipped banana's with crushed added walnuts.  
Put your sliced banana's on a parchment lined tray with the sticks inserted while you melted your chocolate.
I melted some good quality chocolate in my double broiled and spoon drizzled it over the banana's and rolled them in crushed walnuts.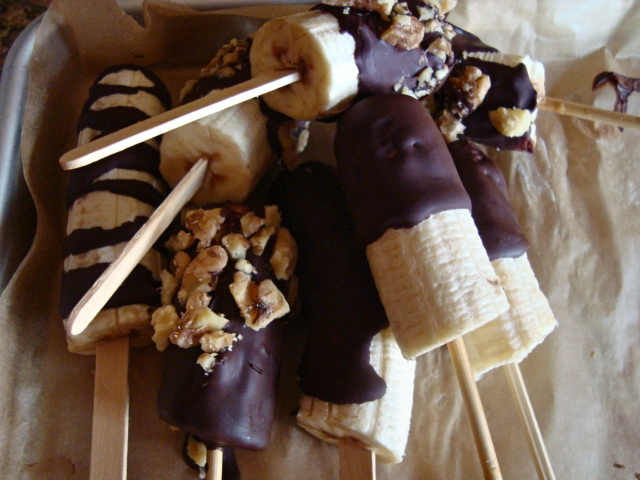 Have a very Happy Fourth of July and don't eat to much pie : )
Sylvia