Home with bread / Fighting gravity
For the first time in five months I baked bread at home and it made me very nervous.
It is an entirely different proposition to make a hand full of breads in a home oven as opposed to the rhythm and flow that working in large batches provides. My attention and perfectionist streak is focused on too few ... the dough is essentially the same (though not quite as rewarding) ... but the loading of a home oven is problematic and inefficient.
... the nicest dough in the world can be ruined by a lousy oven.
So while my time with a wood-oven at Chester St has come to a close it seems that more possibilities may be ahead of me soon. Bread is my way forward ... it is my future ... but in the meantime I am thankful for some time to spend with my family and friends ... they have missed this busy baker.
There has been sadness this week though, as my good friend Daryl sadly lost his father Keith Taylor. Daryl worked with me in the kitchen at Chester St and his parents would visit us on occasions which was always a treat. Keith would stand opposite my bench and chat as I busied myself shaping or rounding loaves. He loved bread ... it was from his past ... it was a part of him.  As a young boy his father owned a bakery in Brisbane running a large scotch wood-fired oven and Keith was granted a special license at the age of 14 to deliver bread to the local community. The smell of dough and baked bread transported him back and he had many tales to tell. I will cherish those talks.
These breads are for you Keith ...
Keith Ian Taylor 23/12/1933 - 3/6/2013. R.I.P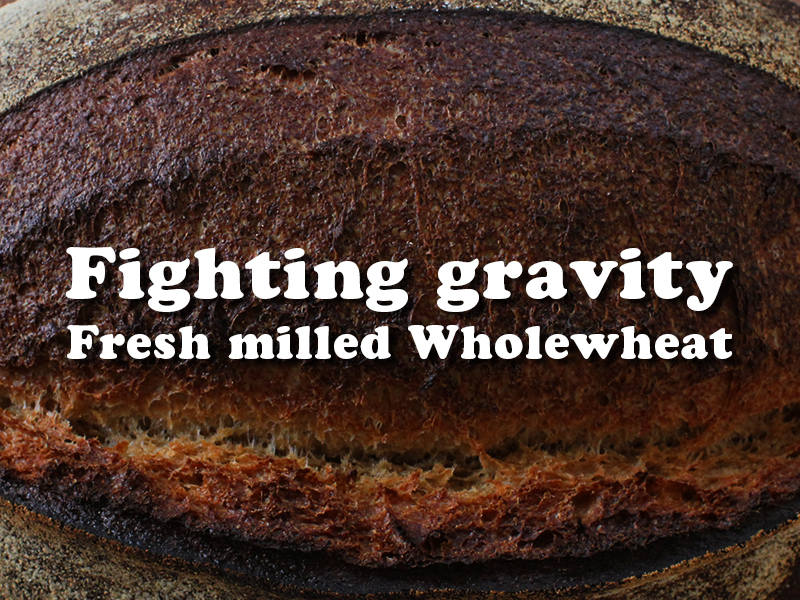 My time at home has also allowed me to catch up on another activity ... reading. The latest book I am ploughing through is Cooked: A Natural History of Transformation by Michael Pollan. In it he has a chapter called "Air" which is related to bread fermentation where he discusses the many aspects of bread and its production with the likes of Richard Bourdon, Chad Robertson and Dave Miller (my biggest bread influences).
While reading this I was inspired to begin milling and fermenting freshly milled flour. I couldn't help but do it ... I had to ... It has been so long since I have made honest heart-felt bread like this. This formula is influenced by Dave Miller's method of milling and mixing on one day then shaping and baking the next.
Fresh milled wholewheat (4 x 1000g)
Formula
| | | |
| --- | --- | --- |
|   |   |   |
| Final starter build – 3 hrs 27°C |   |   |
| Starter | 93g | 50% |
| Freshly milled organic wheat flour | 186g | 100% |
| Water | 120g | 65% |
|   |   |   |
| Final dough - 24°C |   |   |
| Whole wheat starter @ 65% | 348g | 18% |
| Freshly milled organic wheat flour | 1899g | 100% |
| Water | 1709g | 90% |
| Salt | 44g | 2.3% |
Method
Mix final starter and leave to ferment for 3 hours at 27°C
Mill flour and allow to cool to room temperature before mixing with water (hold back 100 grams of water) and autolyse for a one hour.
Add starter to autolyse then knead (French fold) 5 mins. Return the dough to a bowl and add salt and remaining 100 grams of water and squeeze through bread to incorporate (dough will separate then come back together smoothly) then knead a further 10 mins.
Bulk ferment for one hour at room temperature. Stretch-and-fold after one hour and place in a fridge at 4°C for 12 hours.
Remove from fridge. Divide. Preshape.
Bench rest 30 mins. Shape.
Final proof was for 1.5 hours at 22°C
Bake in a preheated oven at 250°C for 10 mins with steam then bake for a further 40 mins. 
While shaping the bread the words of Dave Miller resounded in my head "You're always fighting gravity with wholegrains" ... I shaped them tight ... If I was going to struggle to get loft then I wanted bloom!
... and after 5 months of baking in ovens without windows I was again awestruck as I sat before my glass fronted home oven and watched oven spring unfold ... perhaps my home oven is good for something :)
Happy baking everyone ...
Phil