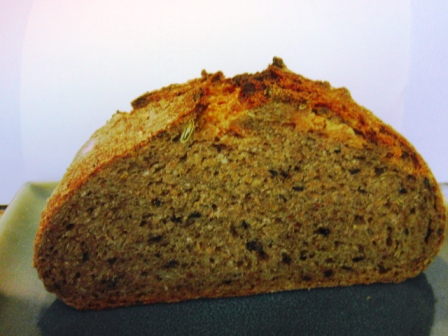 I really have to pony up and get some honest to goodness first clear flour, I keep trying other substitutes, but not the real thing. Of course, I seem to recall reading that it was originally used in deli rye because of cost, and now it looks like I'd have to special order it for a higher cost per pound then good old AP. Go figure. Anyhow, this attempt is around 25% pumpernickel rye and the rest Great River Milling "Unbleached Wheat Flour" which has 80% of the bran removed but otherwise is more or less whole wheat flour. Which means I probably could have gone higher with the hydration- I'm happy with the crumb, but kneading the dough felt quite stiff. But then again, whole wheat and rye both still have a way of throwing me for a loop in that regard. I kept waiting for the rise and end up giving it 6 hours before I had to put it in the oven so it I wouldn't be up past my bedtime. I love fennel seeds in rye and this time decided to throw in a couple of other seeds I had on hand.
3 Seed 25% Rye
211g Water
45g stiff levain
82g pumpernickel rye
225g GR Wheat Flour
6g salt
2 tsp each fennel, chia, and black sesame seeds
Mixed everything together and kneaded for a few minutes initially and then some kneading every so often for the first couple of hours. Shaped after three hours proofing at 82 F and let rise at 86 F for another 3 before baking in a Dutch oven preheated to 500 F and baked at 425 F.