Cherry Lapsang Souchong Sourdough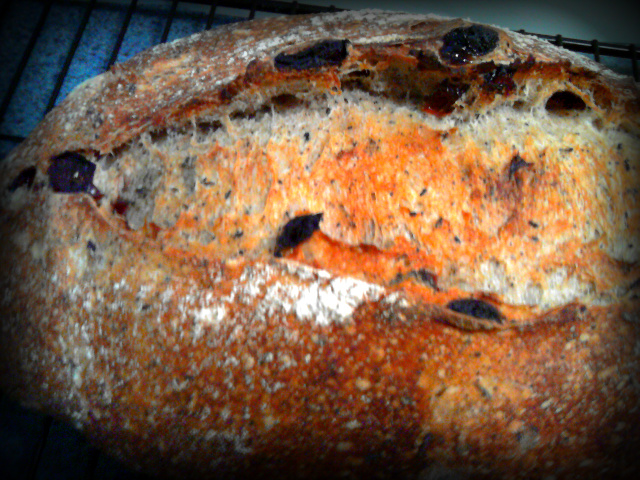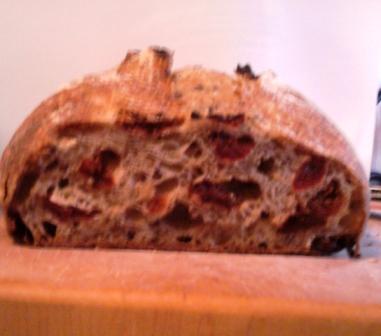 Lapsang Souchong iced tea with a splash of tart cherry juice is one of my favorite drinks. I think the smoky tea and the cherry play very nicely together. This bread is my first attempt at recreating that combination in bread form. I guess I'm on a bit of tea bread kick....
Cherry Lapsang Souchong Sourdough
225g Water
1 Tablespoon Lapsang Souchong
51g Stiff Levain
300g AP Flour
75 g Dried Tart Cherries
6 g Salt
I ground the tea in a mortar and pestle and then mixed it with warm water and the levain. I tried letting it "steep" for 5 minutes, but I don't think the water was hot enough. Next time I might use tea + cherry juice for the liquid, I'm not sure. Anyway, I added the rest of the ingredients and did stretch and folds every 30 minutes for the first two hours and let it bulk ferment for a total of 3 hours at 82 F. Then I shaped as a batard and let it rise for 2 hours at 82F in a towel lined paper basket that once held tomatoes. I've been meaning to get an oval banneton but haven't got a round toit yet.
I preheated the oven to 500 F and baked at 450 for 35 minutes with a stainless steel bowl covering the loaf for the first 20 minutes.
The cherries are just right and I get just a whisper of the smokiness which I think I'd want to boost with the next iteration, but overall I really like the flavor of this one.
Submitted to Susan's YeastSpotting