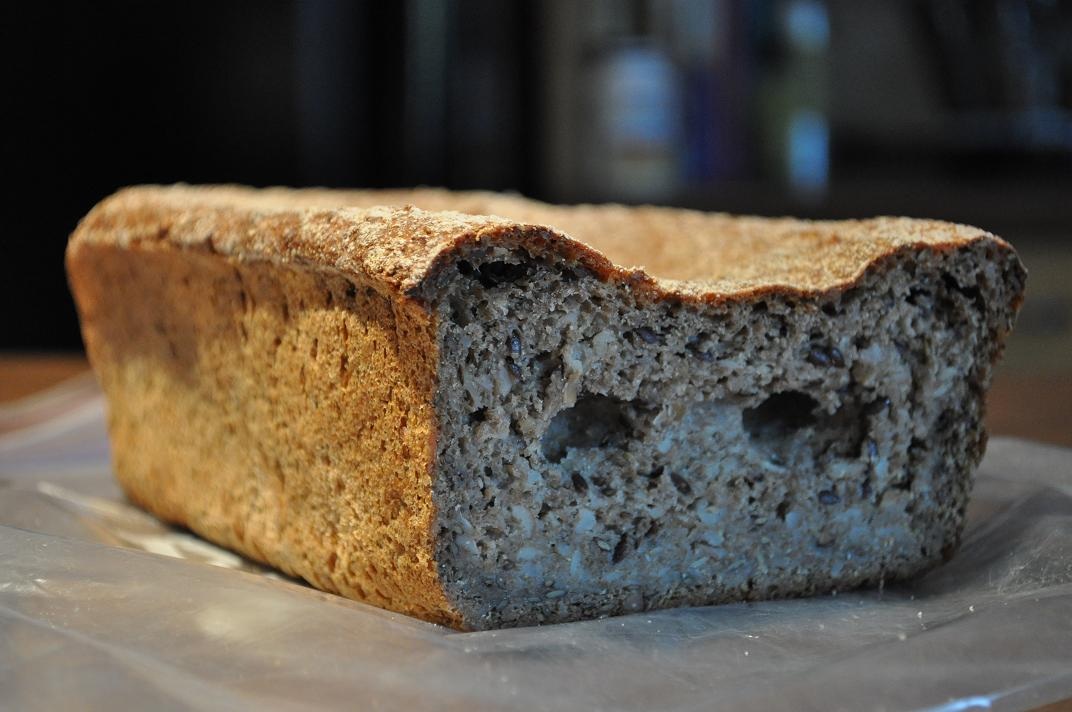 I wasn't going to post this vollkornbrot disaster, but Mini encouraged me to so I could get some advice and feedback on how to improve and fix the issues.  Thanks Mini because that is exactly what i need, is help with this.
I do know where the problem began, but not sure if it's the only issue.  I took a recipe and did not follow it word for word.  The recipe did NOT call for boiled rye berries.  I boiled them. This resulted in too much hydration.  A very surprising amount.   It resulted in a collapsed, wet loaf.  Two of them.  As you can see in the photos, after 4 days, it is still showing moisture sheen.  I indented the crumb with my finger to show how pasty it is.  Clearly a hydration issue.  What do you all think?  If I want to boil my berries first, how should I adjust the water amount in the recipe?  Why do I boil them?  I cant find rye chops so I make my own.  I boil the whole berries then drain then grind up in my food processor.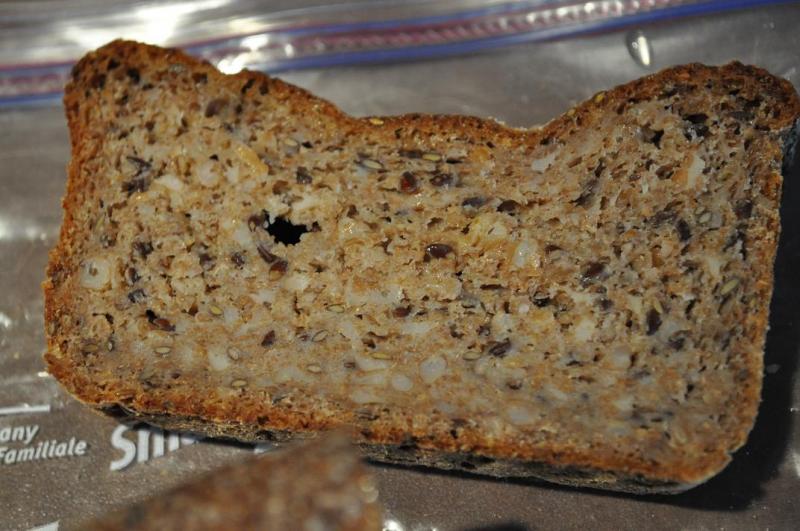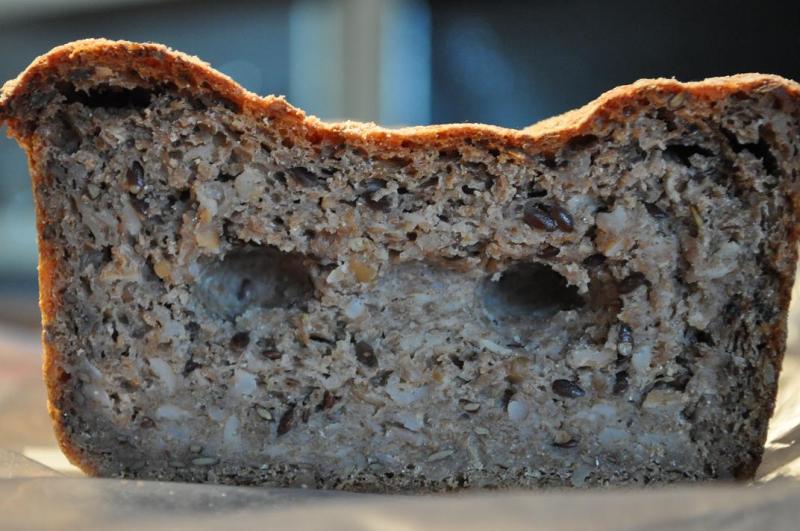 Here's the original formula.  As mentioned, the only deviation by me was to pre boil the berries then drain them and grind them up.  Also I did not have pumpernickel flour so I used dark rye flour:
For the Rye Sourdough:
| Ingredients |   |   | Grams |
| --- | --- | --- | --- |
| pumpernickel flour |   |   | 441 |
| water |   |   | 441 |
| sourdough starter |   |   | 22 |
For the Rye Chop Soaker:
| Ingredients |   |   | Grams |
| --- | --- | --- | --- |
| rye chops or cracked rye |   |   | 339 |
| water |   |   | 339 |
Rye Sourdough and Rye Chop Soaker Directions:
Make the rye sourdough. Pour the water over the sourdough starter and stir to dissolve. Add the pumpernickel flour and mix until thoroughly hydrated.
Make the rye chop soaker. In a separate bowl, stir together the rye chops and water.
Cover the bowls and let stand at room temperature for 14 to 16 hours.
For the Final
Vollkornbrot
Dough:
| Ingredients |   |   | Grams |
| --- | --- | --- | --- |
| pumpernickel flour |   |   | 293 |
| water, warm |   |   | 101 |
| salt |   |   | 21 |
| instant yeast |   |   | 6 |
| sunflower seeds |   |   | 59 |
| all of the rye sourdough, minus 2 1/2 tbsp |   |   |   |
| all of the rye chop soaker |   |   |   |
Vollkornbrot
Directions:
Mix. In a large bowl, mix together all of the final dough ingredients, just until thoroughly hydrated and a shaggy ball of dough is formed.
Continue mixing in the bowl for about 10 minutes, either by hand or using the first speed of your stand mixer. The dough will have weak gluten development and will be very sticky.
Desired Dough Temperature. 85ºF / 29ºF (slightly warm to the touch)
Bulk Ferment. 10 to 20 minutes at 82ºF / 28ºF (slightly warmer than room temperature)
Prepare a loaf pan by oiling and dusting with rye meal or pumpernickel flour.
Shape into 13- x 4-inch logs. Heavily dust your hands and work surface with whole rye flour for easier handling. Gently place the log in the oiled Pullman loaf pan and cover with plastic wrap.
Final Proof. 50 to 60 minutes at 82ºF / 28ºF.
Preheat Oven. 470ºF / 245ºC
Steam. 1 cup of boiling water poured into a heavy steam pan, preferably cast iron.
Bake for 15 minutes at 470ºF / 245ºC. Open the oven doors to let the steam out, lower the heat to 380ºF / 195ºC, and bake for another 60 minutes. Towards the end of the 60 minute baking time, prepare a sheet pan.
Remove the bread from the pan and immediately place on the sheet pan. Return to the oven and bake for another 15 minutes.
Cool. Let the loaves cool completely on a wire rack at room temperature. Wrap the vollkornbrot in linen and store in a cool draft-free place. Let rest for about 48 to 72 hours before slicing.
John