It took a few days to recover from bread overload I got at the Boston TFL meetup (thanks so much for organizing, Varda). Time to try something new.  Pumpkin seed bread from the Seven Stars Bakery in Providence, RI as described by MC Farine has been on the list for a while.
I made a few changes. The original formula combines two levains to form the levain for the bread. I built a levain with the same percentages starting with Fred, my 100% hydration mostly white starter. The amount of pumpkin puree is pretty small: maybe 1/4 of a can. Instead of opening a can of pumpkin puree I pureed a bit of fresh acorn squash.  The squash seems mostly for color in this bread, and I suspect that some of those cans of pumpkin puree have squash in them anyway.
It seemed to work.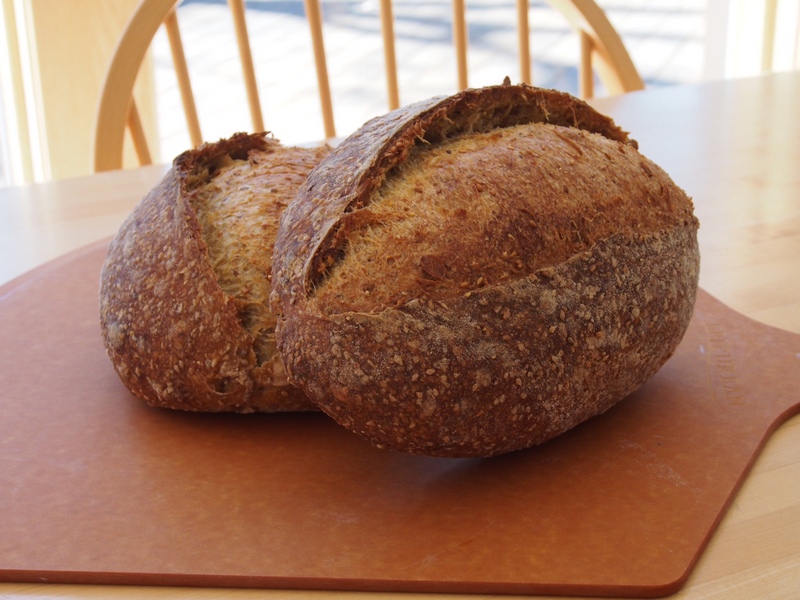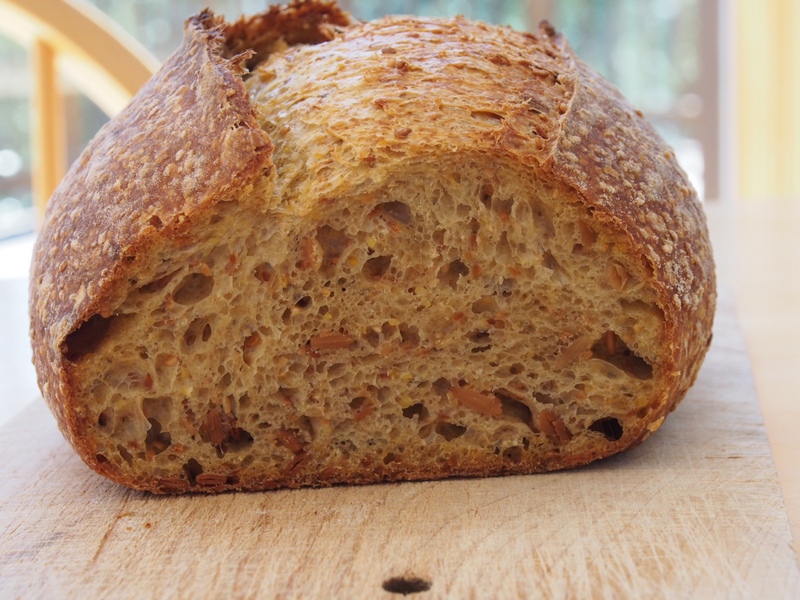 The rye makes a nice undertone under the nutty flavor of the roasted pumpkin seeds. There is more carmelization that I would have expected, perhaps due to the sugar in the puree. I like the orange hue.
Levain
14 g mature 100%-hydration sourdough starter
29 g whole-wheat flour
18 g rye flour
35 g water
Final Dough
500 g unbleached all-purpose flour
75 g whole wheat flour
30 g coarse cornmeal (polenta)
475 g water
all of the levain
120 g pumpkin puree  fresh or canned (squash also works)
75 g sesame seeds, toasted
120 g pumpkin seeds, toasted
12 g salt
Levain
Mix the starter with the water and flours; ferment 12-14 hours
Final Dough
Mix the flours and the polenta and the water to a shaggy mass. Cover and let autolyse for about 30 minutes, at warm room temperature
Add the levain, the pumpkin , and the salt.
Adjust hydration if necessary
Mix in the seeds until well distributed in the dough
Proof @ 76° F, giving  it three folds 30 minutes apart and let it rise afterwards for about 3 hours.
Shape, then retard overnight in fridge.
Bake
460° F with steam for 20 minutes, then without steam for an additional 20 minutes.
Turn the oven off and let the loaves rest inside with oven door ajar for another 7 minutes
Yield: about 1500 g (two loaves)
Submitted to YeastSpotting