SD vs yeasted Hot Cross Buns - at last, a new winner...and it's vegan-friendly!
Every Easter, I try out multiple dry yeast recipes and set them up against my SD buns, which I make to a recipe I've developed over the years and now consider finely tuned. I can't better my current SD HCB recipe, and have not found a yeasted version to rival it, although last year's came quite close (see 2012 post here, which includes a link to my SD bun recipe - now simplified and tweaked a little more, but essentially the same).

This year, I felt a little despondent about testing yet more yeasted HCB recipes - just couldn't get enthused over the prospect. Then the thought struck me that I might try adapting my SD bun recipe to a yeasted version. Would that not retain the flavour profile of my SD buns that I like so much? What about the texture? I was suddenly excited.

Well, to cut to the chase, I was astonished and slightly put out by the results, especially since I was intending to give some buns to some vegan friends, so adapted the ingredients accordingly. These yeasted vegan babies turned out to be the best I have tasted in decades of questing after the ideal HCB.
I made several batches, with minor tweaks, and each was superior to my SD buns. How? A little more rise, a little lighter while being more substantial than the typical fluffy commercial product, a little less 'doughy' than the SD ones, a slightly more appealing browning of the tops, and something tantalisingly better - can't quite nail it down - about the flavour.

I gave some of both types of buns to friends (vegan and carnivore), and received raves back. However, when pressed, everyone slightly preferred the yeasted ones.

So, by unanimous verdict, I have to declare a shock new winner for 2013! I have a few more tweaks to try, but basically, I think I have my recipe for the ages at long, long last. I would never have expected that to be a dry yeasted vegan bun developed from my SD recipe, but there ya go! Baking - and life - has its mysteries, and long may that remain so.
Here are some pics: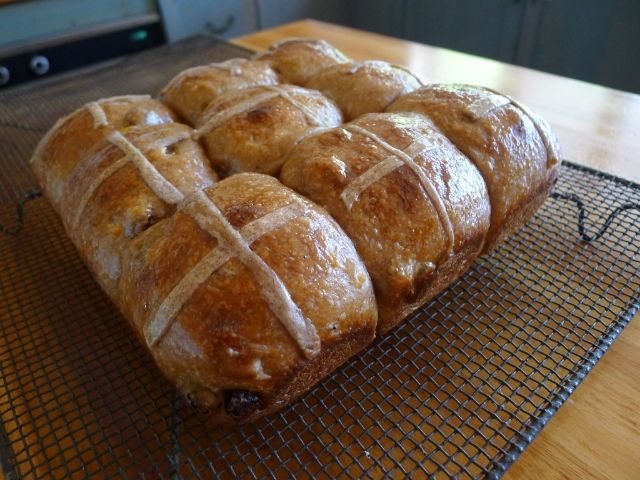 SD hot cross buns

SD buns side-on

Yeasted version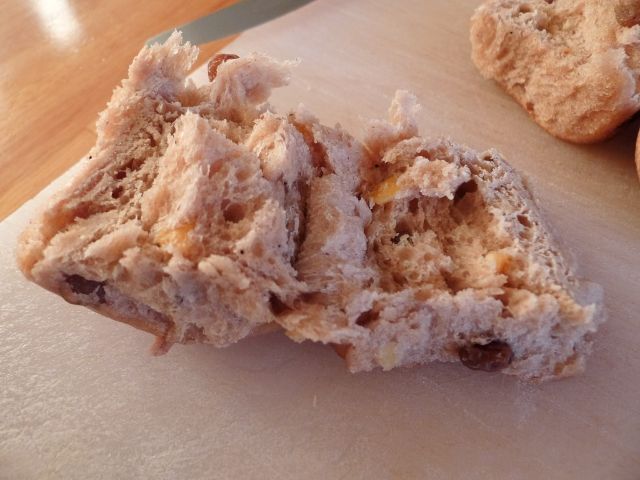 Yeasted bun crumb shot

Side by side (yeasted left, SD right)
Cheers all, and hope you've had a peaceful and pleasant Easter.
Ross