Sourdough bread and fyrstekake
The Easter holiday is drawing to a close, but I felt not quite done with baking before holiday was up... I was also running short on bread, so yesterday evening I mixed dough for my regular sourdough bread. Basically the kind that keeps me going throughout the week. Below is a copy of the formula.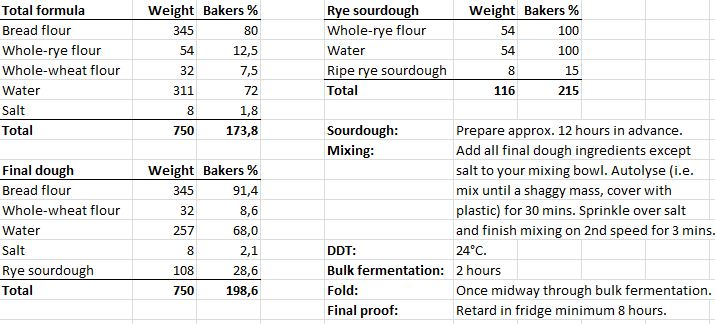 It's one that I keep returning to because of its simplicity and because it's easy to fit into an otherwise hectic schedule. After bulk fermentation and shaping last night, the bread was proofed in the fridge overnight and baked this afternoon. Here's my most recent specimen, just pulled from the oven: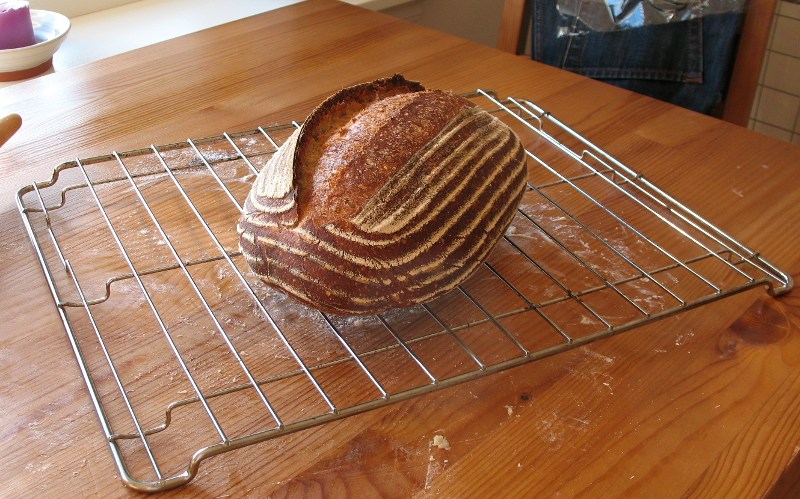 Below is another shot, of the bread and... it's offspring?? No, some jødekaker (directly translated as "Jewish cakes") that I baked this afternoon. These are common in some parts of Norway (i.e. you'll find them packed in bags of four in virtually every grocery store), and especially where I live in the south west. According to Wikipedia, these were brought to Scandinavia by Sephardic jews sometime in the 1600s. They were originally made with egg, flour, sugar and some sort of vegetable oil and the dough was kept rather dry so the cookies would keep well. Once in northern Europe, the oil was gradually replaced by butter, hence e.g. the Dutch joodse boterkoeken ("Jewish butter cookies" - please correct me if I'm wrong, any Dutch TFL'ers!). The Norwegian variety is very basic, typically made with flour, sugar, melted butter and first milk of cows. The latter, although not impossible to obtain, is usually replaced by soured milk these days. I used kefir in mine, and, although not spectacular by any means, they turned out quite alright.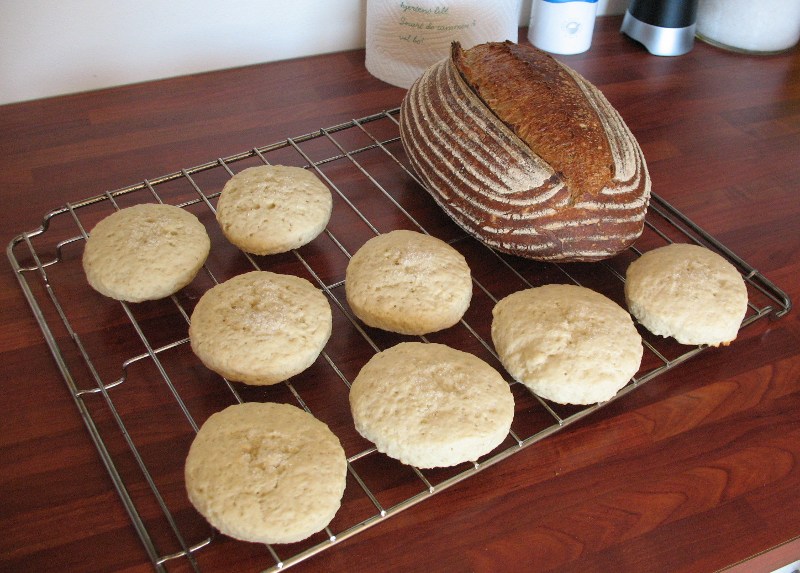 Here's the mandatory crumbshot of the loaf: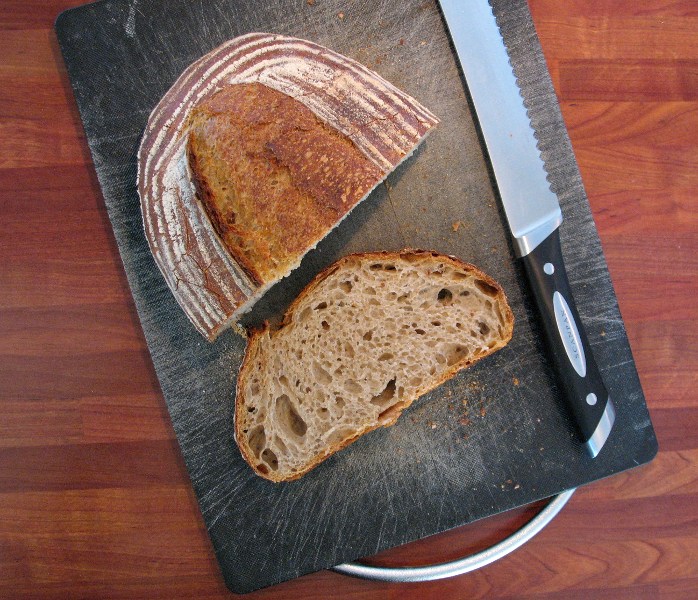 I'm becoming more and more fascinated about our traditional (or "national/typically Norwegian") recipes in baking and cooking. Much of our "national cuisine" is characterised by simple, hearty and humble dishes, fit for farmers that toiled long days with intense physical labour. Food had to be preserved for a long, cold winter (which resulted in some delicious cured fish and meats), and it had to be stretched as much as possible (i.e. leftovers found good use in new dishes). In turn, many inventive and characteristic dishes were made, and each part of the country has its own take or variation on the same basic dish. I feel that learning the traditional dishes somehow offers a link back to past generations, and I find it very rewarding to enjoy this food with friends and family.
Another thing I wanted to try this Easter, was the traditional Norwegian fyrstekake, or "royal cake". According to my Google search, the recipe was introduced in Norway in the 1860s by a young apprentice at a pastry shop in Trondheim, and has since become a staple in the baking repertoire of grandmothers around the country. Sadly, most of the fyrstekake consumed these days is of the store bought variety, which tends to be rather dry and bland. I'm not sure when I last had a decent slice of fyrstekake, but it must've been years ago, and most likely at a family get-together. In other words, time is definitely ripe to get to grips with this cake and have a go at it myself.
I didn't have a recipe for the cake (though I knew it ought to be made with a buttery shortcrust and have a dense almond macaroon filling), so Google to the rescue once again. Funnily enough, one of the first hits I got, was Breadsong's blog! Apparently, Solveig Tofte, a Norwegian baker based in Minneapolis, brought two very fine specimens to a BBGA conference in Chicago in 2012. Breadsong's full write-up, including photo, linked to right here. Some further Google hunting also produced the recipe (courtesy of BBGA and Tofte): Link to recipe at BBGA.
Although it looks splendid, I must admit that I didn't follow the Tofte/BBGA recipe precisely. I already had a pâte sablée crust in the freezer, so I used that instead for my version. The sablée crust is probably a bit denser and slightly more buttery than the one in the BBGA recipe. Also, for a 22 cm diameter cake, I increased the amount of ground almonds to 230 gr., while keeping the weight of powdered sugar unchanged (i.e. 170 gr.). I used 3 egg whites to get a relatively smooth consistency of the macaroon filling. Since almond is such a key component in this cake, I would recommend grinding them yourself if you've got a suitable almond mill for the job.
Below is a photo of me getting ready to put things together: One lined tart form, strips for the top (re-rolled scraps) and the macaroon filling.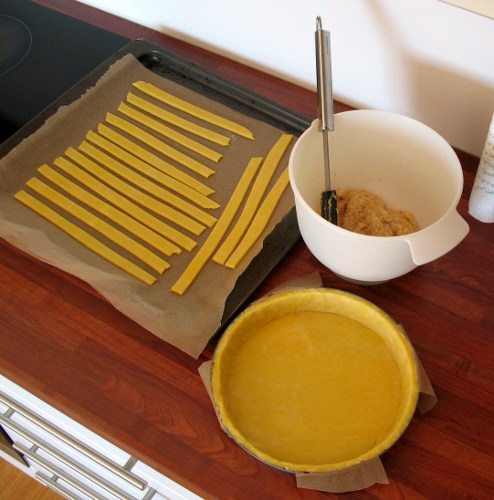 And here, the almondy, buttery goodness is ready for the oven: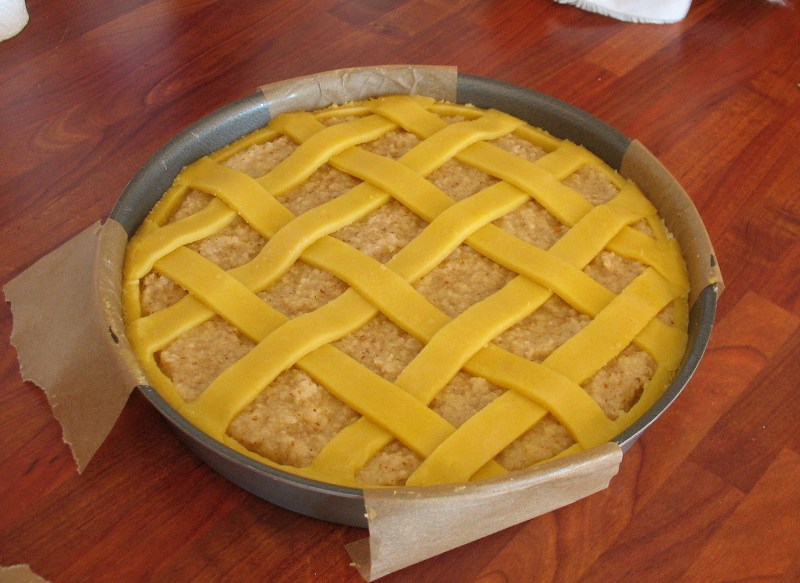 Here is the finished cake, which I was quite pleased with. I think I would've liked a slightly lighter crust (some baking powder and a bit less butter would do the trick, I think), but apart from that I was very happy. A rustic sort of cake that keeps very well in the fridge.