Vancouver Sourdough Loaves & New Baking Equipment
Sometimes you pause and wonder why it took so long to do some things.
In the last week, I finally gathered some important tools that for no reason other than being busy and perhaps lazy, completed my home bread baking needs.
I had been struggling with scoring, more specifically the lack of blooming and ears.  With some help from David Snyder and these new tools, it looks like I have finally overcome these issues.
These are the three items I picked up.
1. Unglazed Quarry tiles:  Till now, I had simply been baking my breads directly on my trusty roaster pan.  I was not getting the proper burst of surface heat required for a proper bake.  $3.50 at a local tile supplier.  I hope in the future to find a larger square and have it custom cut to fit the roaster.
2. Razor Blades:  Till now, I was using a utility blade to score my loaves.  I realize now that the utility blade was much too thick compared to these Wilkinson Sword blades.  The scoring came effortlessly and helped in producing a nice swift, clean cut.
3. Local mill organic bread flour:  Till now, I was using Robin Hood Bread Flour.  A brand similar to King Arthur Flour in the states.  I finally picked up some good quality, freshly milled bread flour.  I will never go back to brand name, store bought flour.  Flavour was FAR superior and price cheaper per pound.
For many of you, these items are nothing but common sense and obvious items for successful home bread baking.  For me, it now a revelation and a must.
Here is today's bake that utilized these new tools for the first time.  It started out as Vermont Sourdough, but due to mishaps in the mixing stage, I made all kinds of additions and deletions to the original formula that I decided to call it a Vancouver Sourdough.  No offence to the JH original.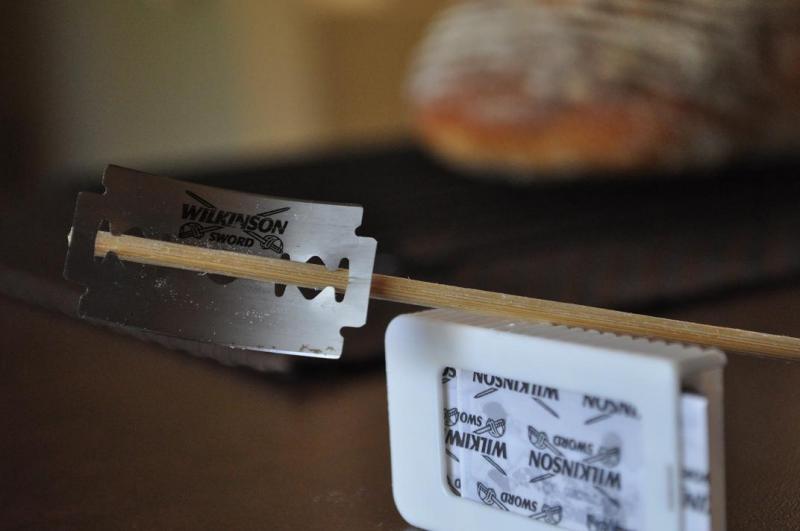 My trusty steaming method of a roaster, with 4 6"x6" stacked, and a tin can to hold the boiling water.